Feeling proud of

our digital journey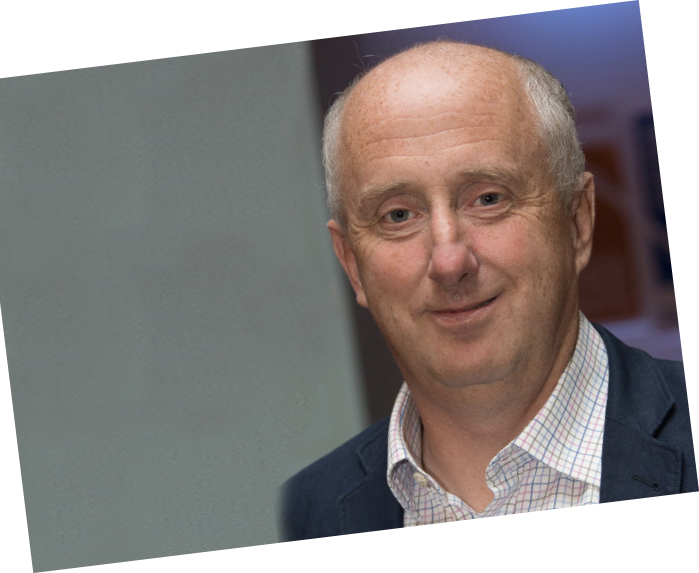 Welcome to issue 26 of the View. In this edition the editorial team are looking back at the journey of the digital magazine and all the topics and partners that we have featured. Maximum credit must be given to the team for their hard work and dedication in maintaining the content to an extremely high and consistent level, during some of the most turbulent times our industry has ever experienced.

We are looking at the summer season in this edition and celebrating all the positive sides of having a bit more of the sun in our lives, from my personal perspective summer is all about food and outside time, and, if the weather allows, maximising both passions.
From a commercial point of view, Blum will finish its financial year on the 30th of June and although the results will take a few weeks to be confirmed, I think we can confidently say that it's a year that will hopefully never be repeated. A year that started positively but then descended into a period of supply challenges, against the backdrop of unprecedented market demand, and which has finished with the largest inflation figures for many years.
There is no doubt that running a business within this uncertain environment is a challenge to say the least. So it is within this context that I would like to thank all our partners and employees for your support over the last 12 months, and I wish you all a happy and sunny summer.
All the best
David

Front page features all View covers over the past 25 issues
Written by Dave Grant
Change is here to stay…

One of my favourite maxims is 'constant change is here to stay'. This begs the question: Is that a good thing? Whether you agree or not, it seems that we will all have to cope with the persistent updates in technology and how COVID has changed the world. Maybe it's just me, but the speed at which change happens seems to have increased, however that could be down to my middle-aged status… according to my Equality & Diversity training, I now have a protected characteristic – Age! The changes I've seen in my working life have been profound and I empathise with my parents who have seen even more dramatic transformations in the way the world works.
To put my working life in context, my first proper job at 16 was at an engineering supplies distributor. We stocked everything needed by any general engineering firm. A customer would phone with a list of requirements, which I would write on a pad. I would then run around the warehouse physically checking if the items were literally 'on the shelf'. For pricing we had a 'Kardex' system – basically every item in stock had a corresponding card where the price was recorded. And yes, I used one of the round dial telephones to phone customers back. It wasn't until the mid-eighties when I was working for a cutting tool company that I used a 'main-frame' computer. Not until the late nineties, did I use Word/Excel. Now here at Blum, I am surrounded by a myriad of incredible software. I seem to be coping admirably, although I sometimes seek aid from our excellent IT team at Blum UK, or a product expert from Blum Austria.
So, has Blum UK changed since I joined? In some ways yes, from 16 people, to over 50. From a nice building to an incredible one. Lastly, the product range has exploded and continues to grow. The core values remain however, and we now identify these through moving ideas with the following terms: Quality of Living, Trust, Services, Product range, Quality, Innovation, Inspiration.
It's easy to say these things, but do we put them into action? In my experience, yes. A splendid example of this came to me in my own kitchen last week. In one of our wall units, we have AVENTOS HK (my house is around three years old). This product works really well and is a pleasure to use with its stepless stop and integrated soft close. Along with its cover caps, it looks rather good too. This would be enough for many manufacturers and the product story would stop there. Not for us at Blum though; we have released AVENTOS HK top, which fundamentally does the same thing but offers a more compact solution by taking up less space in the cabinet. It is also easier to fit with no calculations or templates needed as it pretty much self-locates. We support it with the Online Cabinet Configurator planning software to aid correct product selection which is essential in achieving the stepless stop. It has built-in an infinitely variable angle stop and enhanced strength adjustment.
…continued on next page
The safety feature is also enhanced and we added a new assembly variant for high volume manufacturers. The SERVO-DRIVE option has added intelligence, to warn if the mechanism has not been sufficiently balanced with the door's size/weight. The branding opportunity is now common to all variants of AVENTOS.
One of the exciting aspects of my role in the company is that I get to learn about all the new innovations. We are already some way down the line toward adding another member to the AVENTOS family – the AVENTOS HKi. I don't have the final details yet, but just as the AVENTOS HK top takes up less room in the cabinet compared to the HK, this new variant will take up no space at all! The mechanism will be located within the cabinet side panel! You may be thinking that sounds like a manufacturing nightmare, however we are devising a machine called the MINIMILL that is purpose built to facilitate this. We also have the REVEGO pocket door coming sometime in 2023 or beyond – an incredible product which is physically the largest one in our history. There have been many challenges in bringing this to market, but I feel it will be worth the wait. And lastly, only this week I was made aware of plans to add a whole new facet to the smart kitchen concept – I can't say too much about it at the moment but suffice to say you will all want it in your kitchens/living areas at home once it is ready.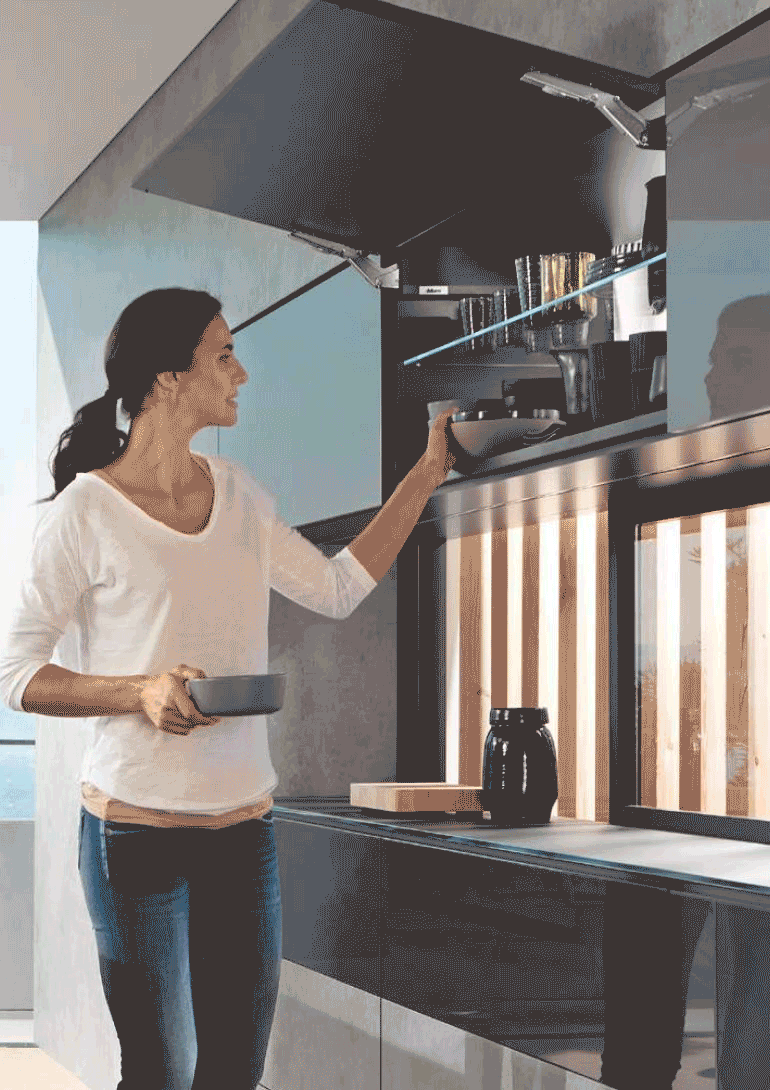 As it's nearly July, the start of the busy summer period is upon us. We start to reflect on the year so far and what is to come over the next half of the year. In this issue View brings you tips on how to focus on your wellbeing and an added bonus page of family festival fun. View have explored different tips which focus on your wellbeing to hopefully help you stay on track throughout the summer period.

Fieldworks have an amazing list of tips and tricks on getting the perfect summer routine to help with your wellbeing
Getting a better night's sleep
With the temperature rising, even more so if you choose to travel to a hotter country, and staying up late because it's still light outside means getting a good night's sleep could become harder over summer. This article by Clinical Sleep gives you tips on how to get a better sleep, such as changing your bedsheets, keeping your bedroom cool and blocking the sunlight to not disrupt a peaceful slumber
Getting Outside
You might be going on days out with family or friends with nature-based activities. Being outside is so important to your wellbeing, and communicating with others will have a positive influence on yourself and the people around you. It is also good to spend some time outside on your own, finding that time to unwind from the stresses of the day. The National Trust have so many places to explore, you can find your nearest park here
Eating Well
The warmer weather can disrupt not just sleep pattens but also our appetite. So, preparing healthy meals and having a balance and variety is always a good opinion. Summer is a good time for fresh fruit, salads and vegetables as they are in season and lighter to eat. Also keep hydrated with water to help your body and your wellbeing.
Food.com have put together an article of The 60 Recipes You Need For Summer which explores a wide range of different food to switch up your normal meals, including some very tasty summer treats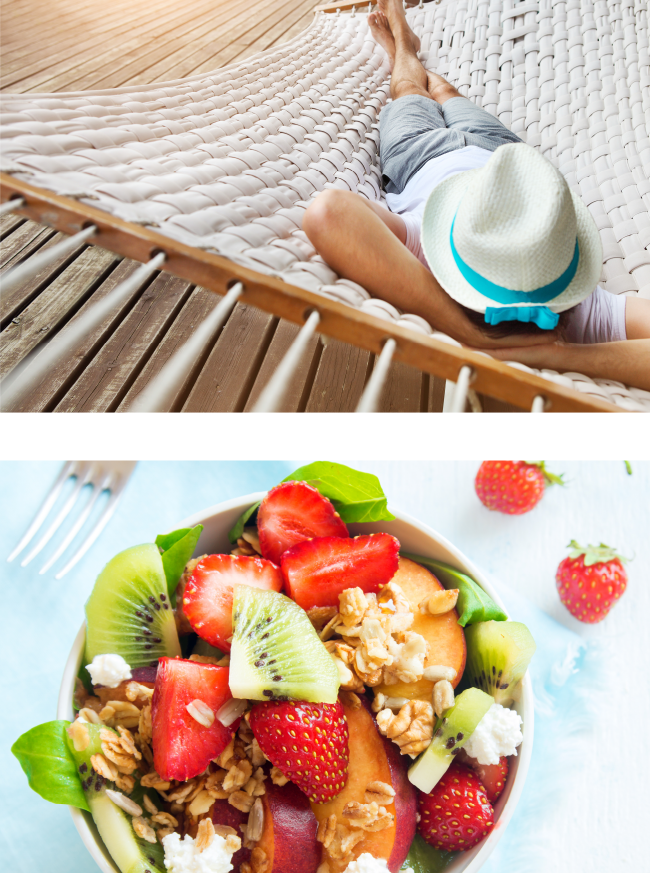 Festival fun for the family
After the season of bank holidays and the Queen's Jubilee, the festival season started off with a bang last month. With the kids breaking up from school for the summer holidays in the next couple of weeks, View explores the family festivals happening all over the UK.
Camp Bestival
Dorset, Lulworth Castle: 28th–31st July
Shropshire, Weston Park: 18th–21st August
With not just one festival but two and a smashing line up from Rag 'N' Bone Man, Example, Faithless (DJ set), Shed Seven, The Proclaimers and so much more! Camp Bestival has not just live music but also DJ sets, theatre shows, attractions, activities, comics, authors and talks. Fun activities all around for all ages.
To have a look at the fun activities, line up and tickets check
Big Feastival
'Alex James' Farm, The Cotswolds: 26th–28th August

A different spin on a festival, Big 'Feastival' is hosted on musician Alex James' farm. Which brings together not just music from amazing artists but also food from Michelin Star chefs and award-wining street food. At the main front of the festival is family entertainment which includes enchanting performers, wild workshops, crafting and meet & greet with the favourite kids' characters.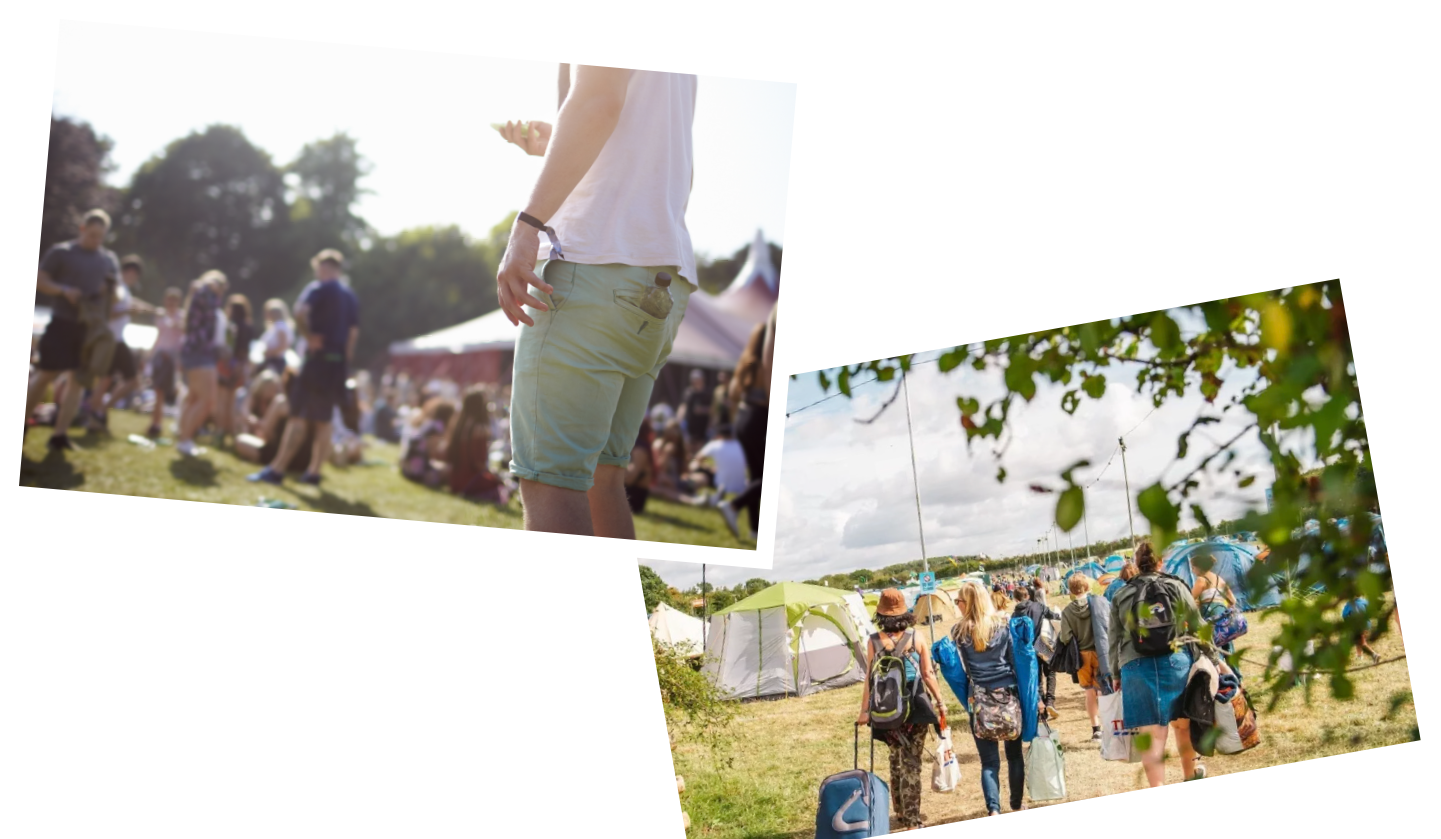 Deer Shed Festival
Baldersby Park, Topcliffe, North Yorkshire: 29th–31st July
Described as 'UK's premier family festival' this festival claims to have children begging their parents for another visit. Deer Shed festival has got one of the biggest line-ups of activities. Not just music, comedy and shows but also extravagant activities such as educational experiences of science, literacy and theatre workshops; wellbeing; a cinema and event activities for the very little ones. Children under the age of 2 also go free.
If you've got some young ones that you want to check the festival experience out with, go to
Green Gathering
Chepstow, Wales: 4th–7th August
If you are looking to head to a festival just weeks into the summer holidays. Green Gathering is proud to be the original off-grid festival with all their electrical needs met by renewables. They also encourage the festival visitors to think of their festival footprint by using 'The Green Traveller Guide.' As well as thinking of the environment, Green Gathering has safe spaces and adventurous places for young people from tots to teens. With different spaces to explore, learn and perform, you can also bring your dogs.
To have a look further into what's to offer at Green Gathering, see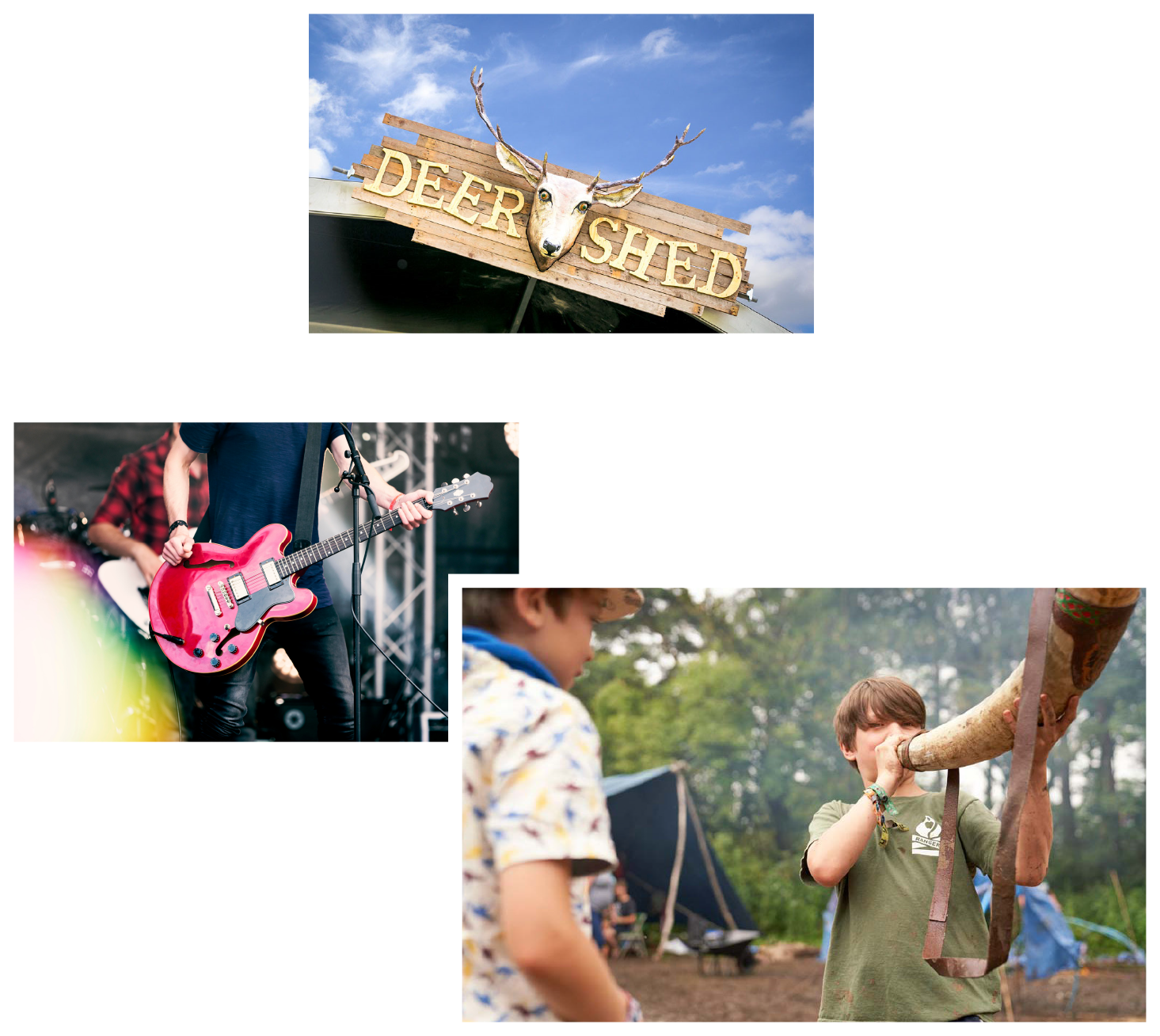 Over 2 years ago, the marketing team at Blum took the decision to launch View. View was conceived in the middle of the pandemic, to give the KBB industry some information about Blum's viewpoint of the current situation, both inside and outside of Blum.
In this issue we celebrate the hard work that has gone into View and how it is moving forward in the future. Our magazine of moving ideas for changing times.
Lisa, Billie, Kate and Ryan have all worked on View over the 2 years, and we would like to say a big thank you to all who have been involved in supporting us, by helping us produce content, talking about our issues to our customers and our monthly readers.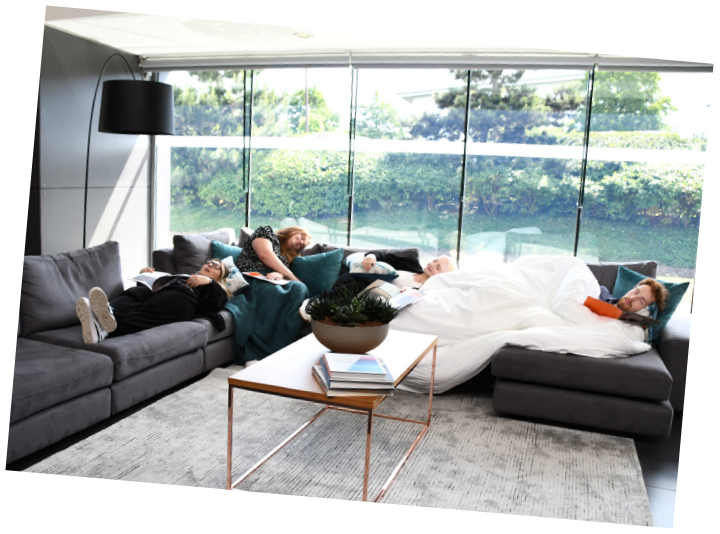 Viewpoint thoughts and themes

A glance back over all the magazines since July 2020 when the 'Viewpoint' section was initially launched reveals a wealth of different ideas and perspectives that interestingly fall into six thematic areas…

It was inevitable that the first of these subject areas would revolve around the pandemic. In Issue 2 we visited the North of England to hear from JJO on how they had coped, seeing the true impact of having 400 employees furloughed at the beginning of the crisis. View 6 brought us the adaptable mindset of Lima Kitchens for whom closing their doors due to Covid was never an option. Several other 'viewpointers' have passed comment on and explained the implications of lockdowns for their brands – among all the challenges, many reported unexpected gains and some positive outcomes.

A recurring theme has also been corporate personality and a company's unique ethos. View number 5 covered Mereway whose MD spoke about how they create individuality with a real appreciation that no two kitchens should be the same. The owner of Auspicious, Nigel who featured in the fifteenth magazine, gave us a peak into his world to discover the virtues of handmade furniture, made with real love and passion. Dan of Jones Britain was able to show us the stamp of personality that permeates his portfolio. The free-flowing curves, of this Jones Britain style was showcased in issue 7.
Our third theme places the environment firmly in the spotlight. Across two issues we explored how KBB companies reconcile customer needs with care for the wider world. Daval (View 8) gave us a glimpse of their philosophy that is underpinned by a sense of responsibility for protecting the planet and for passing on a legacy to the next generation. Abor Lane (View 12) shared details of their very practical solution – with each order placed they plant an additional tree in The National Forest.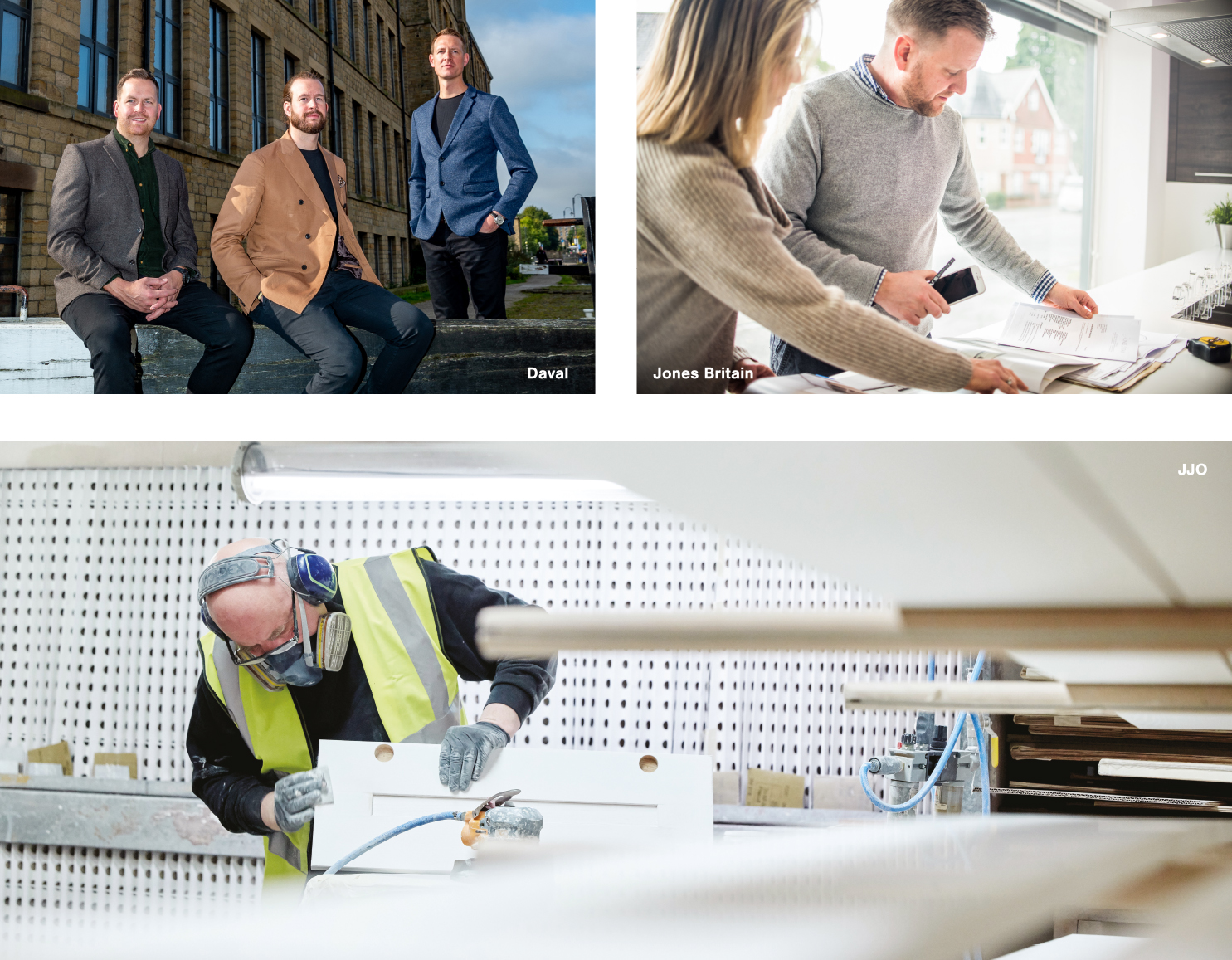 Several issues had stories focusing on how the sales processes have been refined and perfected. Sometimes this entailed an overhaul of marketing approaches, such as in View 13 with David L Douglas who had recently gone through a repositioning exercise to change customer perceptions when we interviewed them. Moores in issue 4 discussed their Roux brand where the power of a celebrity chef was being leveraged. For Dwayne Edwards (View 19) was all about being authentic and staying true to their roots. Whilst for Kensington Scott in issue 22, their fine-tuned marketing was driving the acquisition of better data and therefore understanding prospects better. The highly successful brands Roundhouse and PWS painted a picture of being incredibly busy with 'business as usual' with the former in View 9 using the metaphor of faster moving plates in the air as it became more confident in its ability to juggle. The latter opened up their Design Centres for a bird's eye view of how these are replacing temporary exhibition spaces in their marketing strategy. For James Cornwell Interiors (View 20) we were treated to an explanation of the personal journey that has brought this business to a place where customer care is the cornerstone of all that they do.

Often interviewees were only too happy to contribute words of wisdom and their advice for the industry. We saw this in the third issue of View when Steve Tough of Masterclass warned against the perils of resting on our laurels. He was strongly of the opinion that the KBB sector should move away from being 'order takers' to become 'order makers'. Likewise, this fifth and altruistic theme is evident in the Saffron Interiors Viewpoint (View 17). Gary at Saffron was committed to helping others and told us that it's how one does something that counts, not purely what one does!

Last but not least, we've had View magazines dealing with manufacturing at the heart of companies making quality kitchens. Companies such as Stoneywell Kitchens who were showcased in number 23. This was a tale of Blum directly supporting the factory – Blum Technical Team hands-on to complete the MINIPRESS top commissioning. Also, DG Kitchens (View 18) took us through an investment in kit from their perspective and some ambitious thinking on how they aim to use it to build their business. There was a significant spend on new machinery at Kitchen Generator (View 14) which was proving instrumental in changing the way they do business and broadening their services on offer.

Along with these major themes, View was also able to celebrate huge milestones with John Lewis of Hungerford in issue 24 as they marked their Golden Anniversary and thirty years of HPP from View number 16.
It's been a pleasure to be a 'fly on the wall' and thanks to everyone featured.
by Linda Parker

This month we're bringing you a stunning kitchen story from Drew Forsyth & Co, designed by Wayne Crossley.

This project started out as quite a challenge – the initial site meeting happened just before the first lockdown, then, as Wayne explains, everything had to be done online, down to the smallest detail choices. As he says, 'it was quite a challenge!' The property is in Harrogate, and owner Jenny Johnson was undertaking a whole-house renovation. Designer Wayne explains that Jenny wanted a kitchen that had a comfortable and interesting seating area, to sit alongside the large kitchen island and create a sociable space. A few glass display dressers were also on her wish-list, and they add a very elegant feel to this classic kitchen.
The bespoke cabinetry fulfils all the storage requirements for the family, with clever hidden features, bespoke banquette seating and an integrated BORA cooktop extraction system.
The space was required to be multi-functional, providing a comfortable room for preparing meals, dining, and of course, entertaining. Wayne explains Jenny's views on storage and for the overall way the kitchen would be used. 'She wanted clutter to be kept behind closed doors, to free up work surfaces. Display spaces with glazed dressers look attractive, keeping glassware and crockery stored neatly and easily accessible. The finished effect is actually that of a home cocktail bar, which is perfect for sociable evenings'. Every inch of space is maximised, with internal storage solutions keeping things orderly, such as built-in chopping boards and lots of drawer space.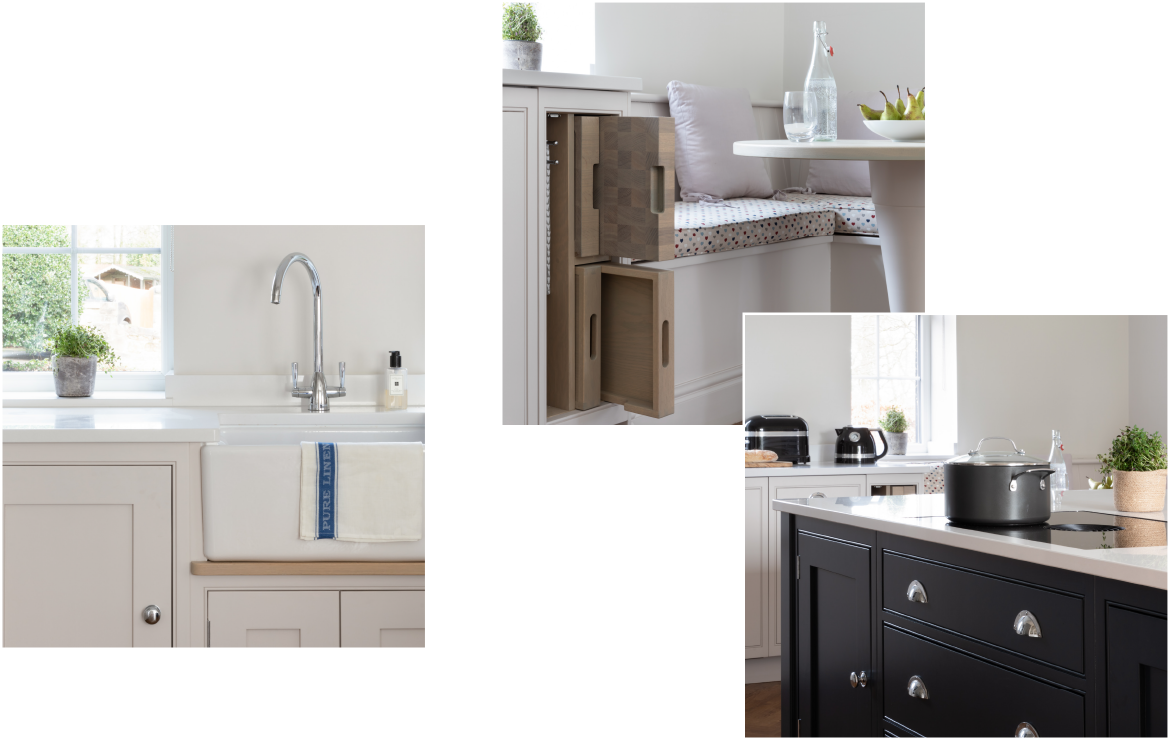 The use of colour in this kitchen is particularly striking, pairing a neutral and a deep blue. Jenny explains 'I had seen a few kitchens on Instagram where the colours caught my eye, and I wanted the kitchen to look sharp and clean. I chose Skimming Stone for the perimeter cabinets and Railings for the island, both from Farrow & Ball and a white speckled quartz for the work surfaces'. As far as favourite features go, Jenny loves the fridge drawer in the island – used to store chilled wines and juices.

A Modern Classic – continued
Kitchen by Drew Forsyth & Co Beaded frame Shaker cabinets in American poplar, interiors in Grey Bardolino oak, perimeter cabinets in Skimming Stone, island in Railings, both by Farrow & Ball


Drawer systems, TANDEMBOX and MOVENTO by Blum
Single oven, compact microwave and fully integrated dishwasher, all Neff
American style fridge-freezer with double doors and lower drawer, Fisher & Paykel Fully integrated fridge drawers in island, Hotpoint
Recirculating induction hob Bora Pure
Flooring, Spacia in Royal Oak, by Amtico, supplied by Christian's Carpets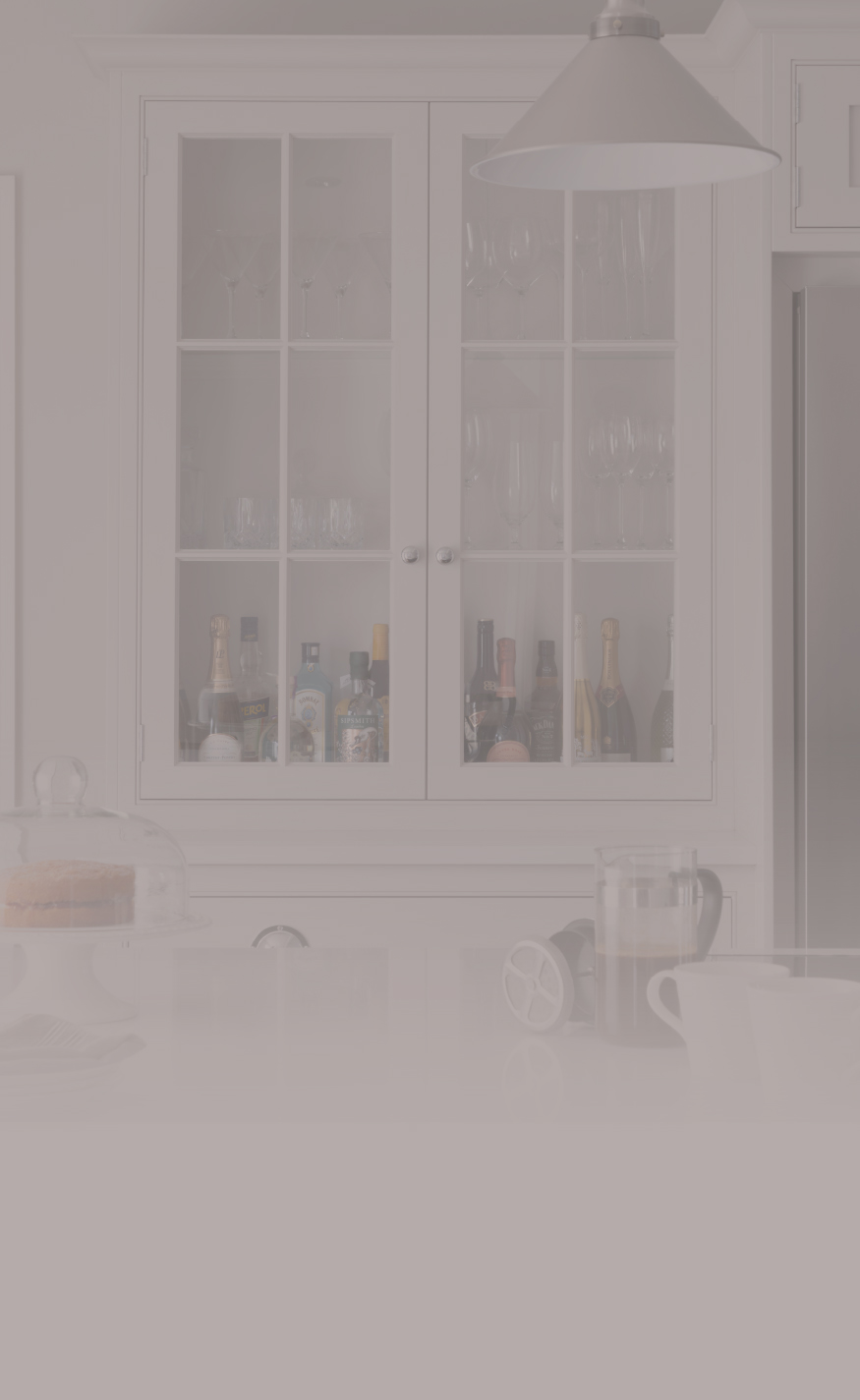 Designer Wayne Crossley…
• Try to obtain symmetry and use integrated appliances, some feature appliances, such as American-style fridge-freezers can become a highlight of the kitchen

• Identify any 'pinch points' and make sure there is enough negative space around the furniture to allow the kitchen to be completely functional
Owner Jenny Johnson…
• Make sure the layout is how you, as the owner, envision it to be, instead of getting stuck on the little details which can always be changed later
• Go for a big island – as big as you can! It's so useful for all the prep work and having a hob and downdraft extractor in the middle makes it a pleasure to use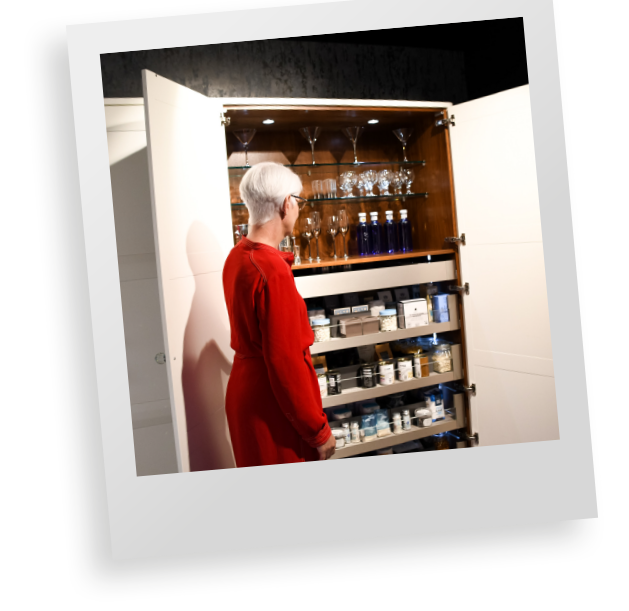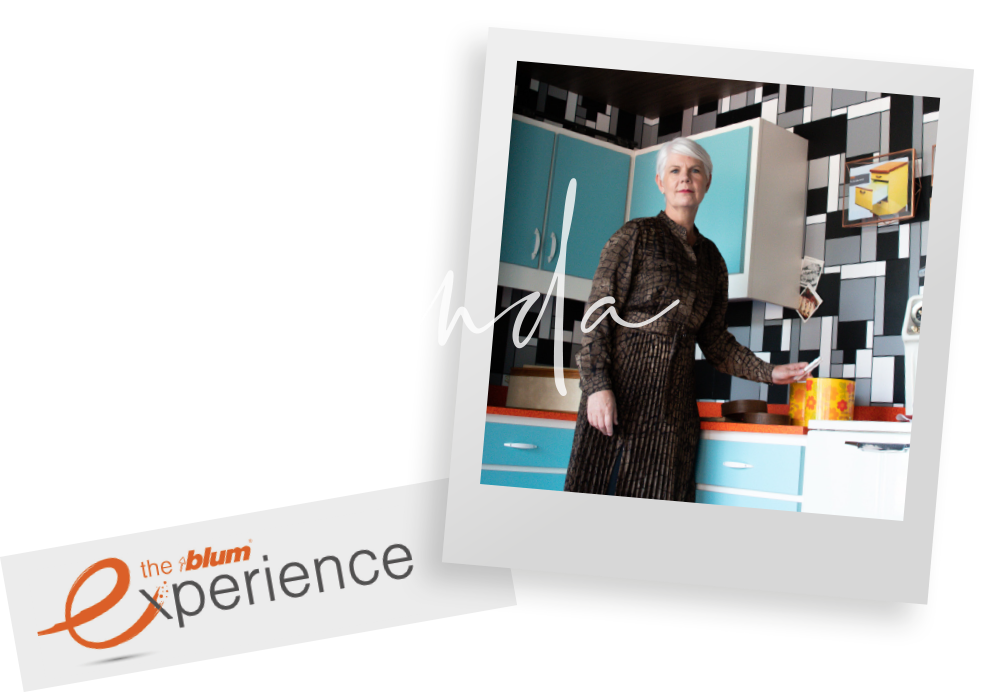 Moving her ideas forward…

"Watch out Architects and Interior Designers, Amanda Hughes is coming to a neighbourhood near you!"

Amanda has been a part of The Blum Experience Centre Team at our UK headquarters for 6 years. In her time in this role, she has influenced many parts of the experience centre, her colleagues here at Blum and the customers who have come to visit us. She has also contributed content for many of the View editions over the past couple of years, from Top Tips and meet the team, to the Experience Centre pages. She has contributed so much, the View team wanted to celebrate her stepping into a new role and a new challenge.

Amanda's role is now focused on the architect and interior design industry, and she will be our Blum expert in ergonomics in the Built Environment. This role will focus on education within built environment design, delivering lectures and workshops to those wanting a better understanding of aging and accessibility and improving quality of living spaces.

Contact Amanda to book an empathy lecture for you, your team, or your clients, and to chat about industry trends, securing samples or advice on specifying components for bespoke furniture.
amanda.hughes@blum.com
01908 285700
07483 964 564
If you would like to book a tour at our state-of-the-art Experience Centre you can do so by one of the following methods:
Phone: 01908 285700
Web: click here

Email: theblumexperience.uk@blum.com

Here are some photos of Amanda in action at The Blum Experience Centre over the years…
We wish her all the best in this new role.

Explore the View archive library
Blum UK, Mandeville Drive,
Kingston, Milton Keynes, MK10 0AW
Tel +44 1908 285700
www.blum.com