2021 Update
from Blum UK
The current situation and the upcoming year...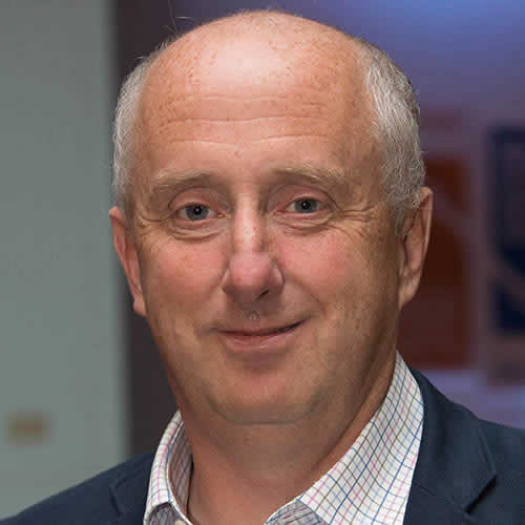 As we enter the second month of 2021 and the ongoing challenges that the worldwide Coronavirus pandemic continues to place upon our daily lives both personally and in our businesses, we at Blum thought this was an opportune moment to give you our partners an insight into how we view the current situation and the upcoming year.
To look forward it is always important to take on the lessons of the past and there is no doubt 2020 delivered many challenges and lessons for our business. The unexpected rise in worldwide demand following the initial lockdown period in Spring 2020, caused a significant and visible logistical impact to our industry.
During this period we attempted with your assistance to work within a spirit of transparency and partnership to overcome the challenges posed by the volatility of the market. We learnt many lessons and we are using these learnings to improve our service to you as we move forward in 2021.
As a long standing partner of Blum, you quite rightly have high expectations of our business and its service levels. During the second half of 2020, the aforementioned volatility of the market and the effect this had on selected product lines meant that at times we were not able to meet your high expectations of our relationship, I would like to take this opportunity to apologise for any adverse impact on your business this caused.
...continued on page 3
As we look forward to the coming year, it is forecasted that the positive level of consumer investment in the home improvement sector that started in 2020 will continue throughout 2021.
The basis of any partnership is to be open and transparent, we are confident that across the majority of our product lines will be able to meet the market demand, we are aware though that we will have challenges on certain lines. We will make personal contact in the coming weeks with any partner who we believe maybe effected, to discuss proactively how we can move forward and continue to support your business.
We are committed to an increased level of investment this year to expand our production capacity, this is in addition to our commitment for continuous improvement within our processes to increase efficiency across our service package. This investment, added to the ongoing two way dialogue that allows visibility into your future requirements , will have a positive effect upon our ability to meet your expectations and smooth out any supply chain turbulence.
We are committed to stay in regular contact so that our partnership stays strong and are convinced that by working together we can come through this moment in history positively.
If you have any questions in regard to the present situation then please do not hesitate to call your regular Blum contact or myself.
I would like to take this opportunity to thank you for your continued support and trust in our business and would like to wish you a successful 2021.
Mind over matter...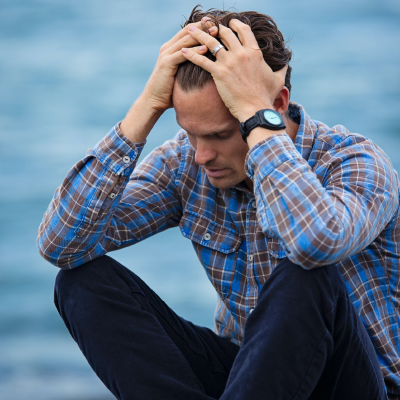 Latest research shows that people are spend- ing less time exercising and more time watching TV or playing electronic games than in the first national lockdown. Whether your own situation echoes these findings or you're bucking the trend to stay physically fit, you could still be experiencing lockdown fatigue.
It's common for people to report low energy levels, a lack of motivation and being totally 'Zoomed out' during the current phase of restrictions. For almost a year we have all accepted the new normal of how we lead our lives but the novelty that accompanied the start of the pandemic has worn off and we're all desperate for some light at the end of tunnel now!
The NHS urge us to look at the things we can do to help ourselves keep on top of our mental well-being and cope with feelings that may be heightened at this time of enforced staying at home.
They've published their latest 10 Top tips, which cover a wide range of topics from staying connected to money worries, employment issues to sleep.
Read NHS advice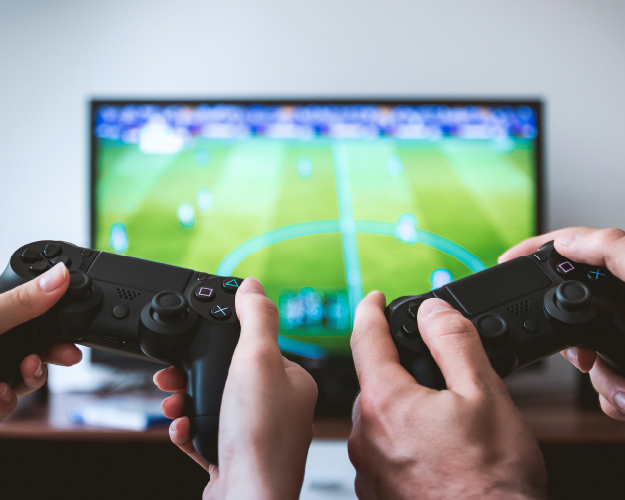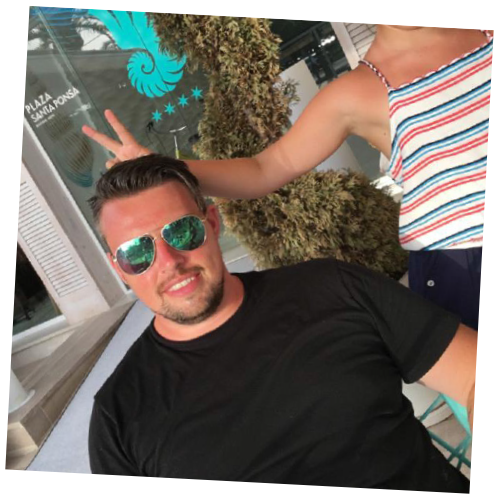 When you think you're cool on holiday but your daughter has other ideas.
Ben Muirhead is one of the National Territory managers for Blum UK; Ben has been with Blum for 8 years. Ben's fun fact is that he was the heaviest baby born in his local hospital in all of the 80's... 12lbs 2oz.
Contact Ben: info.uk@blum.com
Blum UK Main Office: 01908 285700
Watch this video to find out how Ben and his colleagues are here to help...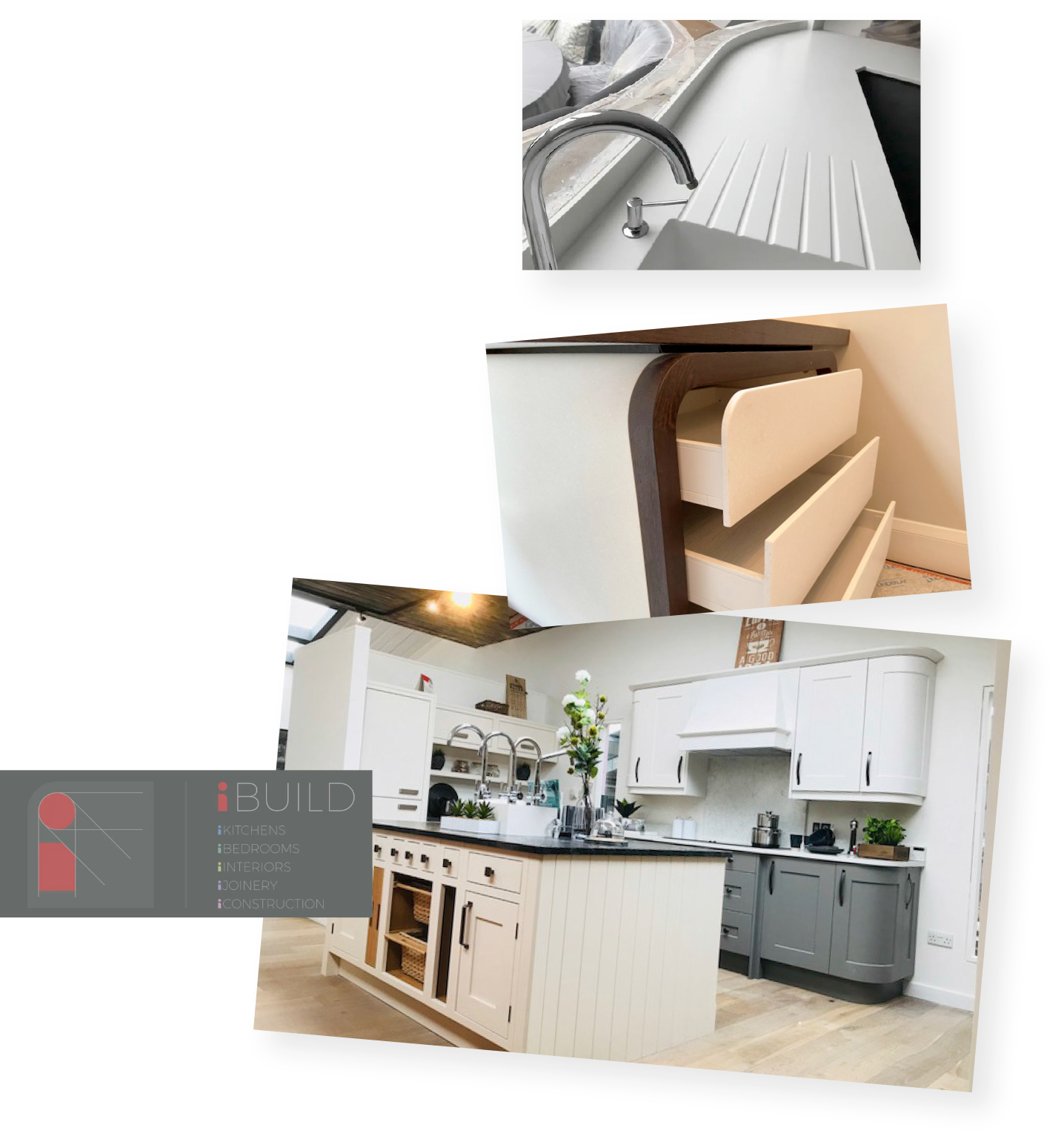 Founded on a great reputation
This issue View travels across the bridge into Wales for the first time. A few weeks ago we spoke to co-founder of iBuild Ian James – in conversation with View he talked about how they've established a successful business with a wide customer base covering beautiful Carmarthenshire and the broader West Wales area.
Ian and his colleague Meirion Evans set up the company in 1990 after they were both made redundant from local firm Evans and Brown. The two of them became directors of the limited company that was subsequently formed and Ian's Mum took on the role of Company Secretary. iBuild expanded and now it employs 14 full-time staff, with numerous sub contractors supporting the dedicated in-house team.
Bespoke Kitchens & Interiors by iBuild is part of iBuild (Wales) Ltd, who have been manufacturing kitchens for over 30 years, and in that time they've built a really solid reputation in the local market. Just looking at various reviews online reveals pretty consistent five-star ratings – they are certainly recognised for top-quality workmanship and excellent customer service. Whether it's a full kitchen refit or just repainting and replacing doors, Ian and the team are described as providing "Super results".
A lot of the commissions in their order book come from existing customers returning for additional projects and equally via recommendations from close friends and relatives. Ian remarks that this business model works extremely well for them across their kitchen services and also the general building side. "The jobs still vary from a small extension to large new build or renovation and ibuild take pride in offering all the skills involved." In listed building work, copying details as first created by the original craftsmen is something of a speciality.
This meticulous attention to detail carries through to kitchen components and worktops. iBuild are in the 'Corian® Quality Network'. It's a program that ensures the best fabrication, sales and technical service, backed by a DuPont 10 Year warranty. Ian mentions that there's a Blum connection to this – Blum have made provision for the use of thinner materials like Corian that means iBuild have been able to fashion complete furniture items, and internals such as drawer boxes, from the substrate.
Closed for 8 weeks in the first lockdown, like many KBB operations, iBuild now have procedures in place to continue working safely. Ian says that sales were buoyant when they came back between the Covid waves "…probably due to people being stuck in their houses looking at their kitchens". Confidently Ian tells us that the grand plan to keep improving their offer of quality kitchens, bedrooms and joinery on home turf (Pembrokeshire and Carmarthenshire) continues undaunted!
See the iBuild website
Written by Peter Sharratt
Is SERVO DRIVE FLEX that complex?
I don't know if you know but there seems to be an idea that SERVO-DRIVE flex is complex and needs lots of different parts for different scenarios. So, I want to try and help make it simpler.
SERVO-DRIVE flex has been designed and tested to work with integrated appliances in tall housings in combination with Blum appliance hinges. However, it cannot be designed to work with every fridge/freezer, there are just too many. It will also not work with any American style walk-in fridge/freezer or one where the compressor has a deep well, or there is no floor to the carcase. If in doubt it is always worth a call to the Blum Tech Team, see contact details at the end of this article.
What do I need exactly?
You will always need a SERVO-DRIVE flex unit, but the first question you need to ask is "do I need two?". More often than not you do but let me talk about using single units first. The single kit will work with a single small to mid-size door or half of a tall door. On split doors, you will need to double up on the kits to run each half of the door, for example, one for the fridge and one for the freezer. You must also consider power; each kit will need a power supply which plugs into the wall power socket. So always check the power socket situation first.
There are other key questions Peter answers. You can find the full blog here if you want to know about SERVO-DRIVE on tall doors, connecting cables or use in tricky situations such as dishwashers.
If you need further help, then please feel free to contact the Blum UK's technical team.
Email: technical.uk@blum.com
Hotline: 0800 230 0898
Main Office: 01908 285700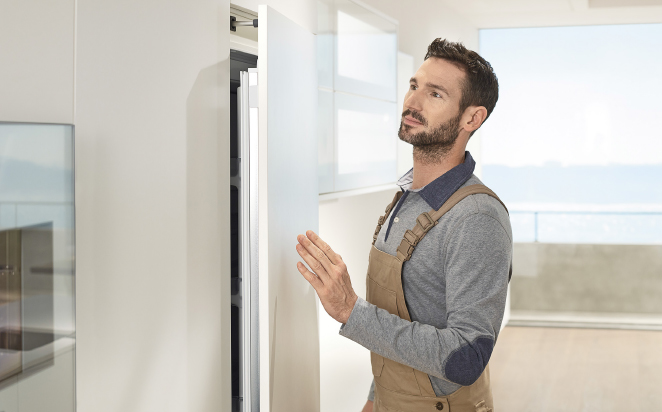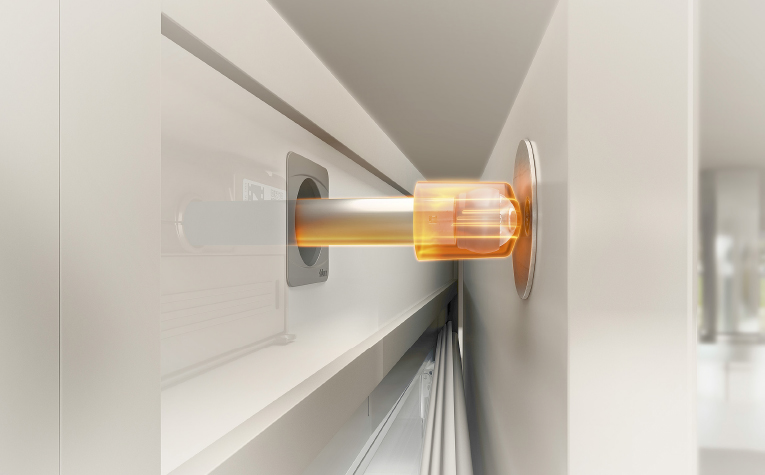 How to leverage the power of social media
to create sales results
Social media provides amazing opportunities to connect but with so many potential contacts, leads and content available it's no wonder we sometimes feel overwhelmed. If you want to take on the challenge though, how can you ensure your social media efforts will produce results?
Here are four steps to improve your effectiveness:
1. Social media for research
Pick your channels carefully, you need to hang out where your contacts hang out. Streamline your feed so you can quickly see the news that's important to you. Be selective and focus on the people you can add the most value to.
2. Social media for making new connections
Active contacts on LinkedIn and Twitter may be more open to connections than those who are not active. Look for trigger events to comment on, like their posts or if appropriate send a request to connect with a carefully worded invitation explaining why it would be mutually beneficial to connect.
3. Social Media for meetings
Create a marketing attraction campaign aimed at delivering value and expertise. Include a series of emails, social media messages and follow-up calls to see if your content was useful and relevant, along with an invitation to share a couple of additional ideas.
4. Monitor Progress & Results
Measure your activities and monitor your success. Continually review which messages and content resonated with your audience and resulted in meetings.
If you'd like further insights please find the full version of my blog here
or watch my webinar with Sara Pearce Saffron Pea Media. How to Leverage the Power of Social Media for Sales Managers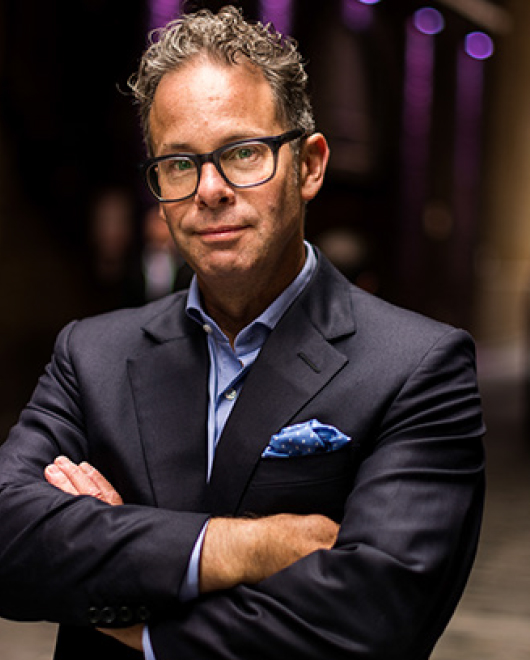 Peter Holland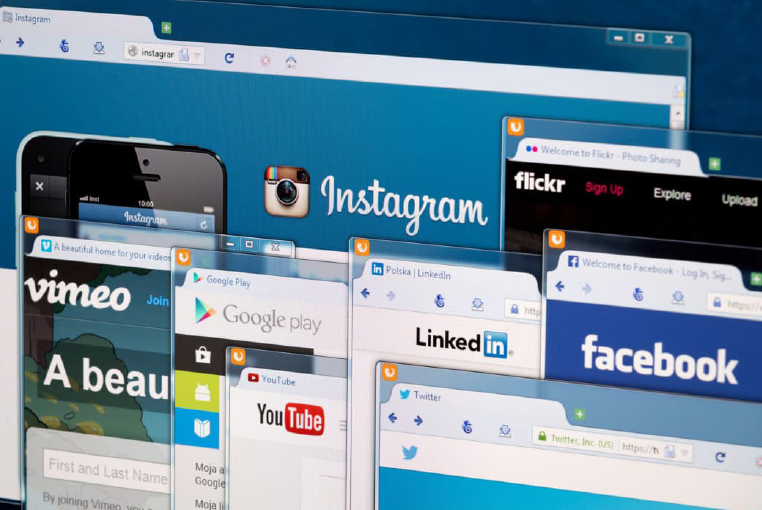 Ready for
Spring

?

by Linda Parker

As we're all still spending more time at home than we may possibly wish for, working from home or home-schooling has probably led to a serious accumulation of clutter and debris ... Let's get serious with de-cluttering, re-organising and Spring cleaning the house (or showroom or studio!).

De-Cluttering: Top Tips
De-cluttering is either heartbreaking or uplifting, depending on your personal point of view! There are many 'qualified' practitioners out there who can tell us what to do with stuff that doesn't spark joy, but I think we can be pretty succinct here... if you don't use it, lose it!

Well, not 'lose' really of course. But box it up for the charity shop (for when they are allowed to re-open), put it in the local recycling point (they're mostly still open), or if you can face it, sell it onwards, via local on-line sites.

In Lockdown 3.0 I've personally taken a long hard look at the huge amounts of bedlinen, towels, table linen etc I've managed to accumulate. Which, even if I worked through the pile from bottom to top each week, would take me months to use everything. So some will be going to a local charity, The Shrewsbury Ark, the charity shop funds a day centre as well as providing household items. It seems to be a better idea to target particular charities or groups with really useful and practical stuff, rather than just dump it all in an all-purpose charity shop – many are completely overwhelmed at the moment.

I also try to implement a 'one in, one out' policy with anything purchased, from gadgets to utensils and my particular bugbear, plastic storage boxes. It's extremely satisfying to sort out the plastic, make sure everything's got a lid, and to put surplus, cracked and damaged items out for recycling. But of course, the best tip ever is not to over accumulate in the first place. I can easily fill a black bin bag two or three times a year with surplus kitchen and bathroom 'stuff'.

Re-Organising: Making a Start
Re-organising the kitchen, bathroom and living spaces may be a bit more of an ongoing project after the initial de-clutter. If you're planning interior projects such as a new kitchen, the advice is always to think very carefully about storage space, and this is where Blum's space-saving ideas come in. Look at drawers rather than cupboards, and of course, consider SPACETOWER as one of the ultimate space-efficient ideas ever! Think logically, if you rarely use that massive ice cream maker or best set of china, does it really need to take up two huge shelves in the kitchen?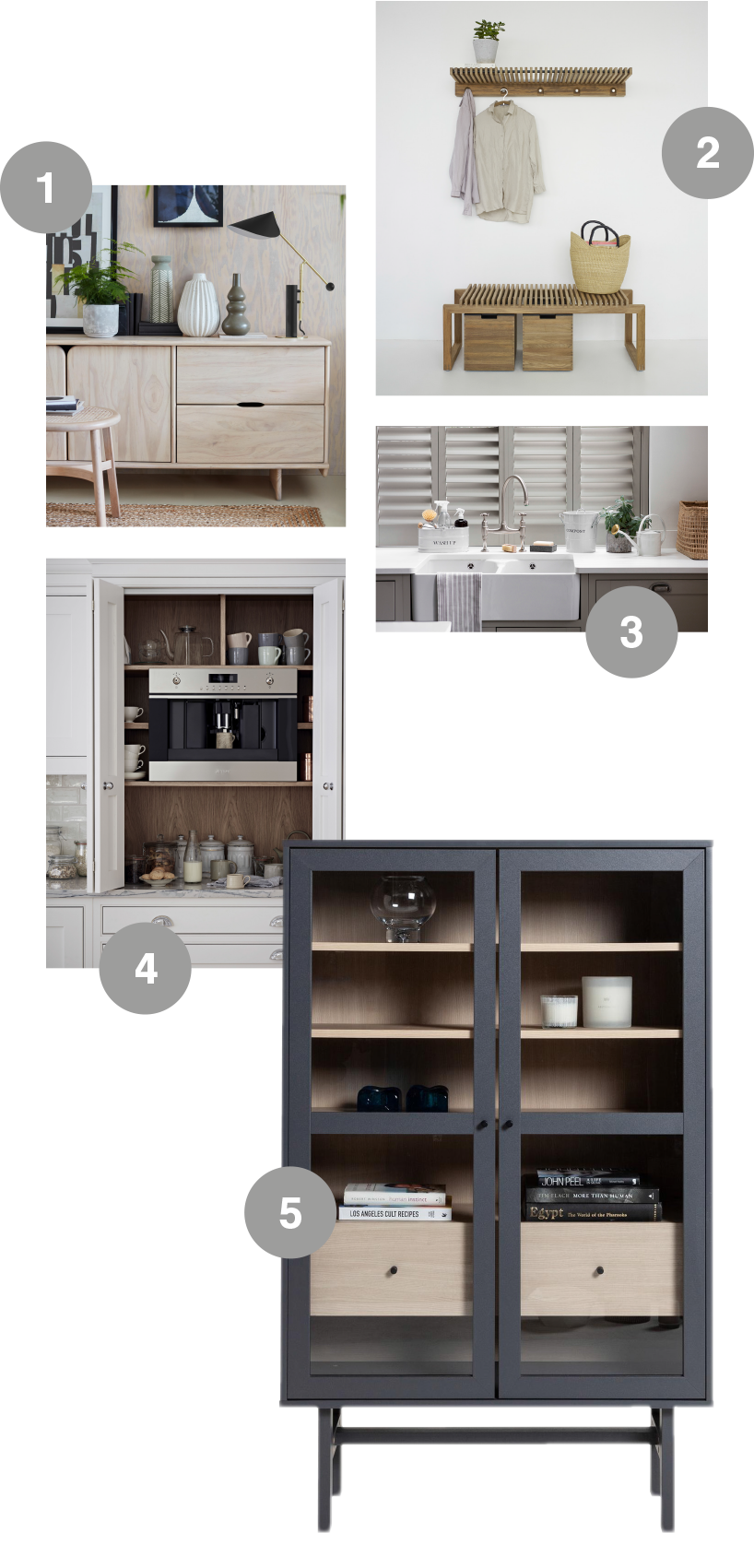 Ready for Spring? continued...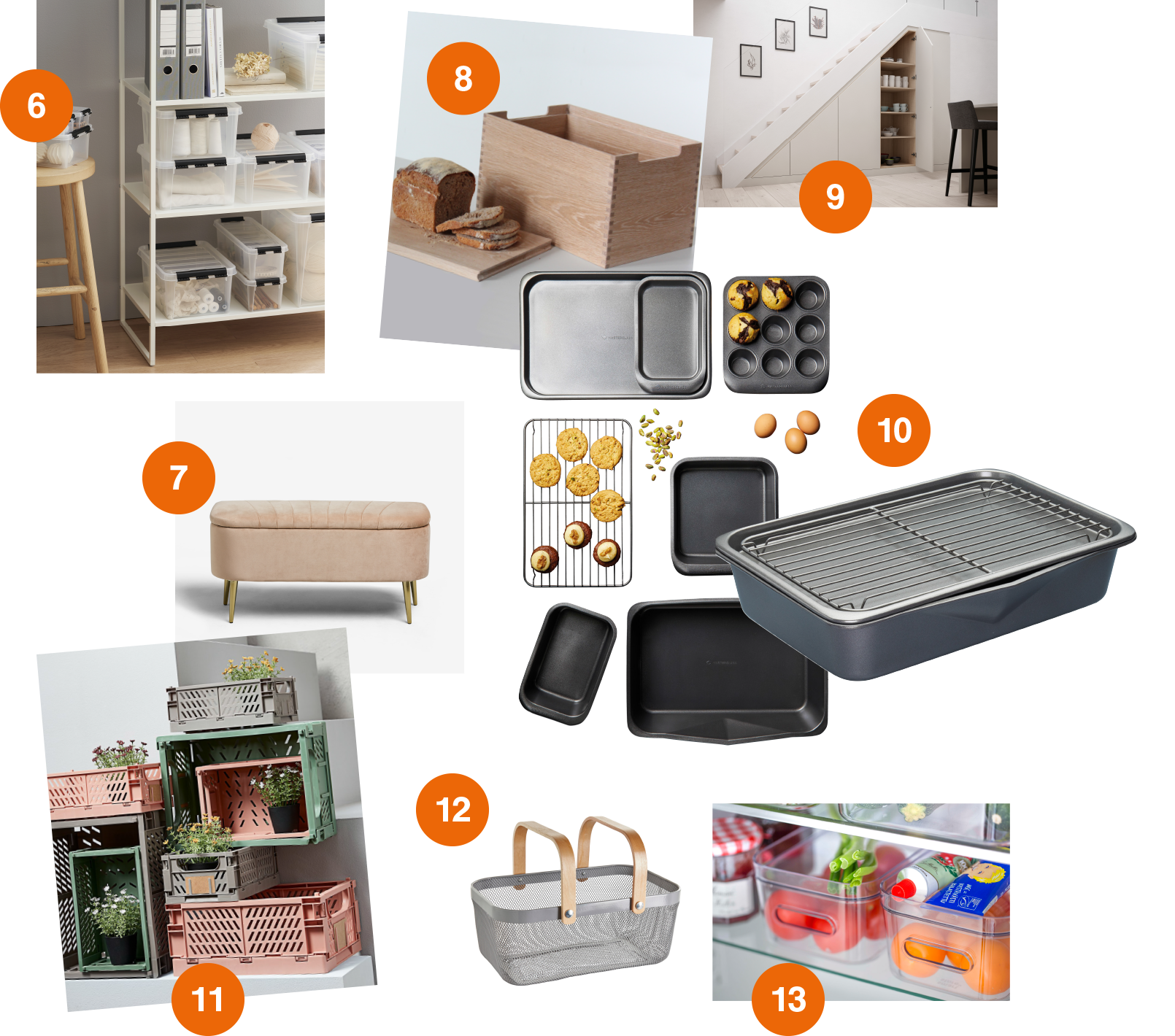 Spring Cleaning: Excellent Kit
The best asset, is of course, plenty of el- bow-grease and the time and patience to do it properly. Keep it simple with multi-purpose spray, clean damp cloths, and try to dust first, otherwise you're just smearing damp dust around with a cloth ... Buy specialist cleaning products for particular surfaces; Nilglass is perfect for any mirror or glass finishes, including glazed cabinets. I also like Goddards Granite Cleaner & Polish for stone and quartz surfaces. If you've got sliding glass kitchen or conservatory doors, go serious with a Karcher Window Vac. Life-changing! As far as floors are concerned, steam-clean ceramic, porcelain and stone floors for best results. A tried and tested favourite here is the Vax Steam Fresh Power Plus cleaner – easy and quick. If the grout lines on your hard tiles (ie ceramic or porcelain) are grubby, spray with a cleaner such as Flash, leave for a minute, scrub with an old washing up brush, wipe up the residue then steam clean as normal. Naturally, don't use anything containing bleach on real stone floors. We are also always impressed with the vacuums by Shark, I'm currently using the Shark Anti Hair Wrap Cordless which is astonishingly good, especially the stair brush. Perfect for carpets and hard floors, long-haired people and dog owners! Another handy cordless which is great in smaller spaces is the VAX OnePwr Blade 4; it's very light and manoeuvrable, and tracks down huge quantities of dust and debris extremely efficiently.
10
Masterclass Smart Space Seven stacking set,
KitchenCraft
11
Foldable storage crates,
JYSK
12
Metal organiser basket, from a selection at
Matalan
13
SmartStore™ Compact Clear fridge boxes,
Orthex Group
Ready for Spring? continued...
Storage goals with the inspirational 1400mm wide SPACE TOWER, where each drawer glides out and is accessible from all sides, allowing all the void space above each drawer to be used.
We adore KEUCO's sanitiser dispensers (above). They meet the highest hygiene requirements, look stunning, and combine functionality with fun, interesting design. Perfect for the home, showroom or studio! For more options and colours, take a look here
UP, UP
AND AWAY
In the UK we traditionally design wall cabinets as hinged cupboards. In contrast, our European cousins are used to using lift systems within their designs. Here's why.
Lift systems offer more ease of use through clear visibility and easy access. The stepless stop allows the front to remain in any desired position and out of the way. Daily tasks can be completed without the worry of hitting your head on an open cupboard door. Let's be honest, that's something we can all do without.
So, let's say you want to add it into a design, how can you persuade your customer? As there are no protruding parts, lift systems offer the potential to create a harmonious design with large, wide fronts and thin gaps, for an uninterrupted, smooth look. Integrating motion technologies into lift systems through touch to open or electrical aided opening takes lift systems to another level, bringing ergonomics, convenience and luxury to furniture.
Offering both aesthetic and functional benefits, ideal for when every inch of space matters, lift systems are an excellent option to consider. The ability to fold up out of the way and the multiple possible applications they can be used in means lift systems are a useful option when designing any room with wall cabinetry.
If you would like to know more about how lift systems can be a great asset to your product range, we are here as your trusted partner. Why not contact our experts? Or if you are after installation or technical details, our technical helpline is always available to talk through any questions you may have. You can find out more here:
Sales support

Technical services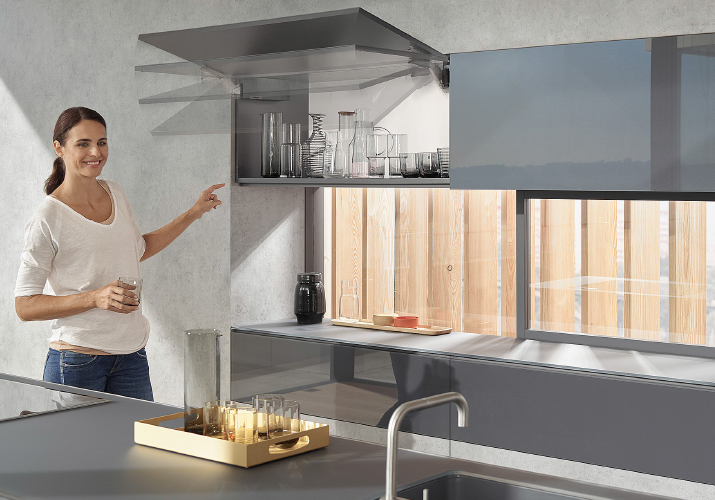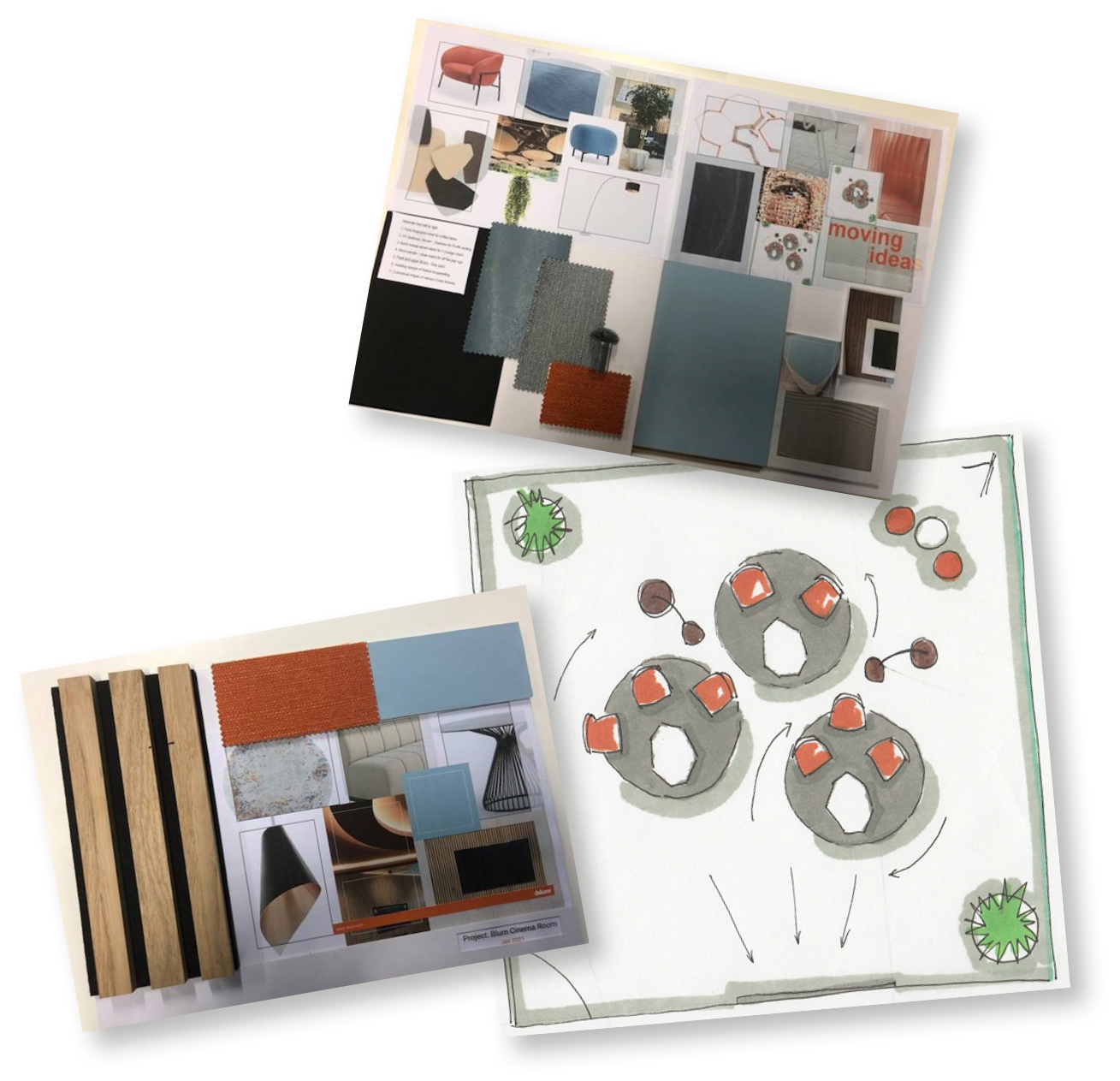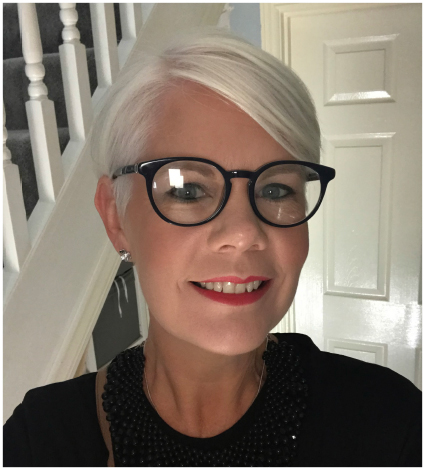 Under Construction...
I'm excited to announce that the Blum Experience Centre is getting a makeover.
The future is looking bright as we all move into this new positive phase of re-emergence and renewal, the showroom is also going to have its time to shine in late spring.
For those of you already familiar with the space, it will still retain all the things we've grown to love, story telling, conferencing, training & virtual reality, along with some new and improved spaces.
Experience Centre 2.0
I will keep you updated on progress and cannot wait to fling open the doors and welcome back old faces and new ones.