Time to reflect and

look forward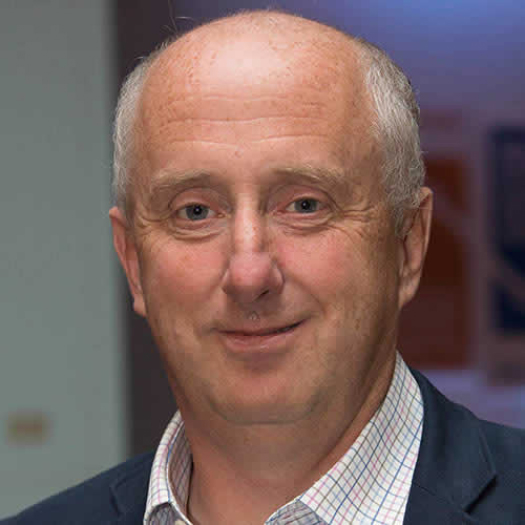 Welcome to issue 14 of The View, with Easter over and the copious amounts of used chocolate wrappers long in the distance we get a chance in this issue to look forward at the opportunities that lie ahead for all of us.
We see a great example of how long-established family companies are dealing with the topic of succession in the article about JJO. Family businesses are the mainstay of the KBB industry. The issue of how businesses secure their future is a constant thought, in the case of the Greenhalgh family at JJO they have approached this topic from an interesting and innovative angle and for all of us, the article is well worth a read.

Linda Parker introduces the smart home topic and how it relates to the kitchen. The future of smart technology is a hot topic here at Blum as we continue to develop ideas on how to integrate our product and the smart home. In May we will launch our virtual Interzum experience for all customers, and you will be able to see how we at Blum envisage a smart future for the kitchen.
All in all, a great issue that gives us time to reflect on the opportunities that the future holds.
All the best and stay safe.
Managing Long Covid
View attended a webinar hosted by The Federation of Small Businesses on a subject which we suspect is going to have widespread implications for organisations across the UK as we escape the eye of the Coronavirus storm. As one of the speakers said, we are only seeing "the tip of this iceberg" right now. Potentially 300,000 people are suffering effects that continue weeks or months after they originally had Covid-19.

This event was convened to debate how the virus can affect your business and have long lasting ramifications on employees. The Zoom session consisted of three really useful parts – the healthcare support angle, the legal perspective and finally the very powerful testimonial from a sufferer of the condition.

Christine Husbands, who started the event, heads up FSB Care which provides dedicated nurses to help FSB members with all kinds of health matters.

She talked about the fact that the prevalence of Long Covid is likely to be much higher than the current statistics indicate – because it's hard to get a true handle on the numbers due to how the condition presents itself. There are currently 55 identified symptoms. These can be anything from 'Brain Fog', to chronic fatigue, lots of other neurological problems, through to 'Survivor Guilt' experienced by those who pulled through after being hospitalized in the most severe cases.

Hannah Thomas provides legal advice and she outlined some of the employment law matters that will be critical to consider when companies cope with staff members as they contend with the physical and mental pressures of getting back to work. She mentioned the need for a highly flexible approach as this is a condition which manifests itself as good and bad days. She described the situation regarding statutory sick pay and sensitively navigating long-term absence.
Dave Sharpe, the broadcaster, professional MC and BBC football reporter shared with us a very open and honest personal account of what it means to live with the condition. This is a man who had boundless energy for his work pre-covid and always enjoyed good health. Now he experiences crazy dreams (some of which are good apparently) but also periods when he feels completely drained! Above all he said that he has learned not to fight it and instead he advocates "Listening to your body".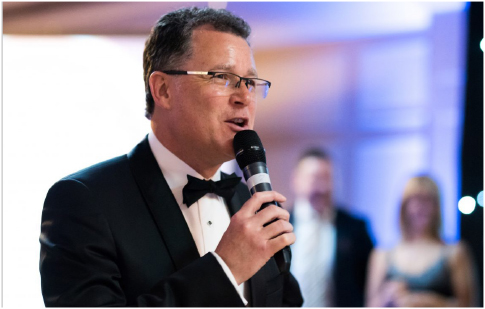 DAVE SHARPE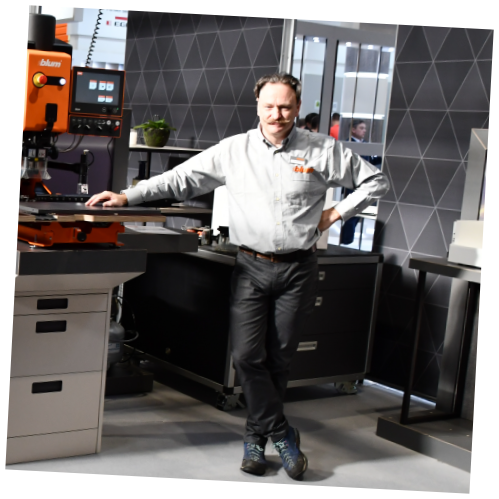 I work with technical and the best part of my job is I still get to play with tools and I don't need to grow up and be sensible.

Fun fact – I once managed to get up on the main stage at Glastonbury whilst the Pogues where headlining.

Contact Peter: technical.uk@blum.com
Blum UK Main Office: 01908 285700
Helping to make a difference

Where do I begin?
This feels a little like a confessional! Well, my name is Peter Sharratt and I work within the technical team, you may have seen me at one of the trade shows, if not, there is an old picture of me floating around the website, but please make sure you have not eaten before searching for it.
My day-to-day role is to offer technical support and warranty requests to our customers, whether they be installers or otherwise.
I am also part of the training team and I am happiest standing in front of a group of installers talking about installation techniques and how to get the best from BLUM products. I try and keep it very informal and relaxed, and we generally have fun and informative sessions, and most go away with an increased understanding and renewed confidence.
I have had various jobs in my life, but I was a self-employed carpenter for around 15 years before joining IKEA UK as an in-store carpenter for 6 years. I have been with BLUM UK now for around 6 years. Whilst I will not say I know it all, I do have experience of the challenges that installers face on a daily basis.

What spare time I have, I am usually on my bicycle, grinding out big miles, I love to explore the remote parts of the UK and I usually try to stay self-sufficient (pubs are a weakness) and sleep where I drop.

So, if you feel like you need help or even a chat about kitchen installation generally, give us a shout in technical, we really enjoy what we do and really want to help make a difference.

Pete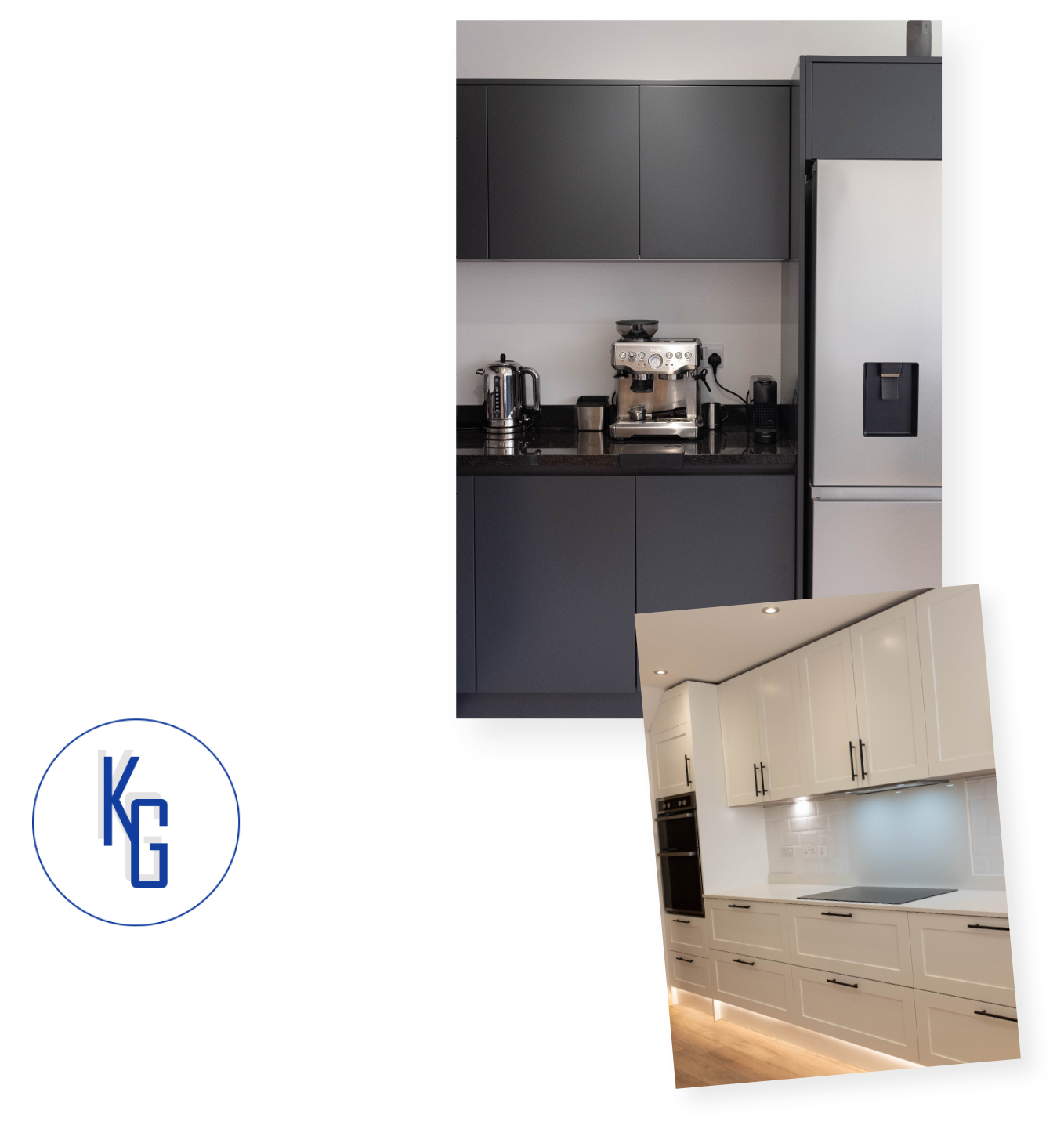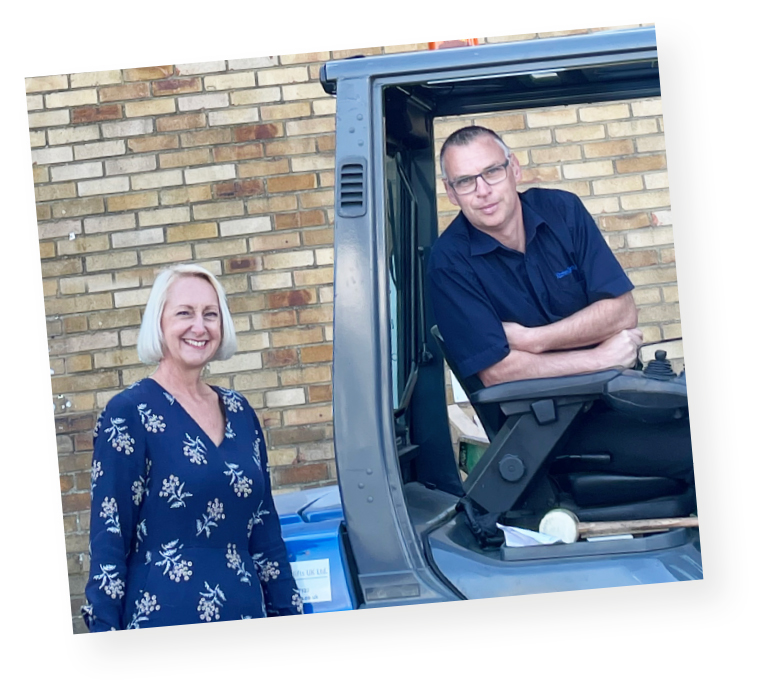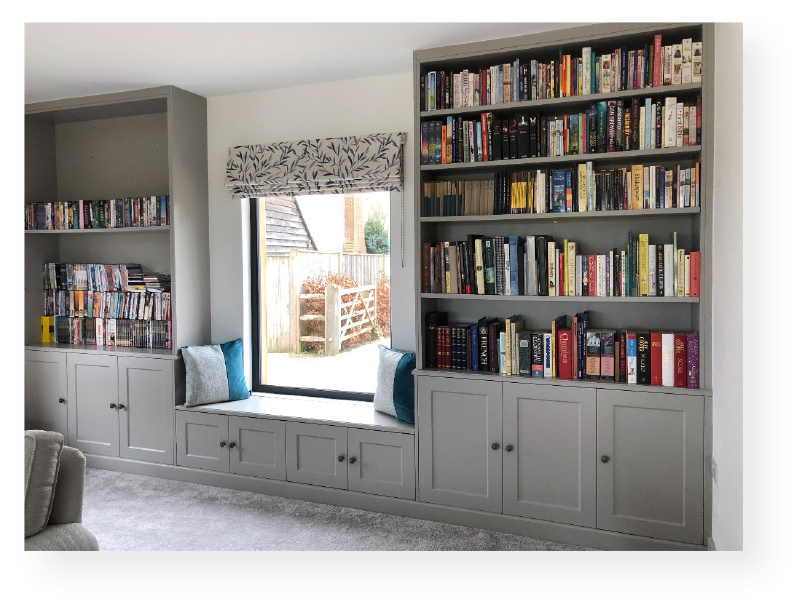 Opening new doors together...

View spent time talking to the Kent-based manufacturer Kitchen Generator shortly after they invested £300,000 in new machinery. We discovered how this is changing the way they do business and why it's now broadening the services that they provide.
Darren Mace and his wife Tara Willington-Mace founded the business 14 years ago this May. They are a successful 'double act', committed to offering a great level of service and taking huge personal pride in their family-run, rigid carcass company. This strong partnership, with Darren focussing on production management and Tara expertly concentrating on HR and accounts functions, is the solid foundation of Kitchen Generator. They shared with us that they are ideally looking to take a step back from their day-to-day involvement in about 5 years. Like so many companies, they are actively looking to recruit new members of staff right now and in due course will be able to consider future succession planning.

Whilst the order book is looking full and business is steadily growing, Kitchen Generator has been affected by many of the ongoing supply chain issues that are running throughout the KBB industry at the moment. As a company they realise that some of these issues will unfortunately lead to increases in material costs but hope that manufacturers and suppliers can keep this to a minimum.

...continued on page 6
People want a one-stop solution
- Darren Mace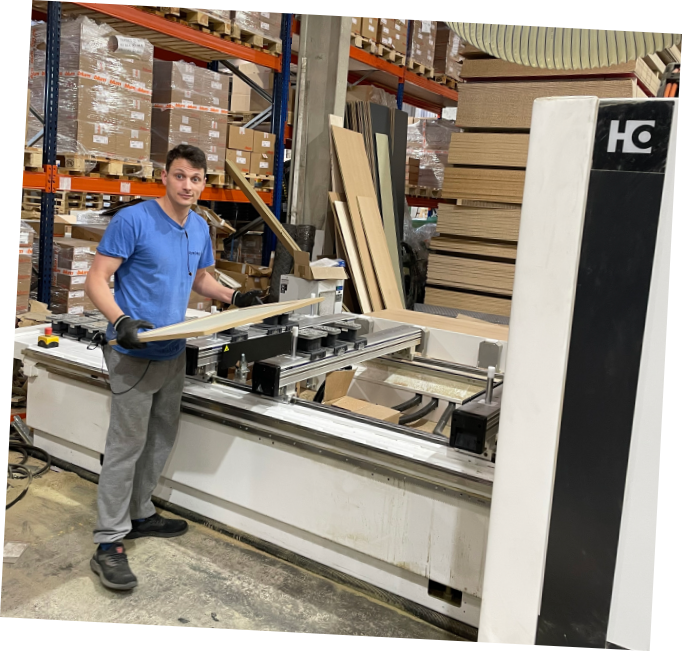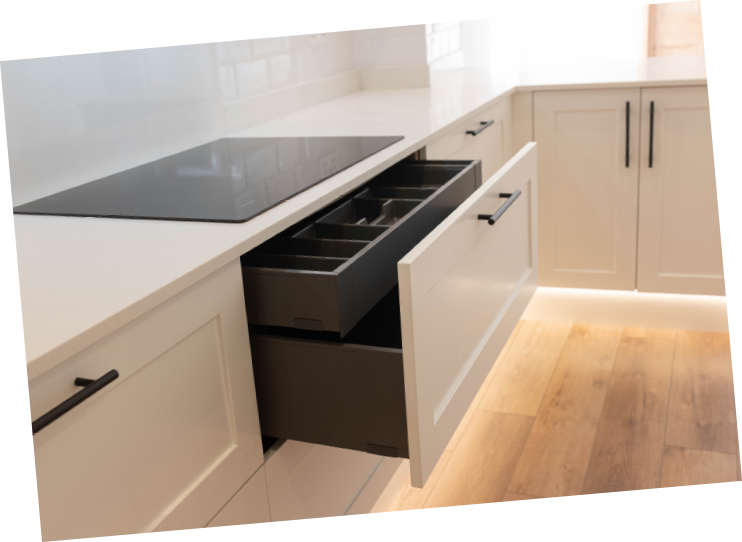 Originally this was a trade, carcass only operation with all other components sent from specialists to be fitted to cabinets. Experiences with door suppliers haven't always been straightforward, whether that has been due to stock problems or extended lead times, so Kitchen Generator took the brave decision to bring in new CNC equipment. Tara came up with the idea of producing doors to complement their 2mm edge range and this natural step has allowed them to take better control of all parts of the process. This not only made good commercial sense, but for their team, it has also been an important development as "…they want more of a challenge in the factory". Whilst painting isn't handled in-house yet Kitchen Generator have teamed up with an outside spray finishers.
Darren and Tara see great potential in this enhancement to their proposition. They know that it's a service that can really help independent retailers gain a competitive edge. Once the set-up and initial trial period is complete Kitchen Generator will support them with an impressive 3 to 4 weeks turnaround on made-to-measure doors. These will be MDF and finished to match any RAL colour – and they can follow almost any door style. Ultimately this gives design flexibility across everything including infills and, as well as standard doors, a mixture of custom sizes can be easily accommodated.
Kitchen Generator have spotted regional variations in the demand for their products over the past, atypical year – Guildford, parts of Essex and Slough for example have been busy districts. Darren believes that in all cases "People want a one stop solution", and he notes that for some trade customers, who sell solely online, the Kitchen Generator team can provide nationwide delivery in unmarked vehicles.
Tara and Darren have responded to the challenges of 2020 with enhanced capability and now move into 2021 ready to meet the fresh demands of a slightly different landscape – and Kitchen Generator can feel reassured that the clever technical people in Austria are, as Darren puts it, "only a Zoom call away".
See the Kitchen Generator website
The BOXFIX E-L FOR LEGRABOX
Written by Russell Green

When I first moved from the warehouse to the Tech team here at Blum UK, I needed to complete a lot of training. Once I was a few weeks in I started to use some of the wonderful jigs and templates we have that help customers assemble a drawer box, or make setting runners in the correct position easier.

After some thought there was one jig that caught my attention:


BOXFIX E-L for LEGRABOX

For my first ever attempt at using the BOXFIX I was armed only with the knowledge I gained after watching the assembly devices video on BLUM KIT, but it seemed easy enough for a novice to use this jig with ease.
I found this so easy to use that I had built the drawer in around 5 minutes. During construction with the drawer base in the jig, your hands are free to carry on drilling and assembling the other components into the drawer such as the sides and wooden backs. I am sure with more experience this build time could be cut down upon too.

What surprised me was the ease the jig gave me during assembly; saving me time and making it feel like I could mass produce drawers easily. Later on, when I built a SPACE TOWER, the BOXFIX came into its own allowing me to put all 5 drawers together quickly and easily.

For Russel's full thoughts on the BOXFIX E-L please visit Blum Kit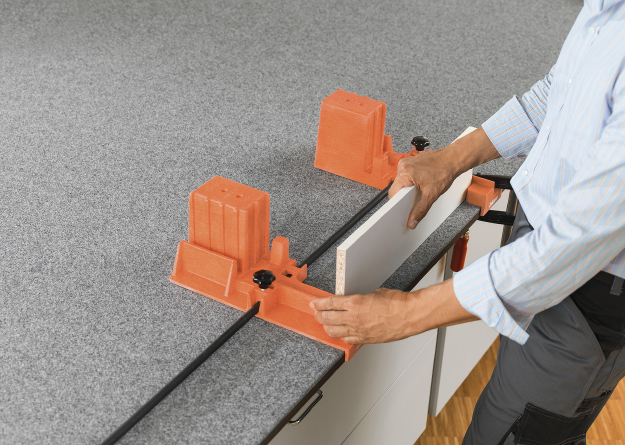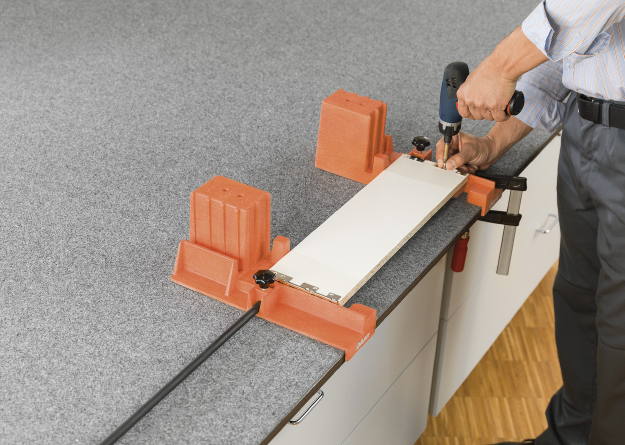 An innovative way to give staff a stakeholding
JJO plc announced last month that they have become an employee-owned business. JJO is now majority owned by an Employee Ownership Trust (EOT). The existing shareholders have sold 67% of the shares to this newly established trust.
The company has been in the hands of the Greenhalgh family for half of its 150-year history. For some time the original owners have been succession planning, to look at the best way to take the company forward, and the latest decision was led by a desire to sustain the company's independence and values, whilst recognizing the efforts of its employees and their massive contribution to JJO's considerable success.
Stephen Greenhalgh MD says: "There was no natural exit strategy. Involving private equity was not something we wanted to consider. A trade sale, whilst attractive for shareholders, would not have guaranteed jobs for our brilliant team or ensured that our Father's legacy lives on.

Following professional advice it seemed an Employee Ownership Trust would provide a 'best of both worlds' solution – safeguarding the continuity of the business and enabling the shareholders to extract some value as well as securing the future wellbeing of JJO's extended family."
Whilst infrastructure has been vital to JJO's growth, the real driver has been their people. Over 50% have been with them for ten years or more, and 70 have amassed at least 2 decades of service. There are numerous examples of multiple members of the same family working for the business. This level of commitment already means that the JJO community is truly invested in the ongoing success of the company.

For more about JJO visit their website
Staying on the right side
of employment rights

It seems that the impact of the 'gig economy' will soon reach our industry. The precedent for employment rights that has been set by the Supreme Court's landmark ruling on Uber drivers' status, has sounded the alarm bell for the KBB world. There is real concern that the model of subcontracting installers to fit new kitchens, bedrooms and bathrooms could also be open to scrutiny.

The British Institute of Kitchen, Bedroom & Bathroom Installation (BiKBBI) recently published detailed advice for thousands of industry members that it represents. It calls on retailers to audit their relationships with installers and, if necessary, adapt their working practices to avoid being vulnerable to employment tribunals.
Damian Walters, Chief Executive of BiKBBI, said: "The Uber ruling is a potential game changer for the home improvement industry and many retailers will need to quickly adapt how they work with their installers before being forced to do so in ways that may hurt their businesses. It's absolutely vital to get in front of this by adopting innovative new working models that ensure installers are treated fairly and retailers can most effectively serve their customers."
BiKBBI's briefing paper highlights how, as in the Uber case, the overall relationship between businesses and subcontractors will be looked at in determining employment status. The level of control exercised; dictating how the subcontractors carry out their work and what they are paid, means that companies selling kitchens might have to be classified as 'employers' – which entails the more onerous legal and financial obligations that have been avoided up until now!
With around 40% of skilled installers working with major and independent retailers in this way, the big warning is that they now might be able to demand rights such as sick pay, paid holiday and pension contributions.
Read the full BiKBBI article
Download a copy of the briefing paper
Smart Stuff…

by Linda Parker
If you're involved with creating desirable kitchens, the word 'smart' is likely to be thrown around a lot… along with words like intuitive, adaptive and easy-this and easy-that. Smart appliances can be operated and controlled by an app, such as Home Connect, or hOn, allowing kitchen users and home owners to operate individual appliance from their smart phone or tablet. It's even possible to open an oven door by voice command, such as the Siemens iQ700 which also has text display and intuitive operation. So this time, we're highlighting some of the latest must-haves for the smartest of smart connected kitchens.


1 Siemens glassdraft
The discreet glassdraftAir from Siemens sits below the worksurface and uses Guided Air technology to optimise airflow and extraction.
2 Siemens fridge freezer
The Freestanding KA92DHXFP fridge freezer from Siemens includes an in-fridge camera to check contents from afar and uses the Home Connect app for remote monitoring.

3 Bosch fridge freezer
Keep an eye on the interior of the fridge with the camera, and use the Home Connect Smart Storage Guide to make the most of the Freestanding KGN39HIEP from Bosch.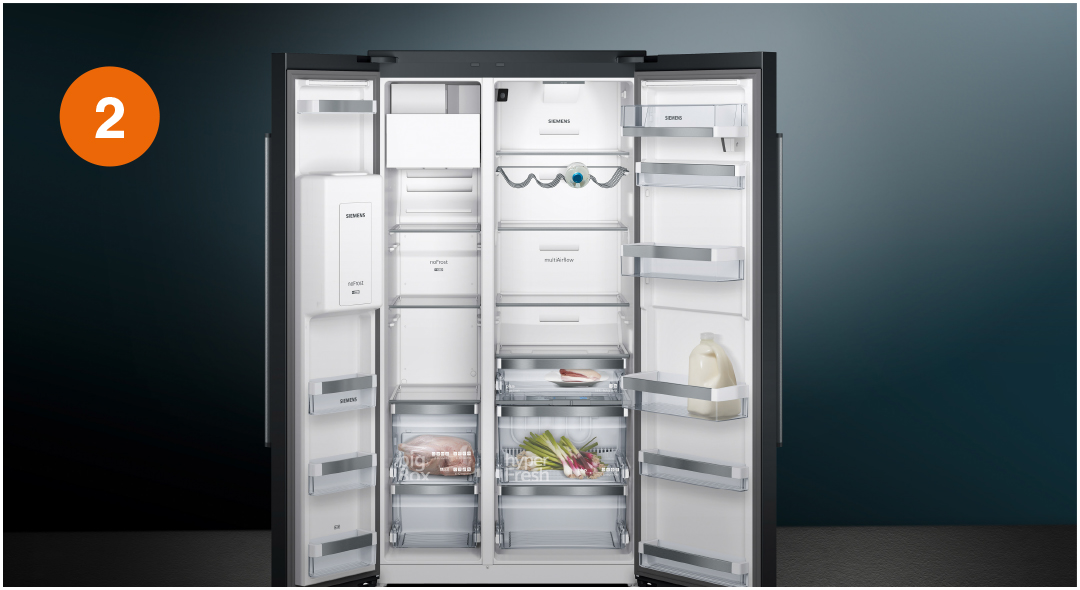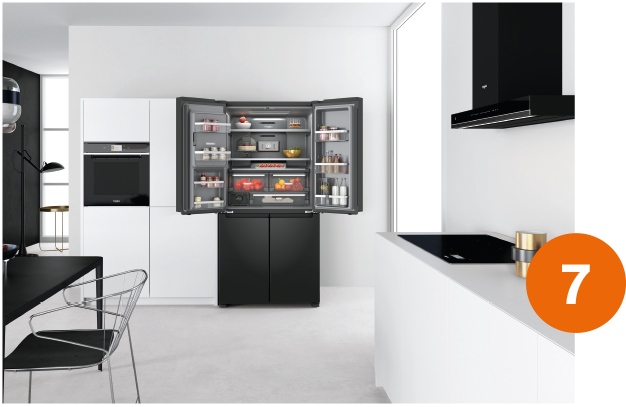 KITCHEN SMART STUFF continued...
4 Neff Hob 
and 5 Neff Hood Extractor
The N 90 80cm Black T68TS6RN0 induction hob from Neff has a WiFi connection to the N 90 White Glass Hood I97CPS8W5B, also from Neff. The hob has a TwistPad Fire removable magnetic control knob, the glass hood is controllable via Home Connect and voice control with Amazon Alexa. Also Climate Control Sensor function.


6 Bosch oven
The Serie 8 Built-in Oven HRG6769S6B from Bosch has a huge recipe collection available via the Home Connect function and allows remote monitoring with voice control via Amazon Alexa. Also includes a steam function and 4D HotAir feature for consistent results.


7 Whirlpool
The imposing black stainless steel WQ91 FO1BX UK fridge freezer from Whirlpool can be controlled via the Whirlpool 6th Sense Live app, for smartphones and tablets, which includes advice on space management, storage tips, recipes and shopping lists. A+ energy rated, with intuitive ergonomic controls.
8 Falmec
A striking suspended extractor, the Mare E.ion has a leaf sensor to automatically detect and eliminate unwanted odours and particles using an ionising system.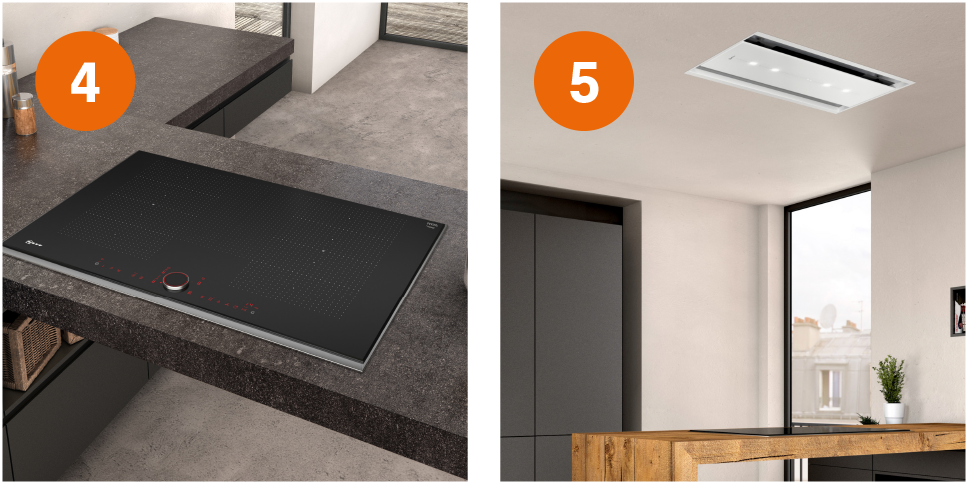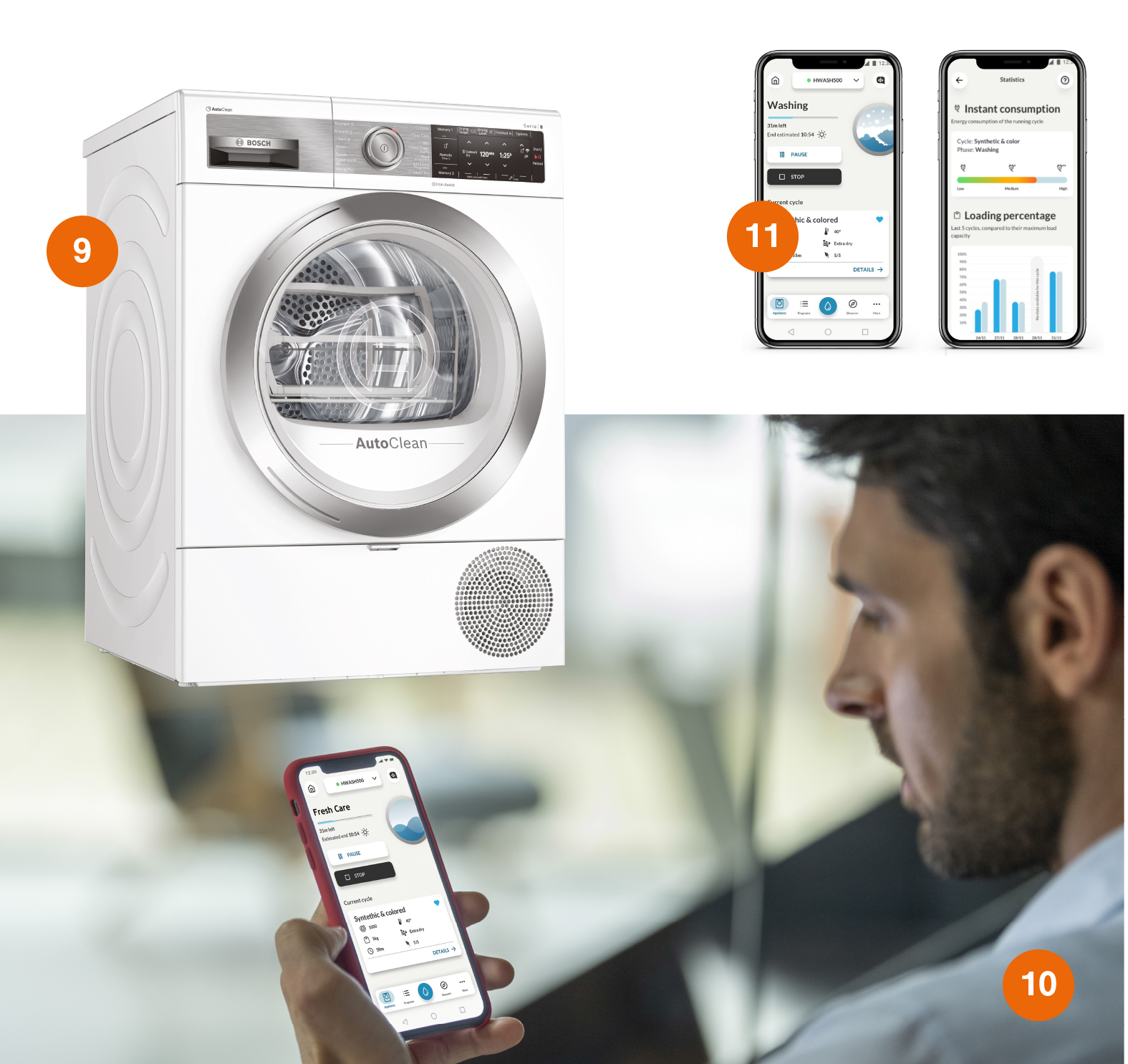 KITCHEN SMART STUFF continued...
9 Bosch tumble dryer
This Serie 8 WTX88EH9GB Heat Pump tumble dryer from Bosch has a matching washing machine (the Serie 8 WAX32EH1GB ) and can wirelessly receive data from the just-used washing machine to detect moisture content and set the drying programme needed, all via the Home Connect app.
10 Hoover H-Wash 500
Take a look at the H-WASH 500 washing machine from Hoover … all the required programmes plus connectivity using the hOn app. There's a Scan to Care function for clothes/fabric care too, enabling users to create a virtual wardrobe with care instructions for different items. What a lockdown project that could have been!

11 hOn app interface
The hOn Smarthome App allows the user to interact, control and connect with smart appliances from Haier, Hoover and Candy

12 Siemens dishwasher
If only there was a mini-robot scooting around to actually stack this dishwasher too … the SX87Y800BE Fully Integrated Full Size Dishwasher from Siemens once again uses the Home Connect app, allowing the appliance to be switched on remotely, and there's also a Tab Counter function to monitor the supply of dishwasher tablets available, plus a prompt to order more via Alexa.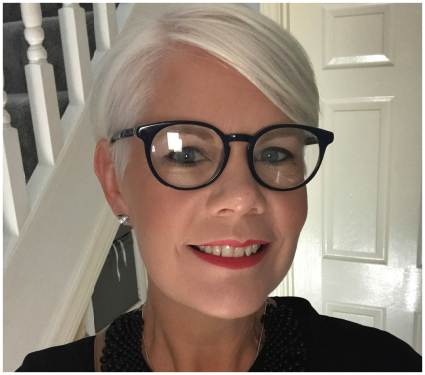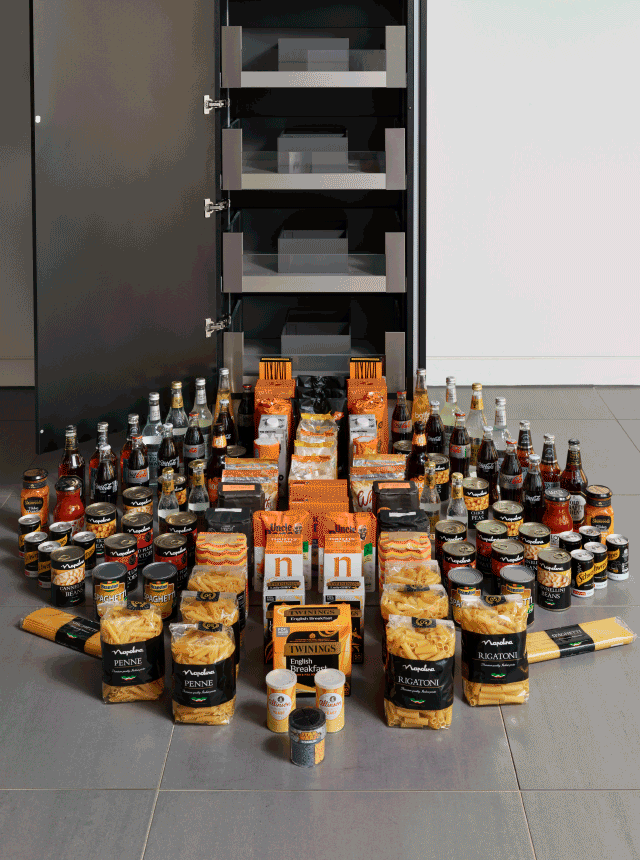 Time for a check-up…
With building works underway and contractors working hard at the Blum Experience Centre to create magic, my thoughts once again return to the customer and their journey here at Blum UK.

It's always a good idea to revisit this topic and health check the various touchpoints customers will have during their time with us, now more than ever as things have so dramatically changed over the course of the last 12 months.
There are some questions I have been pondering. Are we still relevant? Has the customers' expectations of us changed? Is our digital offering fit for the post-Covid world?
Customer Experience is not a new discipline, we've all heard the phrases… "Exceed the customers' expectations". "The customer is king". "The customer is always right".
Increasingly though this is becoming a standalone business discipline, you may have a HR function, a Finance department, Sales and Marketing and Admin, warehouse, and dispatch, but what is the thread that ties them all together?
The customer experience and user experience! The magic thread that weaves its way into every corner of your business, despite the departments that think they have no direct contact with the customer they still play a huge role in delivering a 360° customer experience.
Sprinkle a little customer experience and user experience dust over your business and create some magic of your own.

The Experience Centre is now taking bookings for on-site tours from July. Please speak to your Blum Representative or email us at theblumexperience.uk@blum.com