A letter from David Sanders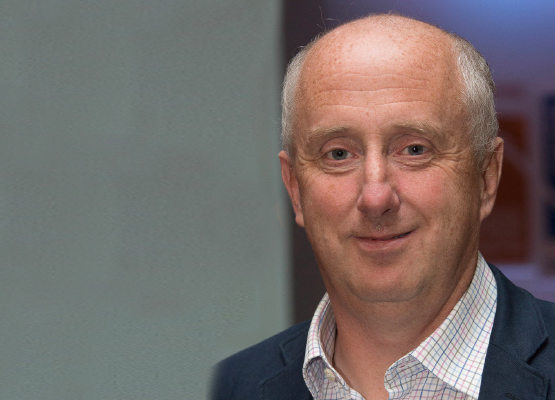 Back in February of this year I wrote to all of our partners to give you an update on how the pandemic was affecting Blum and the knock-on consequences to you.

The end of June was the end of the Blum financial year, so it now seems the time is right to give you a further update.

This update covers two subjects:
1) Product Supply Chain
Unfortunately, although our production capacity is now ready and able to meet the demand, we are facing a worldwide shortage of the basic raw materials. This situation is obviously out of our control and has resulted in a turbulent supply chain picture over a range of products.

We anticipate that this situation will continue throughout the rest of 2021, continuing to create uncertainty around supply.

We are committed to doing our utmost to minimise the effect upon your business, and to this end we will instigate a new ordering procedure with immediate effect on all key product lines across our ranges.
Continued on next page…

Cover image courtesy of Saffron Interiors see their feature on page 7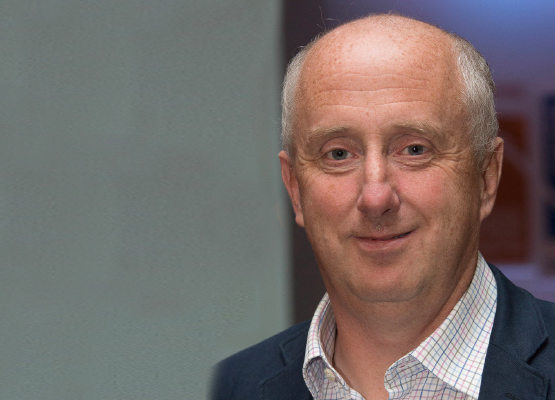 2) Product Pricing
At the beginning of 2021 we made a commitment, a decision consistent with the three previous years, that we would provide pricing stability to all of our customers for the rest of the calendar year.

We take that commitment very seriously, and so, despite several significant price increases to Blum UK this year, we have decided to honour our promise to you our partner and we will not apply a price increase in 2021.

We continue to value our relationship with you and feel that this is the type of commitment you would expect from the Blum brand to your business.

Yours sincerely,
David Sanders
Sales & Marketing Director

For the full letter from David, please visit Blum.com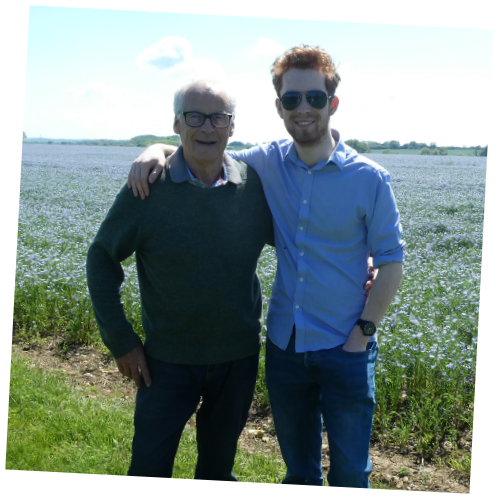 Ryan Mossman is a marketing
assistant at Blum UK. His fun fact is that to listen to his Spotify playlist once, it would take over 90 hours. Pictured above – Ryan and Pete

Contact Info: Marketing.UK@blum.com
01908 285700
Watch the video of Ryan, at our Milton Keynes HQ…
Written by Russell Green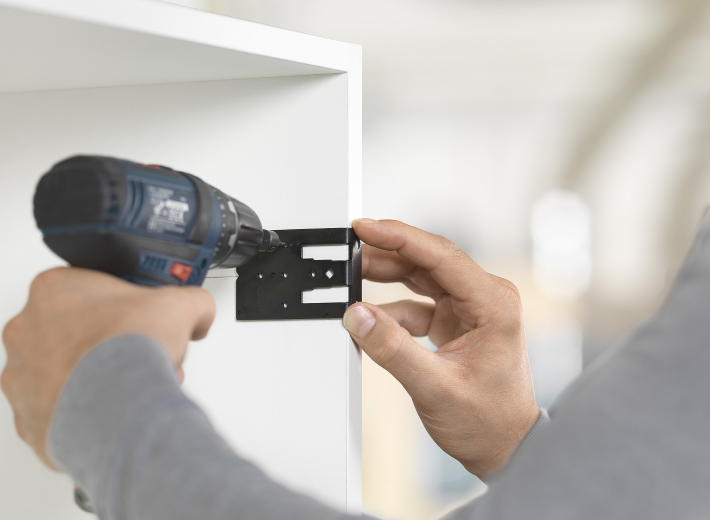 Drilling Template 65.5300

This Drilling Template is a great little tool to guide either BLUMOTION/ TIP-ON and hinge mounting plates (Ø 2.5mm). Whilst the template may be small, it is made from strong stuff to be very robust but still manages to be lightweight through its engineering.
It can be used for either inline or cruciform mounting plates but if you're unsure the holes are ready for any mounting plate that can be found in the Blum Catalogue. The template also works just as well for any overlay applications.
A useful tip before drilling is to set a depth stop on your drill bit to make sure you don't drill through the wood you are working on. What's more, if the mounting plate fixing positions are standard throughout your installation, then it is possible to fix several templates to a wooden strip and use them as a larger template.
In single use cases all you need to do is mark your height with a line on the carcass where you want your mounting plates to be. Then ensure the pencil line is in the (V) of the template, push up against the edge of your carcass, hold firmly and drill the fixing positions. Then all that's left to do is to screw on your mounting plates.
The hole size may depend on the type of mounting plate as some have dowels, in this case you may have to refer to the Blum catalogue for the drill bit size, but, you can still use the template to create pilot marks for accurate drilling.
See the Blum technical manual 2020/2021
This Template is very easy to use and versatile. Ideal for any DIY job.
The template can be used with:
• AVENTOS HF
• CLIP top BLUMOTION
• CLIP top
• MODUL
• BLUMOTION/TIP-ON for doors
My favourite part is that this template can easily fit into your pocket, taking up very little space in your toolbox or belt. Keep it readily available, it will help you when you're working through a project.
The orange circle indicates the "V" to line up the template.
The Drilling Templates 65.5300 are available at Blum Kit

Please visit Blum's website

You can find the full version of Russell's blog about the 65.5300 Drilling Template here
Facing Freedom…
After a long and protracted time living with Covid restrictions shouldn't we eagerly welcome the next phase? For many it's a cause for celebration, but freedom anxiety is a very real issue for some as the critical date for final unlocking approaches.

View has been reading up on these understandable concerns and comparing expert opinions on the subject.
Are you joyful or filled with dread about how life post-19 July will look? iNews explores the management of our feelings with Psychotherapist and grief counsellor Julia Samuel. She is an expert in change and says "The unlock takes as much psychological energy and is as big a process as it was to shut down," The article provides a range of coping techniques.
When 'easing' first took effect the Oxford Development Centre offered its advice on mindfulness, much of which remains relevant. They laid out 5 stress-free ways to transition beyond lockdown. In summary these are…
1. Acceptance – acknowledge that your feelings are reasonable
2. Gradual approach – take small incremental steps as you gain confidence
3. Rebuild your network – rekindle the connection with people in person
4. Focus on the present – don't get embroiled in what the future holds
5. Celebrate the good – reflect on positive changes and achievements.
If you've got 'proximity panic' and aren't quite ready to ditch your mask this article about step 4 anxiety might be a useful reference point for you.

The online piece from Glamour magazine is right up-to-date and addresses fears associated with a move back to normal. It questions whether it's almost taboo to voice worries about the policy shift away from legal enforcement to personal judgement.
View has also learnt a new word – Eleutherophobia (defined as the irrational fear of freedom). However, with so much at stake perhaps our fears this summer are completely rational!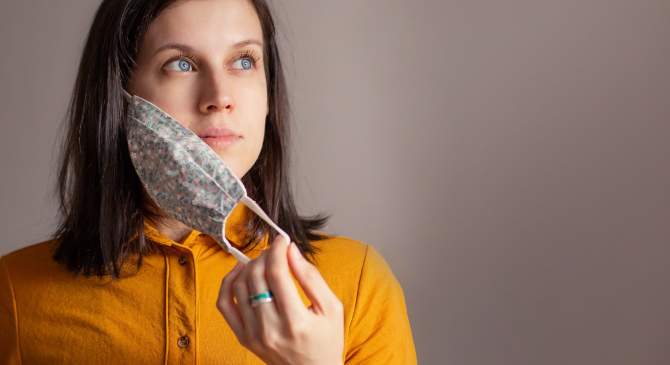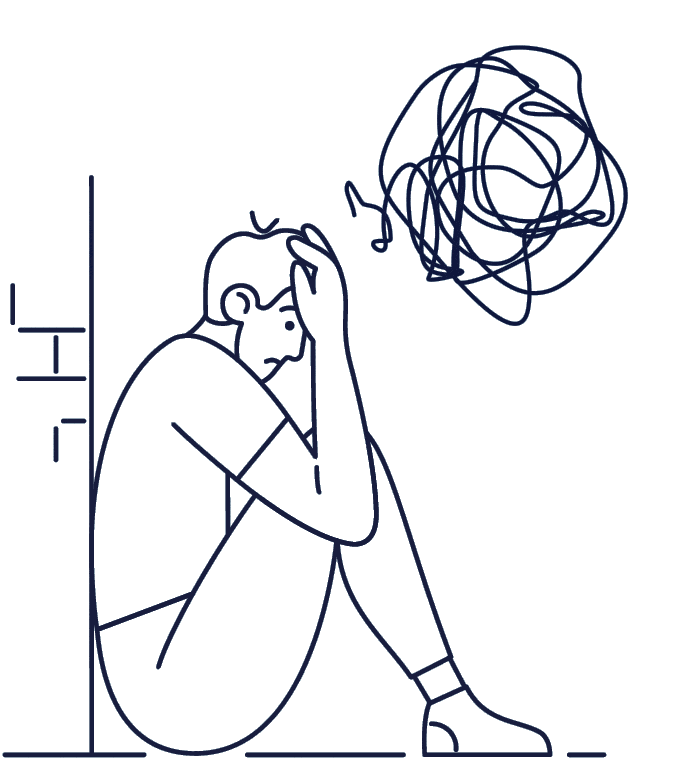 Taking charge of the sales dynamic
When the founder of Saffron Interiors, Gary Turnbull came into the industry he realised at an early stage that the focus had to be on how you do something and not what you do. As a passionate advocate of systems and processes, Gary spoke to us about his 'bigger picture' and a burning desire to carve out a niche for himself by helping others within the KBB world.

Gary was originally involved in a Replacement kitchen doors franchise operation, which he broke away from in 2009 and moved into middle/upper-end kitchens. Like most in the kitchen sector, he used the accepted model for his business which involved offering a free design service to anyone who dropped into the showroom. Gary retrospectively sees this as fundamentally flawed.


Roughly three and a half years ago Saffron Interiors reached a major turning point when it stopped giving away consultancy time and instead began charging all new prospects a 'working deposit' to produce full 3D designs. This approach, whilst simple, has absolutely transformed everything.

Gary explained to us how it works – the client agrees to the fixed fee in return for a thoroughly considered and carefully conceived design solution that they 'own'. They may decide to shop-around for comparative prices using it, or opt to engage Saffron (whereby the cost is deducted from the total project budget). Despite protests from some quarters, and the inevitable assertions of "I can get a free design elsewhere",

the results have been game changing. Gary divulged that their conversion rates essentially remained the same; in other words there was no negative impact of going down this route. However, more importantly, less than half the amount of design work was required for an equivalent outcome.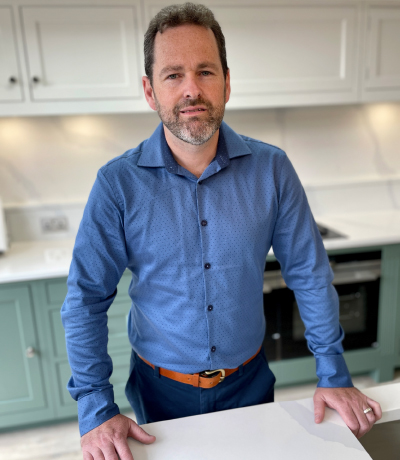 Gary notes that everyone is so short of time these days and the whole process of buying a kitchen takes lots of effort on the part of the customer – the revised approach seems to have redefined things from their perspective too. The sea change here is that it encourages people coming through the door to be more serious. According to Gary, the shift to charging now means that "We can spend more time with the right people". Further testament to its success is the fact that Saffron don't run any form of sales discounting!

In the longer-term Gary believes they have a formula that will continue to pay off because when it comes to recommendations "Birds of feather stick together" he thinks – "You get a better class of customer and that in turn breeds better referrals"

There is a great deal of fine detail involved in implementing the Saffron solution and certainly Gary's advice on ensuring effectiveness would cover aspects such as careful tracking, follow-up and measurement. He has a strategy that has been honed and perfected with his team over several years. This style of selling could be one of the key reasons that Saffron have been nominated for a BKU award, along with their excellent service. He's proud of what they've achieved but Gary knows that others can also reap similar benefits and he would urge anyone to give it a go.

Gary is happy to share best practice with fellow retailers and can be contacted via his dedicated LinkedIn channel
For more about Saffron Interiors see their website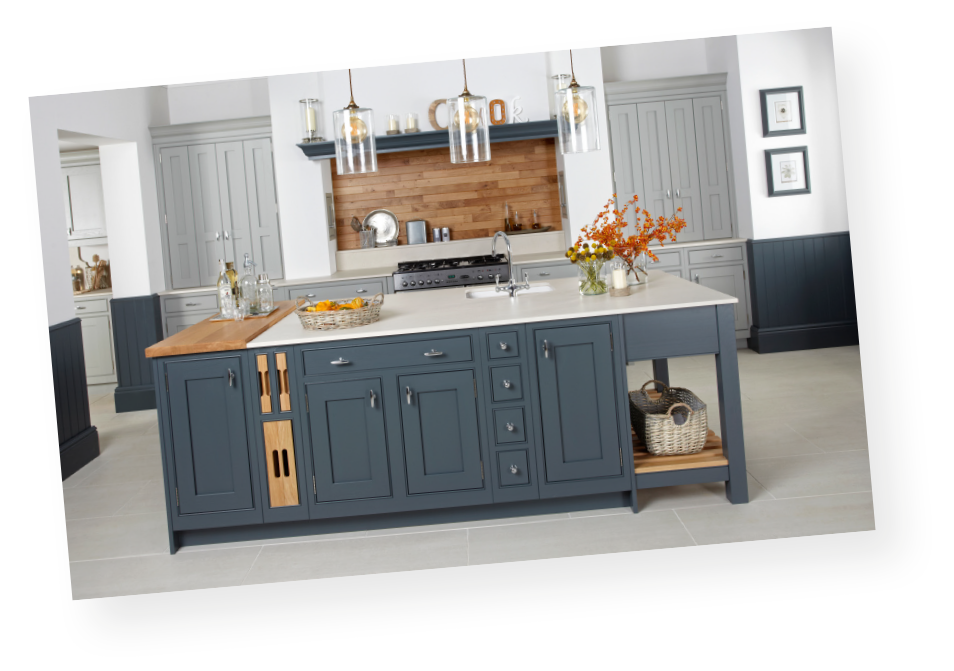 All the way to Wembley…
written by Neil Schofield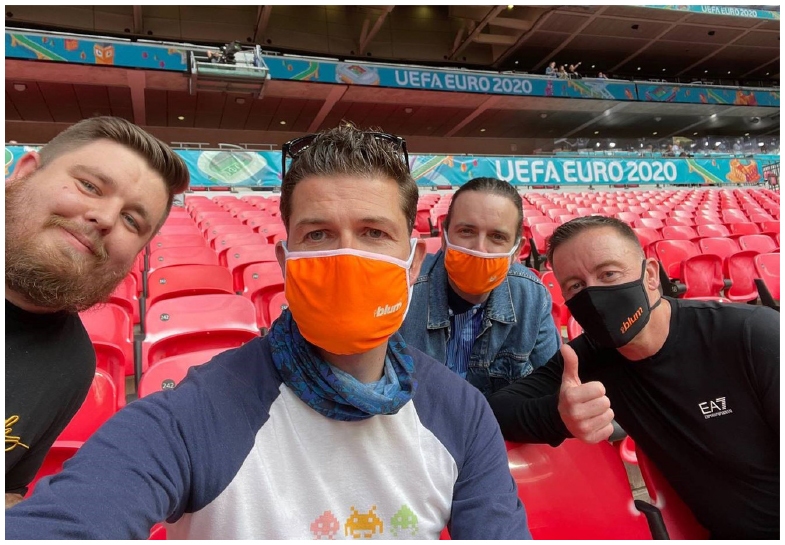 From left to right: Tom, Phil, Rowlande and Neil
Tom Winfield, Rowlande Piddock, Phil Moyles and I were the lucky names drawn out of the hat for four tickets to see Italy v Austria at Wembley during the Euro 2020 tournament.

Our tickets were kindly donated by Philipp Blum who sadly couldn't make the trip to see his country in the last 16 of the tournament against the fancied Italians.

Logistics for all 4 of us was the first challenge. I live near Manchester, Phil in Halifax, Tom in Bedford and Rowlande was in St Albans. Having safely negotiated the country roads, motorways and London traffic, and found a car parking space, we finally made our way on foot up Olympic Way to Wembley Stadium. As anyone who knows Phil Moyles will recognise, journeys in the car with him are fraught with danger, and as usual he had us in stitches from start to finish, so I'm glad we made it in one piece!

Wembley was superbly organised and I have to say a very friendly place. The area around is full of designer shops, restaurants and penthouse apartments which is a far cry from the industrial area it once was. The game itself struggled to come to life really until extra time when it really took off. End to end throughout the final 30 minutes, Italy came out winners 2-1, although Austria missed a hatful of chances. We were having such a good time but Phil Moyles and I, especially, were wondering what time we would actually get home.

Getting back to the car park just after 11:00pm we set off back from whence we came. After dropping Rowlande and Tom off, I made it home at 3:30am and Phil got back to Halifax just after 4:00am. A day we won't forget for a long time, great company and a fantastic experience for us all. A massive thanks from all four of us as we know Philipp was disappointed he couldn't make it. We did our best to cheer Austria on, but sadly it wasn't to be.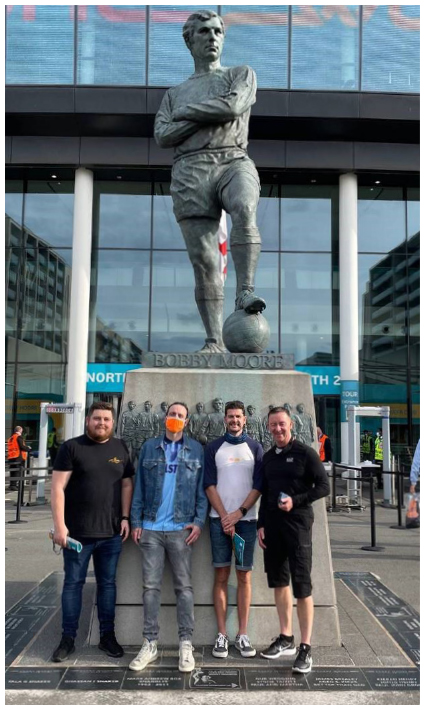 Internet insights…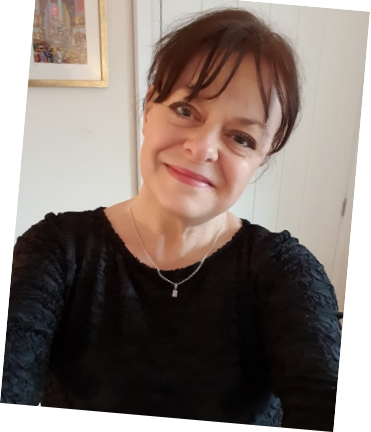 View has teamed up with Director of Zigzag Web Design, Penny White to offer some great pearls of wisdom for anyone in the KBB sector. Penny has a proven track record in achieving top Google rankings for her clients. She specialises in Search Engine Optimisation (SEO), E-commerce, Web Design and Search Marketing. As well as delivering websites for online retailers, she works at the heart of businesses to manage their overall online marketing. Penny feels strongly that getting these things right is fundamental to achieving sales online.
In this two-part feature Penny shares some common pitfalls that she believes companies can carefully sidestep in order to strengthen their presence online. In the next issue she will look at more top tips for best practice.

• Don't appoint a third party SEO specialist and leave them to it! SEO should be at the core of any online business, on a regular basis you should be active in the whole process to discuss, revise the plan and continually grow.


• Never assume that a no.1 ranking now will be guaranteed for life. Always monitor your rankings and keep on top of them so that they remain stable. Work to maintain your top rankings and act swiftly when you see fluctuations.

• When it comes to SEO don't be rigid in your outlook whilst others are on the ball, overtaking you and more dynamic. You must constantly stay on top of competitor analysis – be as interested in them on the web as you would be in their activity offline!

• Avoid home pages that look like 'fruit machines'. Your design solution should stand up to rigorous testing for performance and customer engagement on both desktop and mobile layouts.

• Resist the temptation to litter your site with ill placed calls to action. For instance 'add to basket' on a home page is often futile – visitors are unlikely to hit that button!

• Don't assume that all visitors land on your home page. A detailed search result might take someone

to a landing page deeper in the site where key information to hook attention is missing (eg a Google Shopping result takes the user straight to a Product Page). Analyse bounce & exit rates on all pages to see where they are higher. Don't confine key sales messages, ensure they are site wide.
• Avoid 'landing page friction' and exercise caution with additional pop-ups, offers and chat boxes. Who wants to be greeted with a barrage of these things as they first interact with a brand. They are annoying to Google and customers alike.

• Avoid building parallel websites for different market sectors of the business (eg trade & retail, multi language) because it's much better to make everything work well under the one umbrella – and far less problematical to maintain in the long run.

• Don't be blinkered and forge an SEO strategy based purely on how you expect people to search – consider Search Visibility in the broadest sense and protect organic search results by optimising longer tail phrases. Think like your customer in every respect.

Don't rely on a single set of search phrases – having a higher volume of phrases in top positions will give protection against unexpected fluctuations on Google.

• When building an online shop remember there's no prize for choosing the first ecommerce solution you find (or even the one highest in the popularity charts). Be diligent in your research and find the tool most suited to the individual needs of your business. Is it scalable? Changing platform 2 yrs down the road will have a big impact on your SEO. The perfect platform for a fashion retailer may be far from ideal for a KBB business with variable size ladder unit, with drawer box options and hundreds of handle accessories!

Kitchen Trends Update

by Linda Parker
KITCHEN TRENDS continued
KITCHEN TRENDS continued

Here's some inspiration for colour combinations to enhance all those new cabinet suggestions. Take a look at the beautiful new colours in the Sunlit Days collection from Silestone. Arcilla Red is particularly enchanting, with a suede texture and HybriQ+ technology – it's Carbon Neutral too.

The Inline Princeton design from Symphony is the handleless version of Princeton, shown here in Chalk White, and described as a transitional design for those who want a balanced blend of traditional and contemporary décor. The Inline handles are tucked into the top or bottom of the cabinets to create a streamlined look (number 1).

A modern mix of four new urban colourways have just been launched from Roux Kitchens. The Loire range now includes Gold Slate, Metal Fabric, Chromix and Light Concrete, all entirely suitable for projects where an industrial vibe is required (number 2).


Your Blum Experience Centre Team…

We've talked a lot about the Blum Experience Centre but who is exactly behind it?

There are four lovely ladies you will be able to meet on your next visit to the Blum Experience Centre: Amanda Hughes, Victoria Trimmer, Debbie Phipps and Janet Perkin.
Amanda – An expert in all things Blum, Amanda is the essence of what your time at the Blum Experience Centre will be about. Form human stories throughout Blum's history to how every new product or innovation makes the difference for our customers; Amanda's the expert!

Victoria – Is there such as thing as a perfect host? Victoria is the closest answer we have been able to come up with. As an instrumental part of any visit to the Blum Experience Centre, Victoria's mission is to make anyone who steps through our doors feel at home. From teas and coffees to living the values the Experience Centre represents, Victoria is a highly valued member of the family.

Debbie – Debbie is the longest standing member of the team and has seen the Experience Centre grow over the course of its lifetime and helped set the initial foundations when it was just an idea. As the quintessential smiling face of Blum, many of you most undoubtedly spoken to her long before you arrive.

Janet – As the newest member of the team, Jan joined us during the peak of lockdown. Despite being thrown into the deep end with many of our colleagues working from home she quickly picked up who Blum is and why we do what we do. Now, looking like a seasoned veteran of the team, Jan is one of the smiling faces who welcomes all to our home.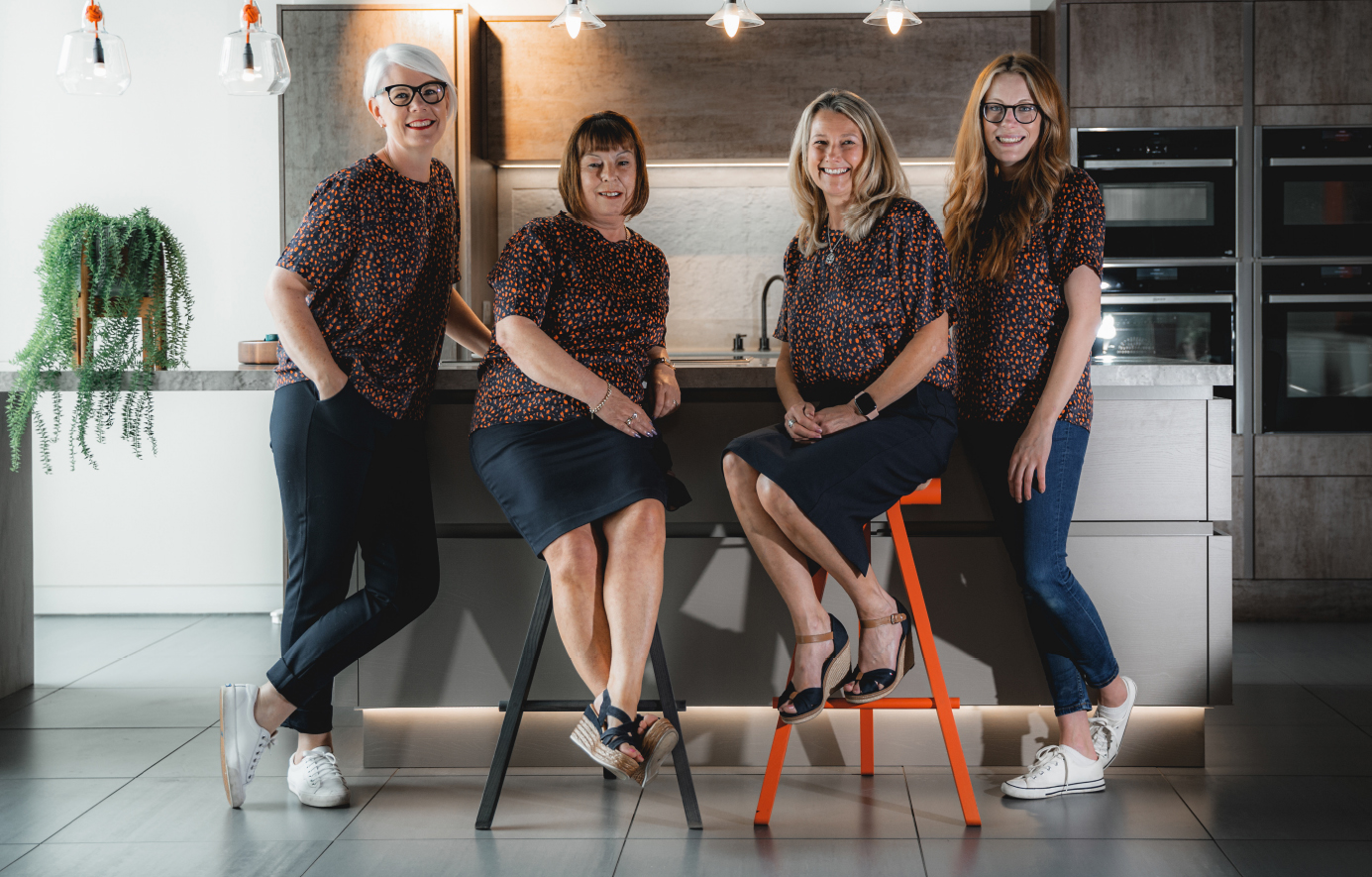 From left to right: Amanda, Debbie, Janet and Victoria
"Its been a journey for us over the past few months to update the Experience Centre. We're really proud of Blum's story and we can't wait to share it with you."—Victoria