Latest on our

price review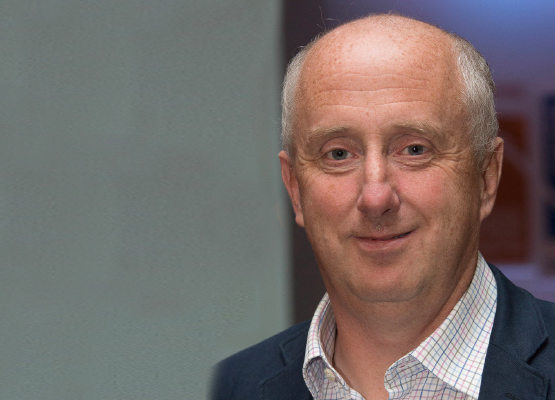 In our last communication we provided you with an update on the challenges facing our industry with regards to a global increase in product demand alongside a reduction in the availability of raw material. Naturally, this combination has meant that our industry is facing challenges that many of us have never experienced before.

The global pandemic and industry issues have meant that 2021 has been a tumultuous year for both us and all our valued partners. And for the first time in our history, we have had very little control with regards to managing end results. What we have had control over is the commitment we made to you last year in relation to not increasing our prices. This was a commitment we took very seriously and therefore as a business we decided to absorb the impact of rising costs.

We highlighted in our July communication that in January 2022 we would have no choice but to increase our prices. We also promised that we would advise you of the increase earlier this year so that you can have as much notice as possible to prepare your business for this change. Since this communication we have seen further impacts connected to both the availability and the cost of raw material and currently we do not see the situation improving in the short to mid-term.

Continued on next page…

Cover image courtesy of DG Kitchens see their feature on page 7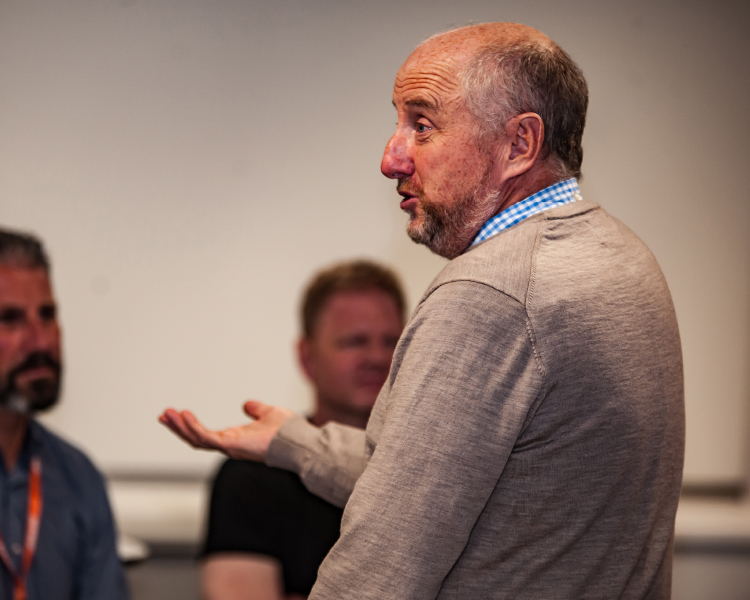 The majority of new prices, valid from 1st January 2022, will be subject to a net increase of between 15–17%. However, on certain products (i.e. METABOX & roller runners), where the raw material impacts are greater, the increases are in the region of 27–29%. There are a few isolated exceptions where current production volumes/processes have impacted costs – either positively or negatively.

We are hopeful that, as in previous years, we will be able to maintain pricing stability throughout the year. However, due to the ongoing fluctuations in raw material costs, we will not be able to extend a stability guarantee throughout 2022.

If you have any questions relating to any aspect of this review, or require new costings on any other Blum product(s), please contact either; your normal sales representative or our customer services team.

Yours sincerely,
David Sanders
Sales & Marketing Director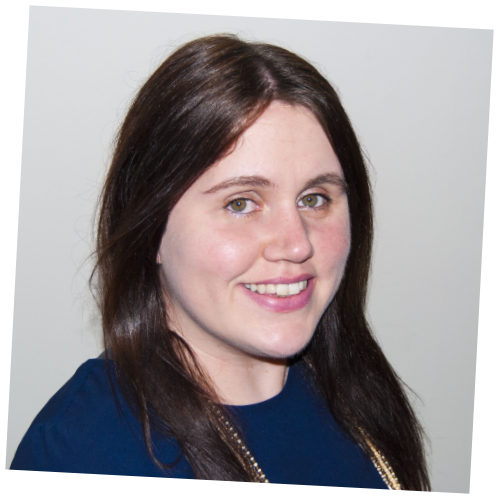 Lisa has worked for Blum for almost 10 years. She loves to travel and take on new challenges.

Contact Info: Marketing.UK@blum.com
01908 285700
Catch up with Lisa, at Blum HQ in Milton Keynes…
Written by Peter Sharratt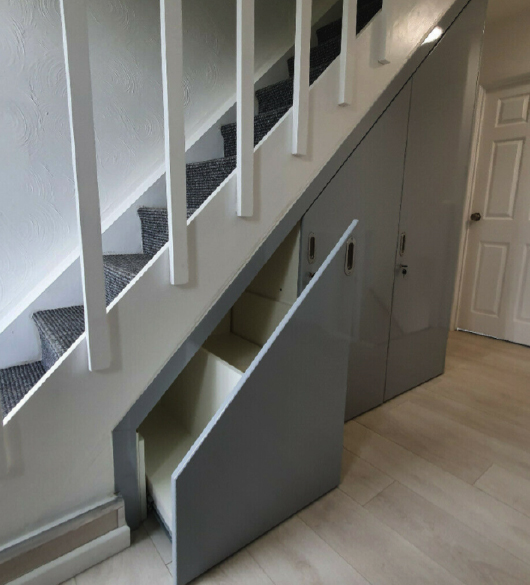 What's new in storage?

There is a new and developing trend we are starting to see more of in people's homes. Turning what is often seen as a dark and dingy cupboard under the stairs into a stylish and functional storage space. Probably not what Harry Potter would have liked, but for the majority of us, it is a great way to store the vast amount of paraphernalia that seems to collect around the front door.

Whilst we find it exciting to see Blum products used in this way, there are a few things to consider before taking this on.

If we start by looking at a normal door with concealed hinges, then the first thing to consider is the shape of the door and how this affects the opening, especially on recessed doors. Be careful not to hinge the door on the wrong side, or the door tip may collide with the underside of the stairs. We suggest using a wide throw hinge like the 155° hinge, but even this is often not able to create a big enough swing. So careful planning is key here.

Alternatively, you can use drawers to provide storage for shoes and coats, like the drawer in the picture, which pulls out to offer rails or shelves to store these items. What we should bear in mind here is the weight of the drawer. Blum drawers and runners are designed to work in a normal domestic setting and have been tested to work in a format most recognise as a standard drawer, and they have set weight limits. If you use wooden drawers with a full height wardrobe behind, this can cause problems. With a runner system like MOVENTO you can fit a 750mm NL runner which will give a nice deep drawer, but when you then add the weight of a drawer, and possibly a tall housing, then you could exceed the maximum weight load of 70Kg or leave very little capacity to actually store anything.

Handle free solutions are possible but require some thought to ensure they work, and the carcass can make or break the whole installation before you do anything else. I cover these areas in more detail in the full blog, if you are thinking about taking this on yourself.

We really love working on these clever solutions, so feel free to come to Blum Technical if you want to talk about creative ideas or if you have any other Blum questions.

Aiming high for charity…
Blum UK recently attended Big Shots in the heart of Middlesex to support the event's 26th consecutive year running and The Furniture Makers' Company's Step 2 It campaign.

Raising £23,000 in support of those who've been hit hardest by the pandemic, Big Shots and Northern Big Shots are opportunities for those in the industry to give back whilst enjoying an afternoon of shooting competitions. With nearly 10% of the annual goal being raised from the events alone, Big Shots has been a huge success.

As one of 22 companies taking part, Blum UK would like to encourage anyone within the furniture industry to get involved with future Big Shots or any of the other upcoming events! Our team had a great day, let's all get more involved!

"What an amazing experience and a fun day I had with my colleagues, Emma and Jodie. Girl Power! Or some would have called us the Blum Angels!! At the Holland & Holland Clay shoot experience day for the Furniture Makers Company Furnishing Industry's Charity.

Whilst we didn't achieve any winning trophies our Jodie from Technical did come joint winner of the women's amateur hot shots of the day. Winning herself a lovely bottle of champagne.

I felt extremely proud to be representing Blum UK at this event." Janet Perkin

"I found the day to be very enjoyable! Would most definitely love to go back again!

Having never done clay pigeon shooting before I was made to feel very comfortable by our instructor. The venue was beautiful, and everyone was very friendly, an all-around fantastic experience." Emma Smith

You can get involved with Step 2 It here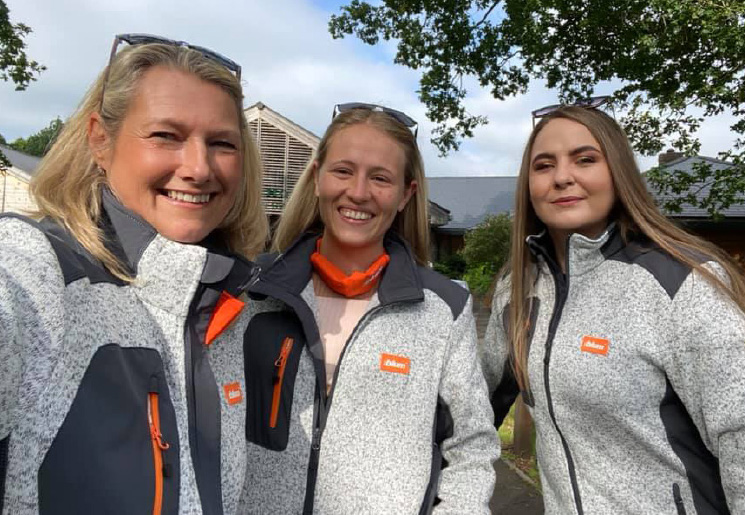 Building on valuable experience

In his early career, Dave Godfrey did a wide range of things from working on the Heathrow Express Link, renovating a chateau in France to building luxury yachts but it wasn't until he became self-employed that he discovered the true meaning of 'clock watching'. Dave shared some of his journey (the highs and lows) with View as we caught up with him at his thriving business in Poole, DG Kitchens.

Dave cut his teeth in the KBB world working first as a fitter and subsequently trouble-shooting for a high street DIY brand. Both seem to have taught him how to deal with problems, of which there were many! He considers this whole period as a 'bad experience' but talking to him, there is no doubt that his empathy for the customer and thorough understanding of their needs was gained at this time.

DG Kitchens was established in May 2016 and Dave tells us "I have never worked so hard in my life". Due to his own experience and background the business was founded on the basis of doing everything from a fitting point-of-view, so the whole model is fitter-friendly. It was a "bit of a punt" says Dave, with his brother Matt being the only customer in the beginning. Matt is still on board now and today trade accounts for approximately 70% of sales.

The 'build it and they will come' attitude has served him well and it equally applies to his 2000 sq ft factory which was a real labour of love. For Dave, the learning curve was steep when it came to investment in the plant. Initially, there was no available cash to buy expensive machinery so on a shoestring budget he acquired pre-owned items such as an Edge Bander for £4,000 and a Sliding Table Saw (their successors costing ten times as much). Now that saw has been replaced by a Beam Saw which, along with CNC machine and Blum Minipress, is the main kit Dave describes as "other members of staff!". Not having the capital when he was finding his feet was a good thing in his eyes, because "…I would have probably bought all the wrong stuff" admits Dave.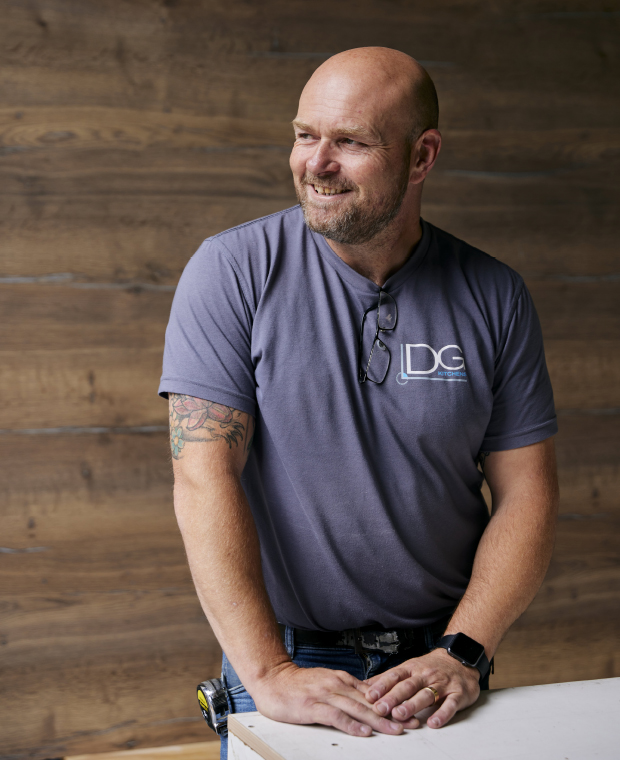 DG is looking to offer a broader service in the future but the pandemic has put plans approximately one year behind schedule and current capacity allows them to produce a few kitchens per week. The relatively low number of people in the supply chain ensures that they get the right results. Dave knows that the balance between growth and meeting promised lead times is a delicate one. He is pretty sanguine about it and certainly appreciates the importance of maintaining credibility. DG Kitchens is adopting a strategy of scaling up slowly in order to deliver on every level – "All I know is what I want to go out the door at the end of the day".

DG's market isn't people who are happy with a kitchen from one of the big stores, instead they appeal to a customer base who are more discerning, who demand higher specifications, who may require colour-matched units and clever storage solutions. Pricing is often comparable, although "Our customers do see where the extra money goes" when it is difficult to match the heavily promoted high street deals. What DG lacks in available marketing budget they make up for in terms of strong local reputation – so much business comes through word-of-mouth and recommendation. The challenge that Dave faces is how to make more of the world aware of this 'best-kept secret'.

Financial considerations have an impact on building the brand, but prudent management avoids the worry of "…too much month left at the end of the money!"

The showroom that DG run adjacent to the manufacturing unit has recently undergone a facelift and with support from the Blum merchandising team offers a comprehensive range of drawer box solutions, fittings and storage features.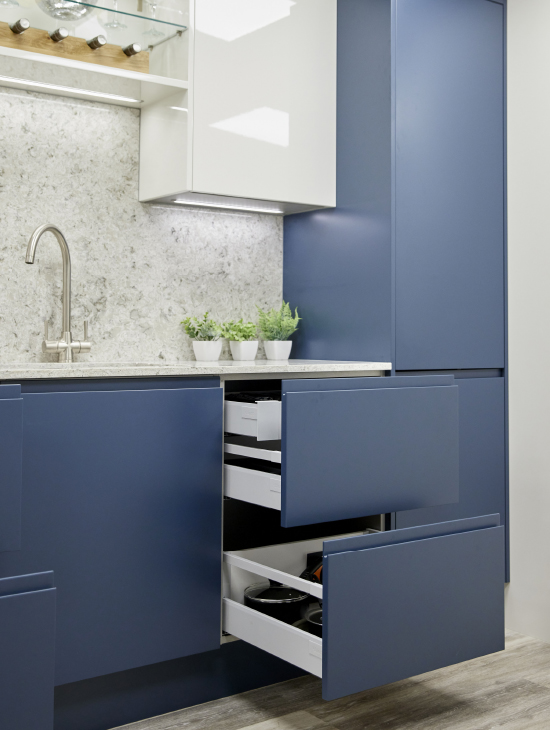 "I tell customers about what we
do
, not about what others
don't
"
DAVE GODFREY
Living and commercial space
design – help shape the future
Craig Matson "When the cost is negligible,
why would any employer not provide their staff with the option of industry-specific, higher education".

Blum would like to take the opportunity to support The Kitchen Educational Trust (TKET). Recently, the organisation has gained approval from the Institute for Apprenticeships and Technical Education to create a new form of degree apprenticeship around designing living and commercial spaces. The goal of which is to offer comprehensive training that meets the needs of the widest cross-section of organisations.

TKET with the support of the KBSA has written a proposed curriculum for the degree apprenticeship but they still require our help. To ensure no voice is left unheard they are asking for employers, training providers and potential apprentices to add their thoughts to help make the course as robust as possible. Both Blum and TKET would be grateful if you could contribute your opinion on this exciting new topic.

Everyone's opinion is useful, the course is designed to apply to bespoke design retail showrooms to national retailers and everyone in-between with the flexibility of being delivered in either an office or home environment.

You can contribute your opinion here

The survey only takes 10 minutes, and each response will go a long way in influencing the future content for TKET's apprentices.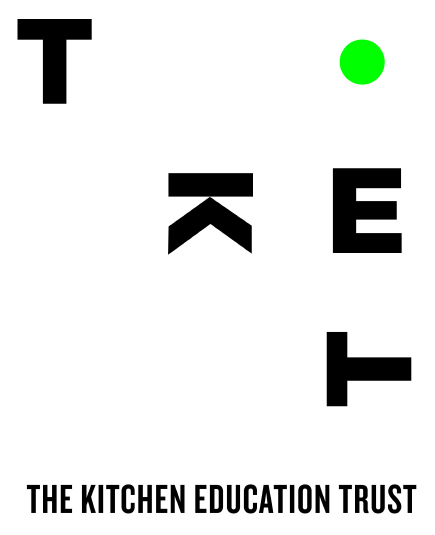 Expert view…

View is joined once again by Penny White of ZigZag Design to share some more valuable internet insights. Penny has a proven track record in achieving top Google rankings for her clients. She specialises in Search Engine Optimisation (SEO), E-commerce, Web Design and Search Marketing. As well as delivering websites for online retailers, she works at the heart of their businesses to manage their overall online marketing.

In this second part Penny has best practice advice that will help KBB companies achieve success online.

• Establish Trust – Manage your business reputation across all platforms and remember to respond to negative comments & reviews immediately.

• Know the 'customer return' rate on your website – Build and retain customer loyalty and nurture their business. This can be done with segmented email marketing, loyalty schemes & promotional offers but utilise Insights to monitor engagement and conversion rates from returning customers.

• Keep your Google 'My Business' listing up-to-date – Keyword searches with a local intent will give localised results that could be really important if travel time to a particular showroom is a determining factor for instance.

• Maintain a consistent and authentic tone of voice throughout a website and across all platforms. TIP: knowledge-based articles are a good way to address repeat queries and thus reduce calls and email enquiries.

• Give customers important, high quality content and write structured in-depth articles. Articles may generate a 'featured snippet' result and these types of high profile rankings generate a high click-through rate. Google wants businesses to be an authority in their market area. One way of presenting yourself in this way might be creating YouTube videos showing product functionality.

• Products that have a significant amount of reviews have a stronger visual element in SERPs (search results) with rich snippet 'star ratings'. Feature these products on your home page to draw to Customer and Google's attention alike.

• Check Google Search Console to monitor your website's performance. If your site's crawl status is set to "mobile-first indexing" it's not sensible to focus solely on the desktop layout, especially where ecommerce is concerned. Optimise user friendliness & performance on mobile devices.

• Keep your eye on the ball and regularly test the full path to purchase that your customers experience on their desktops and mobile devices. Just because it was working smoothly when you first launched your site, doesn't mean that it is now!

• Run a Google Shopping campaign – When a product specific search is made on Google, Shopping results appear above the main organic results. The landing page from a Shopping result is a product detail page – this can bring higher conversion rates. TIP: Analytics from a Google Shopping campaign is a great source of data for organic optimisation strategy.

• When planning your SEO strategy, remember that Google understands the intent of a search with long tail phrases now commonly used by people, for example "Which brand of kitchen sink is best?"

• Write your website content for humans and not robots – such an approach will mean that you are better prepared to ride Google algorithm updates (which can be harmful if you only have a basic outdated key phrases strategy). Write in a natural-language style, your customers and Google will thank you.

• Consider your SEO strategy as scaffolding whereby one element not firmly in place can have wider repercussions for the whole. Everything must operate in harmony – meta data and links are not the only answer.

Surface Schemes

by Linda Parker
Choosing and specifying cabinetry is just one part of the journey for a new kitchen and bathroom; there are dozens of other decisions to be made regarding floors, walls, surfaces and finishes. This month, we're taking a look at some of the latest inspirational surface ideas for tiles, walls and floors.

1 Tumbled limestone is a classic choice for kitchens and works particularly well for open plan spaces, as limestone can blend from indoors to outdoors beautifully. Dijon Limestone from Quorn Stone has a weathered look that suits older properties.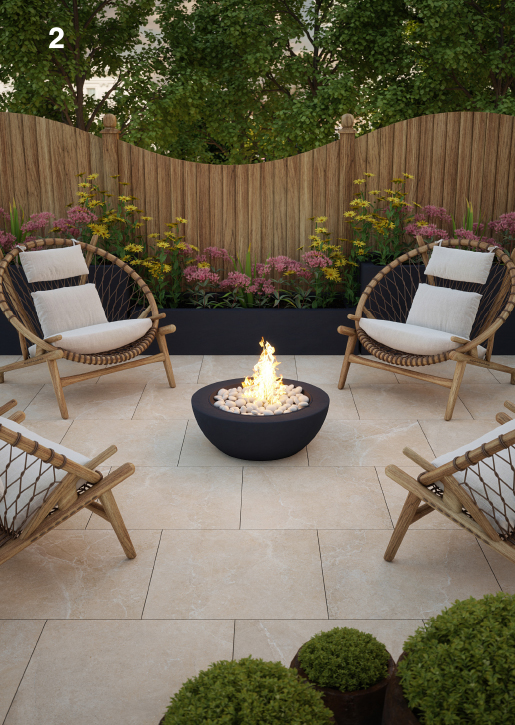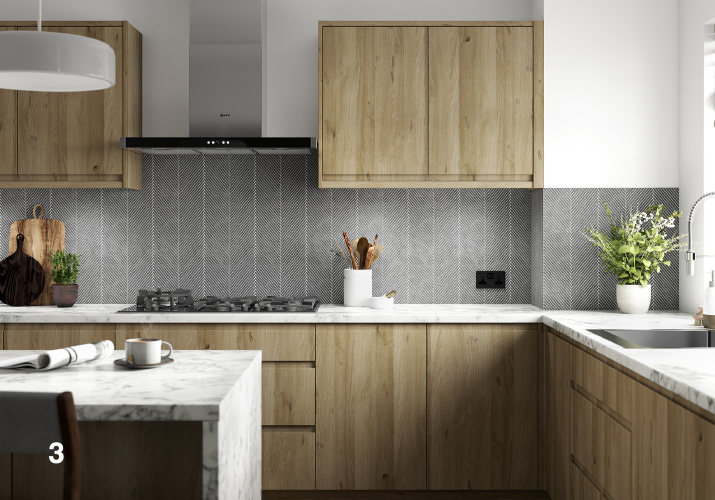 2 Many kitchen projects extend into the garden, and creating a smooth, seamless stretch of flooring that flows from indoors to outdoors is a design consideration that always works. These tiles are Clifton Bone from Walls & Floors, they can also be used indoors, or matching indoor tiles are available.

3 If speed is of the essence for a new installation, aluminium splashback panels can make a difference, time-wise. Each panel is 100% fire safe and quick and simple to install. These are Herringbone Cement panels from the Alloy by Bushboard collection. See the video here.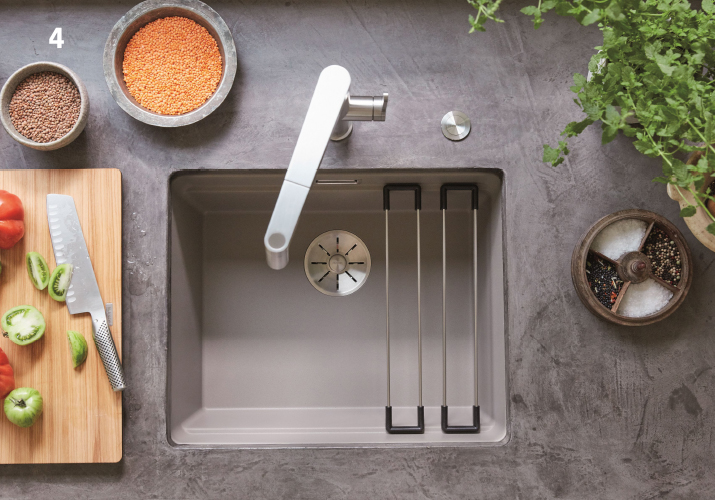 4 The ETAGON sink from Blanco is available in 10 Silgranite® colours, such as Concrete-style here, as well as Black, Pearl and Coffee, amongst others. Eight shapes and sizes, three levels, to slot in heat-resistant rails, a chopping board and colander.
SURFACE SCHEMES continued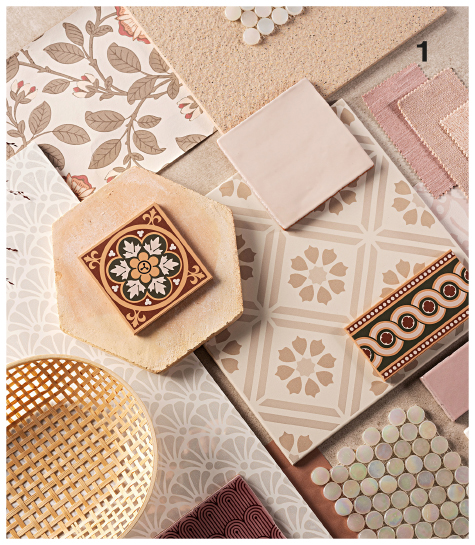 1 Everyone loves a mood board, it's a practical and logical way of working out how colours and patterns can work together. These 'Sanctuary' design directions for 2021 are proving to be spot on and we think these colour combinations will definitely still be in the mix for 2022 and beyond. Tiles by Original Style Sanctuary.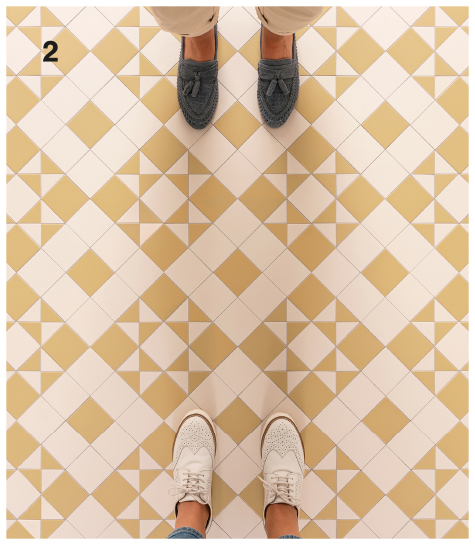 2 We've seen a lot of yellow this year, and these tiles, in Dover White and Hawthorn Yellow, from Original Style can add just the right amount of cheerful and uplifting colour to a neutral kitchen or bathroom scheme.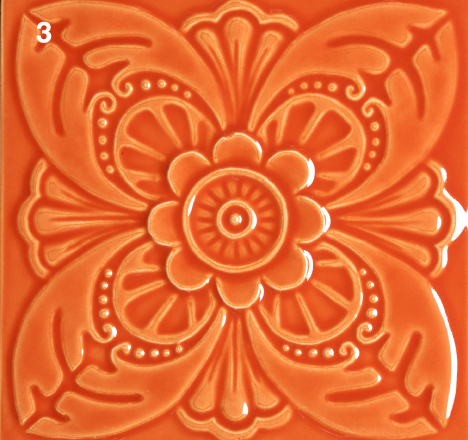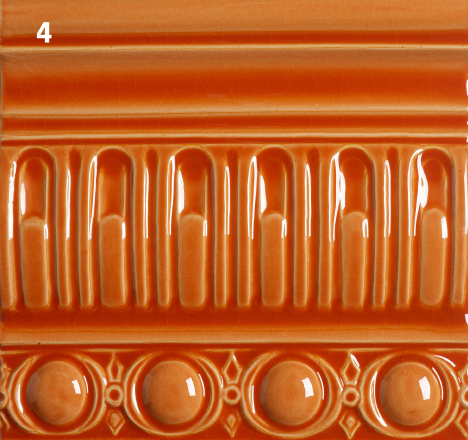 3 There's a trend for strong cabinet colours in the kitchen (black, navy, jade green) but if that much colour sounds overpowering why not choose a panel of bold tiles instead? These are from the Artisan Tile Collection by Craven Dunnill Jackfield. Also in Amber, Chestnut, Laurel and Indigo, amongst others, with décor, skirting and dado tiles available (4).
The Squares design in Mermaid's Brilliance range of acrylic bathroom panels has a glass-style finish, a 15-year guarantee, and is, of course, 100% waterproof. Definitely worth considering as an alternative design option for bathroom surfaces – not just for the shower space but for other areas of a bathroom too.
SURFACE SCHEMES continued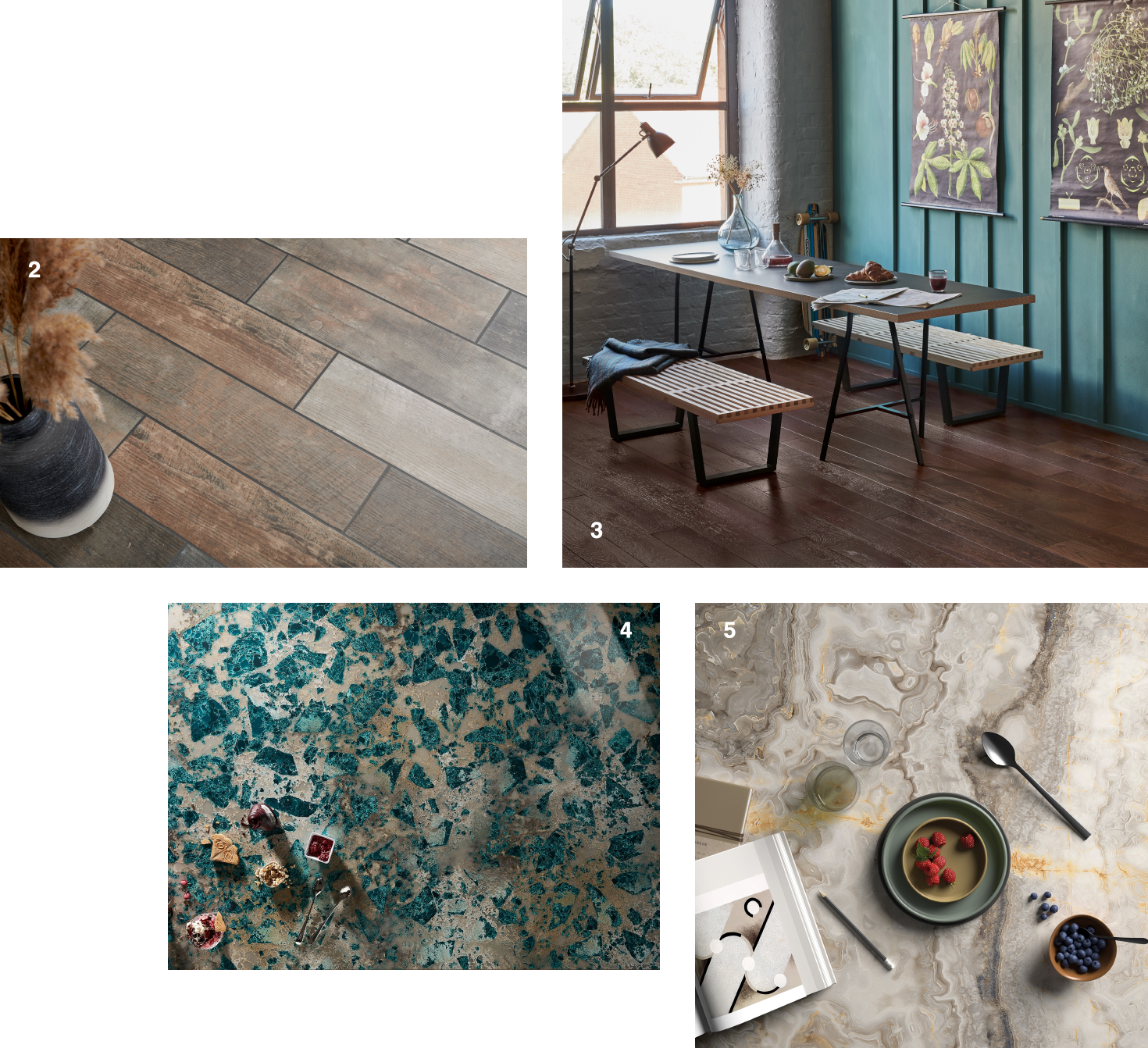 1 Tiles aren't just for the kitchen; they can make an impact in adjoining rooms too… These are Lemmy Indio Blue porcelain wall and floor tiles from Tile Mountain. Also in Viridium Green, Pumpkin Gold and Venom Black for further striking style statements.

2 Vintage Wood porcelain planks from Tile Mountain can be used on floors and walls and can be a winning option for the designer who is looking to create an industrial or rustic theme. Use them on the floor for a tough finish that looks like aged wood, but without the upkeep. They're also a great choice for a rustic look for walls – perhaps between work surface and wall cabinets in a country-style painted kitchen.

3 Engineered timber flooring is another good choice to run throughout a ground floor – kitchen, dining, family and TV rooms can all look elegant and comfortable with a classic wooden floor. Add rugs for colour and texture. This is Harlech Cognac Oak from Woodpecker Flooring. It has a brushed and lacquered finish, and it's three-layered stability means it can be installed with underfloor heating.

4 Konigstone Eldorado would make a glamorous and striking surface choice in the kitchen (or bathroom). It works particularly well with neutral tones or natural wood cabinetry, as the stunning teal colourway stands out dramatically. The KonigQuartz range was recently named the Best Kitchen Surface by the Ideal Home Kitchen Awards 2021.

5 Savoy Oro tiles from Porcelain Superstore are particularly impressive and can be used for both walls and floors. The large format (600mm x 1200mm) means fewer grout lines and a luxurious, streamlined look. Particularly good for bathrooms, but we also think they're particularly suited for a glamorous, high-end look in the kitchen – teamed with gold or brass finish handles and pulls.

Since the Blum Experience Centre's doors have been reopened, we've hit our stride and welcomed many of you into our home.

From end-consumers curious about getting a new perspective on how to view their living spaces to household names learning about our investment in the future, it's been fantastic to have already welcomed so many faces, new and old back into the building.

If you too would like to take the tour and
step into the world of Blum, you can book
your appointment either through our form, email us at theblumexperience.uk@blum.com
or call us on +44 1908 285700.


Explore the View archive library
Blum UK, Mandeville Drive,
Kingston, Milton Keynes, MK10 0AW
Tel +44 1908 285700
www.blum.com