Keeping busy –

staying positive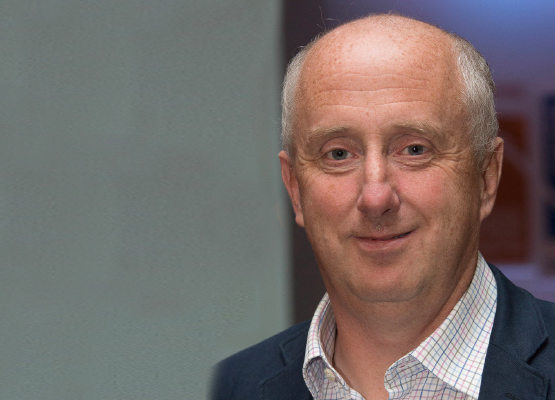 Welcome to issue 19 of the View, I hope all of our readers are well and continuing to positively adapt to the ever changing environment that we find ourselves living in.

The last quarter of the year is traditionally the busiest, as the KBB industry deals with the "I want my kitchen before Christmas" syndrome. This year is anticipated to be the busiest we have ever had and, will be more challenging than normal due to price and supply volatility within the sector.

We will continue to work as hard as possible to be transparent with all of our partners and continue to communicate with you, to make sure that you are able to provide your customers with the most up to date information in regard to delivery dates.

On a personal note I would like to take this opportunity to say a massive thank you to Stuart Arrowsmith, you can read further details on Stuart within this issue, Stuart has been a part of my life for most of my Blum journey and to put it bluntly, I would not have been able to stay on that journey without his friendship and support. He is moving on to the next phase of his life and I truly wish him and Tracy all the very best for their next steps.
If you would like to be featured in an issue of the View then please get in contact with us through your normal channels.
I hope you enjoy reading this issue and it continues to give a View to the outside world, which was the mission when we first started.
All the best

Cover image courtesy of Dwayne Edwards see their feature on page 6
Written by Andrew House
MINIPRESS top launches

It's been a long time in the wings, but the wait is over. I am talking of course about the launch of the MINIPRESS top, the next generation drilling and inserting machine from Blum. You may have been fortunate to have glimpsed the MINIPRESS top at KBB and as I write this I am still putting it through its paces. I am sure that if you have ever used either our Pro-centre or Cabinet Configurator, then you will feel right at home with this machine.

Description
MINIPRESS top has both horizontal and vertical drilling heads but with EASYSTICK included you will have a computer-controlled drilling machine. The computer utilises a simple form of Cabinet Configurator for its cabinet planning software that's built in. The Vertical drill head position and ruler stops are all programmable via the computer.

With all your panels cut to size and shape, the MINIPRESS top will complete the rest of your drilling and inserting processes, from dowel joints to KD fittings, hinges, mounting plate drilling, lifts systems, runners, and shelf peg positions.
Benefits
Automatic control of the Y axis up to 350mm, which will see you reach the centre line of all but the very deepest units. The top uses the same gearboxes as its predecessor the Pro-Centre but with new head clamping technology making for quick and easy drill head exchange. You can input Y axis and EASYSTICK parameters directly on to the computer, so manual setting drilling positions is possible or via data transfer from Cabinet Configurator through a USB stick. The computer configures the Minipress top and tells you how to configure drill heads all from the touch screen. Editing your plans is also possible from the touch screen after uploading.
If you add a barcode scanner it's possible to scan individual work sheets, and process individual cabinet panels. The benefit to all this technology is a greater level of control, more accurate drilling and efficient processing of work pieces.

Blum UK are also offering a care and commissioning package to support the arrival of the MINIPRESS top, giving you complete peace of mind.

Placement The MINIPRESS top, with its vertical and horizontal drill heads combined with the EASYSTICK will be a valuable tool in any workshop. Large manufacturers looking to ease the bottle neck on their CNC machines, or for use in their projects departments will find huge time savings. And smaller bespoke manufacturers with limited space can benefit in their workshops as they will also be able to process all their panels in one place.

All in all, I am loving this machine and as I continue to play with all its features, it reveals more and more of its flexibility and simplicity. Just like our other machines I am positive the MINIPRESS top's quality will continue to work its magic for years to come.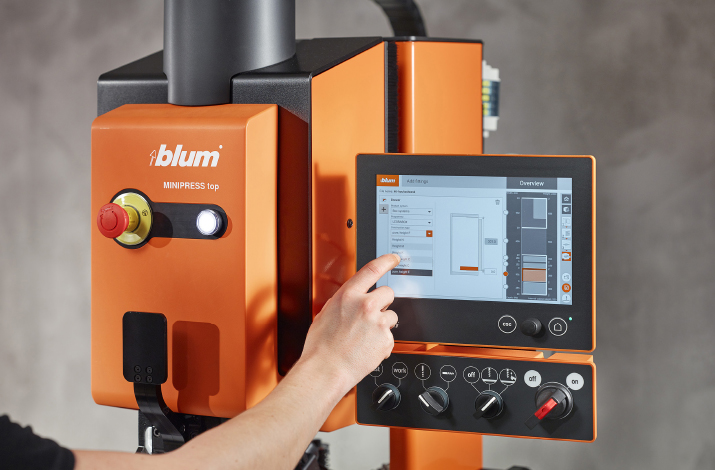 After the last blast of heat and sunshine, you could so easily forget that winter is now just around the corner. Nights are already closing in and mornings aren't as bright and shiny as they once were.

With a winter full of COVID booster jabs, flu jabs and lockdown uncertainty ahead, what should we focus on to keep our mental health in good shape this season?

MET Office
Offers some great insights around making the most of natural light – its impact of your lifestyle and habits.

See the useful link from the weather experts here
NHS Every Mind Matters
Provides insight into how best look after your mental health. Whether it be in regards to Coronavirus, life challenges or how to support others. You can even create your own mind plan, by answering 5 simple questions. As they say every mind matters, so make sure you look after yours!

See the useful link from the NHS here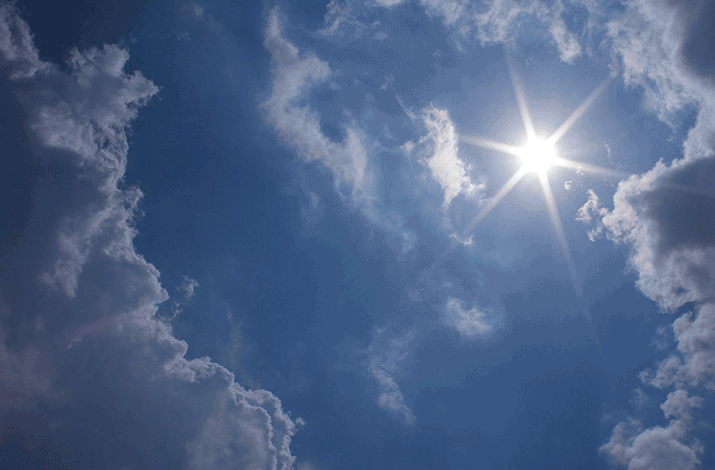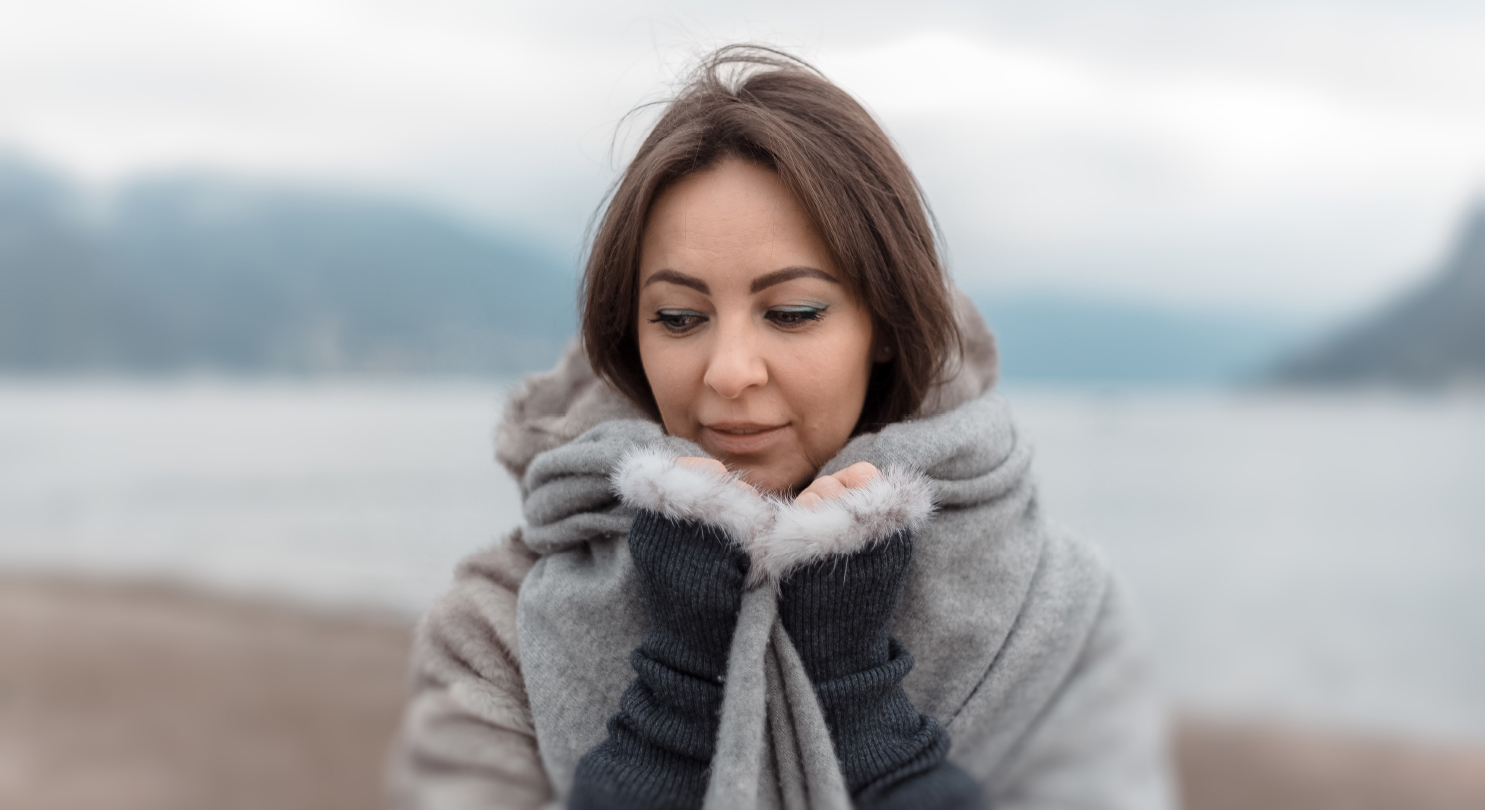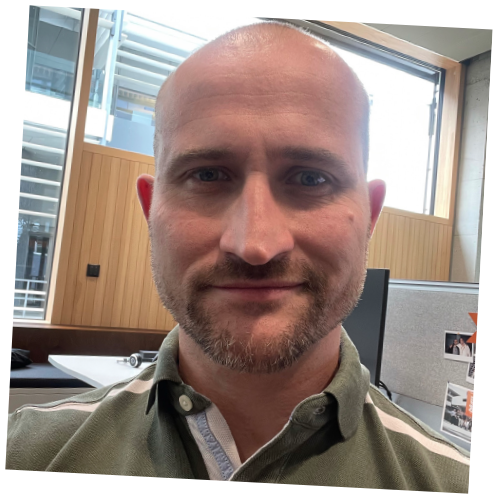 Fun Facts…
Martin works as the Market Responsible for the UK and Irish Markets, based at Blum Austria. He's been one of the Blum team since 2009.

He's a sports enthusiast (running, swimming, fitness) and a proud
movie & literature nerd!
Contact Info: Marketing.UK@blum.com
01908 285700
Introducing Martin Schaefer, at Blum in Austria…
Dwayne Edwards, the kitchen business and the man are shining examples of how being true to oneself and respected in one's community really works. View caught up with Dwayne at an exciting crossroads for the company; just taking on new showroom premises away from their village roots and contemplating what the gear shift from 'lifestyle' business will mean for their future.
At first glance the website suggests nothing unusual about this kitchen manufacturer and retailer, but as we spoke to Dwayne it became clear that there are some special qualities to this operation beyond the high quality finished product. It's obvious that Dwayne wants people to be confident, when they see his vans driving around the Harpenden area, that this is a business that they can trust.

He is always keen to remind customers they can have anything they want – and linked to both is the invitation they extend to everyone to see the workshop at Hill & Coles Farm. This tangible reassurance is part of their authentic touch because, as Dwayne puts it, "There is a lot of bad business hiding behind the internet."
He explained that in planning the new St. Albans showroom, competitor research was so important and although it highlighted that they all 'look great' Dwayne points out that "they don't feel homely". Dwayne Edwards are setting out to create a different vibe. The original showroom from which most business is currently conducted isn't your everyday high street store. Housed within a large farmyard barn, the outer shell has cocooned inside it a 900 sq ft four kitchen display space – a wonderful surprise behind it's unassuming doors. This difference isn't purely aesthetic although, it is deeply embedded in the culture of the business.

Dwayne wants to be honest and completely reliable in all his dealings with the local customer base. "We want to get on with everyone – there's not many I would cross the road to avoid". He believes another key point of differentiation from the mainstream is that his business model is based, not only on referrals and repeat orders, but on servicing existing kitchen furniture. There is much work to be done in maintaining past client installations, a service for which they charge. Dwayne also described six projects which are recent 'revamps' to breathe new life into old kitchens.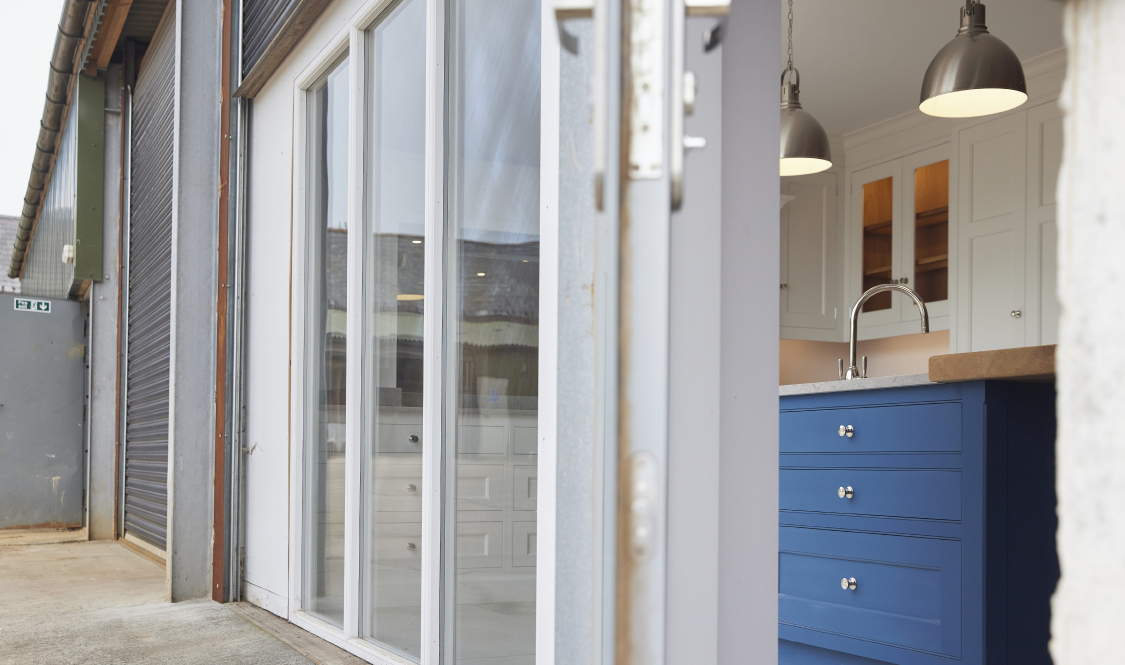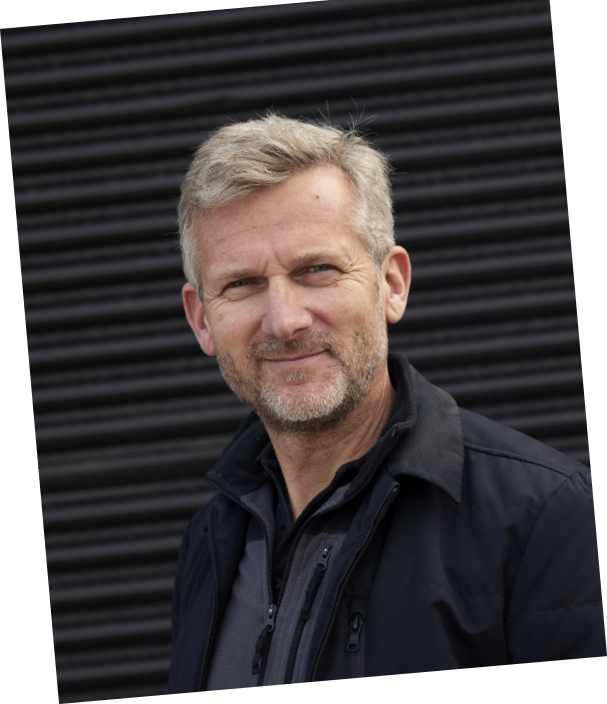 In Flamstead, Hertfordshire the family are very much at the centre of the company. Dwayne's son works with him as a cabinet maker, undertaking a four-year apprenticeship. His daughter played her part before following another career path and pretty much all the family have been involved in some way. Two designers are now on board with Dwayne handling sales, CAD back office work and personal site visits.

Dwayne did share with View the critical importance of great supplier relationships. These have been put under strain as raw materials are scarce and prices have to reflect the challenging market conditions, but he does feel that some providers are taking advantage of the world crisis to be greedy!

Even when timescales are more pressured Dwayne knows that everything can still be achieved by being "…a bit more organised" and the uplifted costs sadly just have to be passed on. The highest calibre of components go into his kitchens and the reassurance of lifetime guarantees are so valuable to Dwayne Edwards – "If we have to go out even once due to a single component failure we have lost money" says Dwayne.

The new retail face of the company was going to be up and running by Christmas 2020 originally but then there was lockdown and more time has been needed to get it right.
When fully operational this will give Dwayne Edwards a 1500 sq ft 'proper showroom' and potentially, when running at capacity, they will require a larger manufacturing base to support it. After a twenty year history this marks the start of a new chapter and a fantastic opportunity for their 100% bespoke proposition to reach a wider catchment of satisfied locals.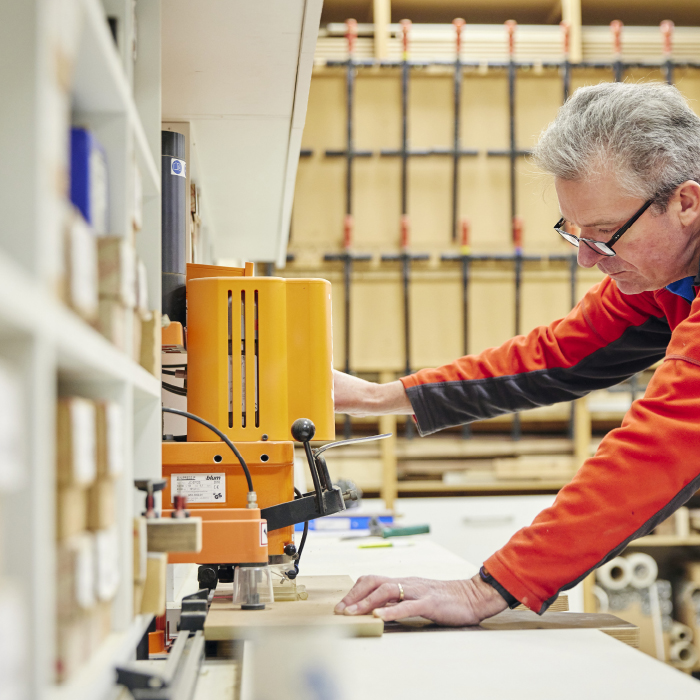 "I'm reminded sometimes that it's just a job, but I still love doing it"
DWAYNE EDWARDS
"They are my kitchens and customers are looking after them for me!"
DWAYNE EDWARDS
Having worked as an interior and kitchen designer for over 40 years I've seen the spaces that have been historically designated to kitchens change in a very big way. Today it's all about open living spaces.

This can result in very large, blank walls that lack creative impact. Throughout the pandemic, and the hundreds of Zoom calls and interviews I watched, it became obvious to me that many rooms would benefit from a wonderful piece of art.

One of the personal benefits of the pandemic for me was that I finally had the time to restore my love of painting. I've become a 'hippie' artist, painting abstract art with a passion for colour. I have also spent the last year reaffirming my belief that colour impacts on our wellbeing.

We have been through a period where the most popular colours for kitchens have been shades of grey or pure white, with added textures but often completely devoid of colour. My advice would be, if budget allows, invest in some original art to enhance your open living space.

At one point in my career, I focused on the interior architecture of residential homes for the elderly. At the end of each project it was my pleasure to select around 300 pieces of art to fill the newly built and empty walls. I was very particular about the choice of each piece because I know that art, and most of all colour, has been scientifically proven to affect our health. Neuroaesthetics is the study of how design Impacts the human brain and is an area of study that delves into the effect that colours, lighting, textures, sounds and the shapes of rooms can have on our sense of wellbeing.

So, what better way to add colour and texture to your newly designed kitchen and open living space than to fix a beautiful piece of art to the walls!

Renée Mascari
Art by Mascari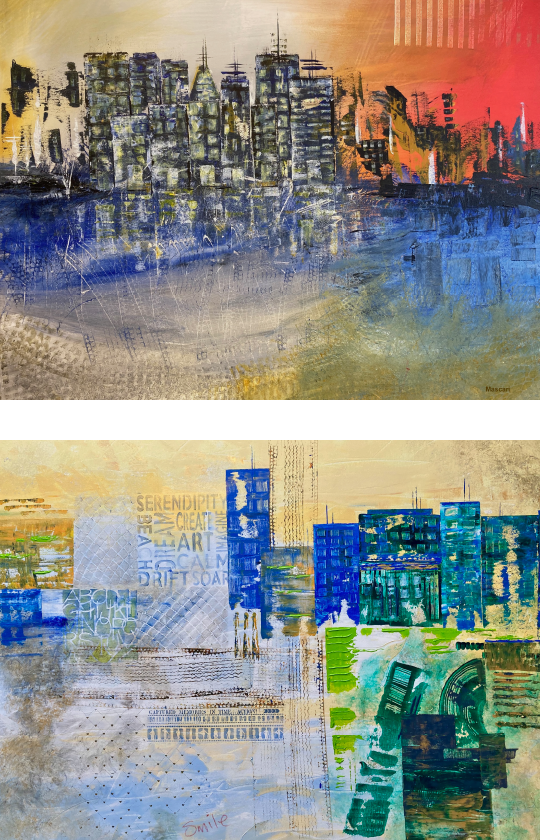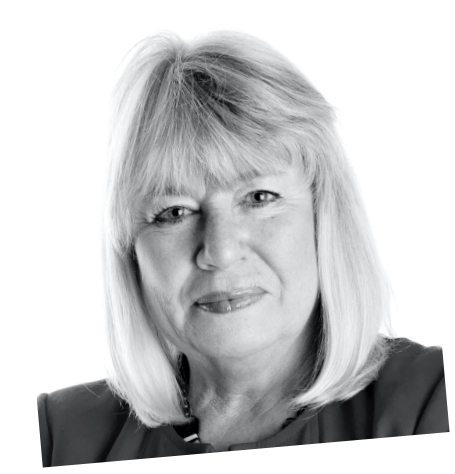 Goodbye to a Blum legend

Stuart who really did bleed orange decided to take up a new challenge in June. We have lost a trusted colleague, a friend and someone who could always put a smile on your face – a huge part of our company.
From your colleagues, customers and friends Thank You Stuart.
Mark Richardson, Managing Director
"It would be impossible to do justice to your 20+ years at BUK in just a few words.
We have shared so many; successes, challenges, laughs, tears and of course the odd drink or 2! Too much to try and capture in a few sentences.
So I shall simply repeat what I said on your last day at BUK… "You will be hugely missed by us all."
"You may be leaving the company but you will always be a member of the family."
"You will always have your second home at Blum
Wishing you all you would wish yourself."
Andrea Hillier, National Territory Manager
"It was an absolute pleasure working with him, his passion and commitment to the brand was infectious – watching him with customers and his engagement at KBB was a real high and he was a true professional and a gentleman. I miss spending time with him and his great humour."

Dawn Short, Callerton, Joint Managing Director
"Stuart has been a huge ally for our business and someone we've thoroughly enjoyed working with. What's great is that we've had a laugh along the way as well as done business together".

Martin Schaefer, Market Responsible for the United Kingdom & Ireland
"The man with the orange socks"

David Grant, Technical
"Having worked with Stuart for 20 years, I can honestly say it was a real pleasure. He was always positive, upbeat & handled whatever came his way with good grace. His industry knowledge and commitment to Blum was exemplary – always had a smile on his face, our customers loved him."
Matthew Glanfield, Technical Manager
"Stu, although I have known you so briefly - it's been fun. You have been an inspiration to many in this company, and have shown the orange running through your veins. You are a character I will not let others forget, thank you for the laughs, the chats and good luck in your new adventure. Keep in touch"

Diane McKenna, Territory Manager, North & Scotland
"Our Northern area is a lot quieter without you.
You are hugely missed not only by us but from the customers too. Enjoy your new venture."

Helen Mossman, Order Processor
"What a lovely guy who's always happy to listen and help. Always chirpy and cheerful.
Miss him and wish him and the family business every success."
Andrew Hancox, Southern Account Manager
"There will never be another like you Stu. Wishing you all the best" Photo (bottom right): The original Blum UK boy band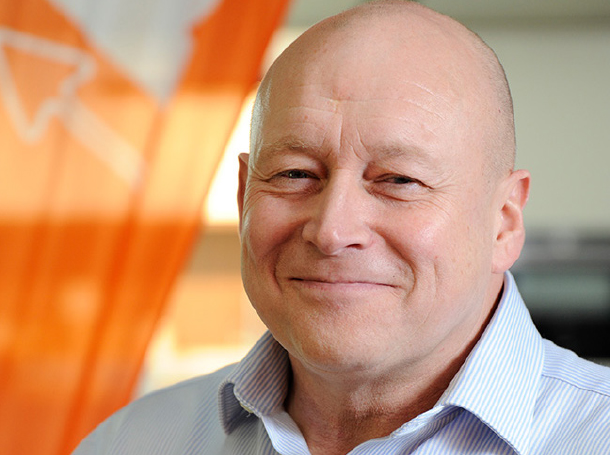 GOODBYE TO STUART photo gallery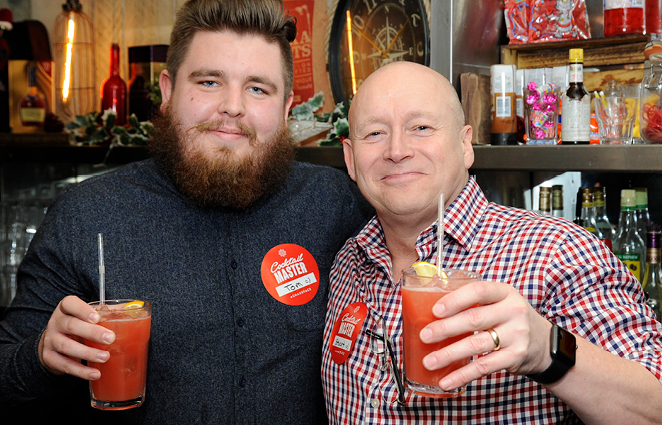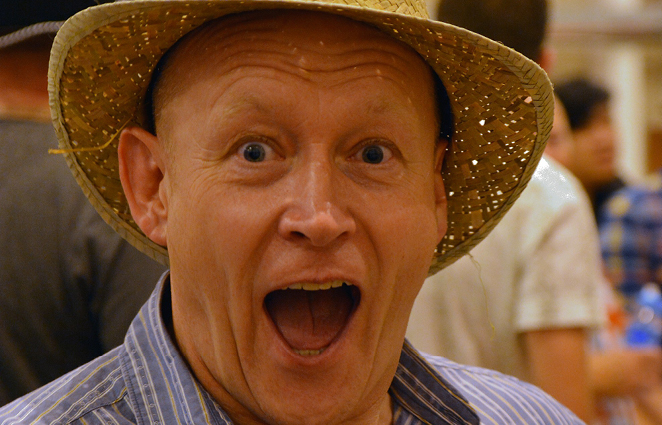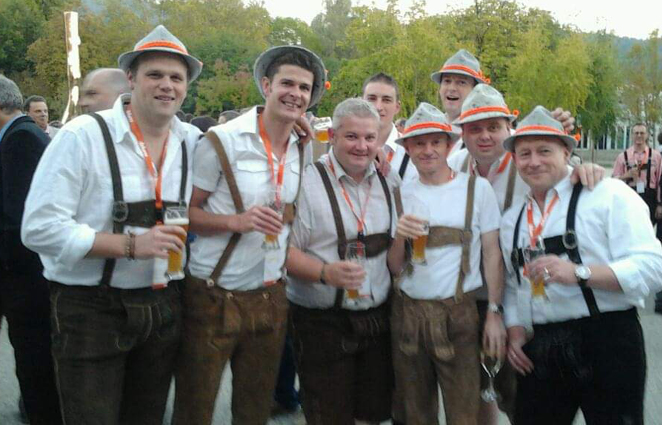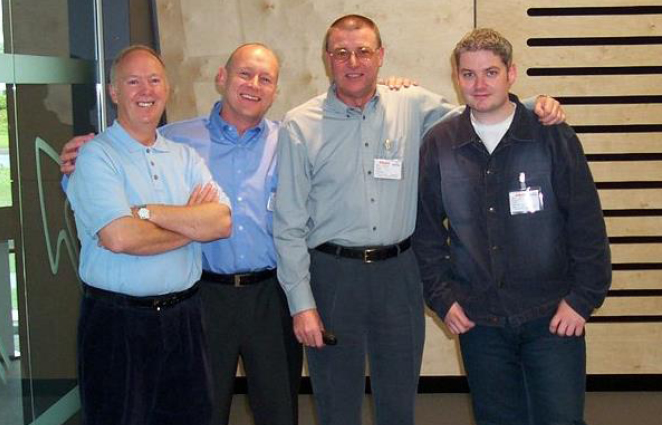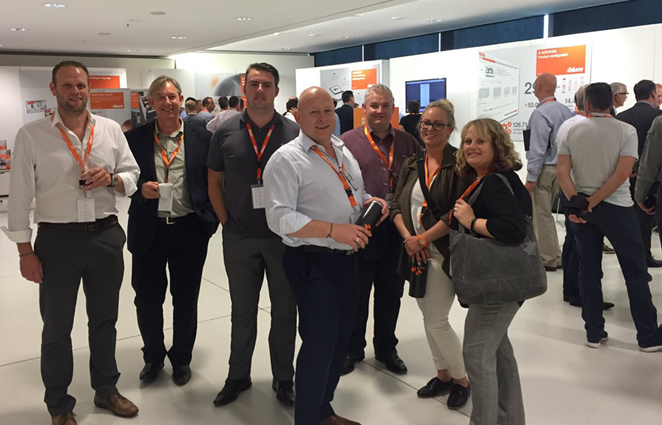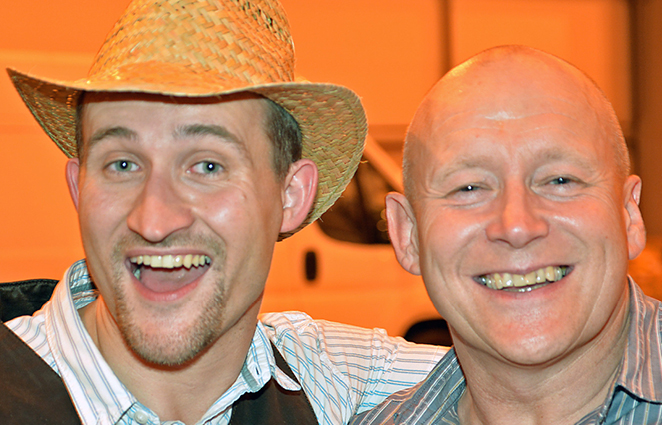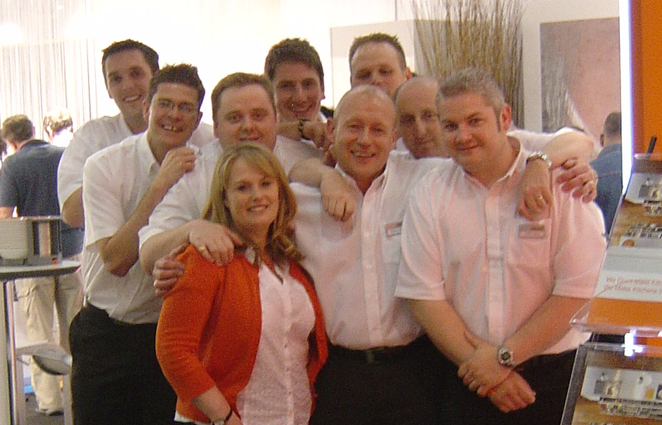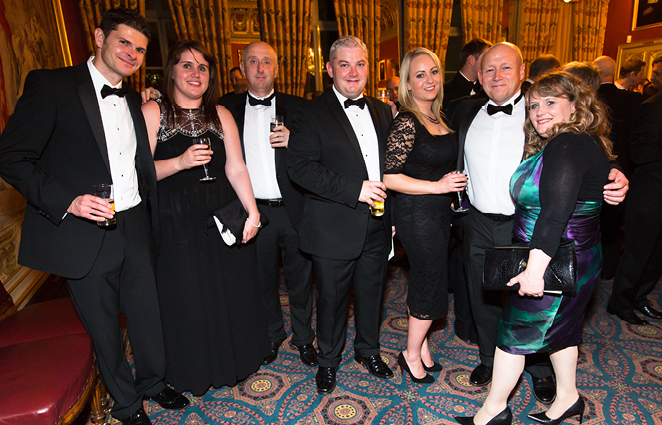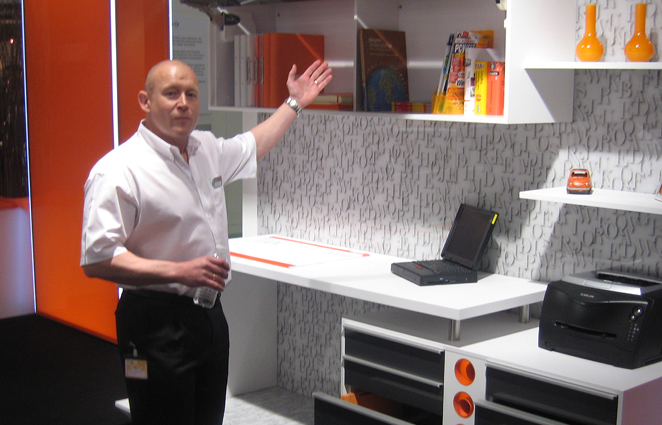 A host of ideas…

by Linda Parker
We now have the opportunity and enthusiasm to get back into the swing of proper dinner parties and celebrations – after lots of damp and rainy barbecues and chilly drinks-on-the-terrace! It seems safe to venture back indoors for our get-togethers, and many people are sprucing up their kitchens and dining rooms.

So this time we're taking a look at some ideas for the kitchen as the entertaining and social hub, and how to make sure a new kitchen design will cater for all sorts of occasions as well as the day-to-day necessities. An open plan kitchen has to be all things at all times, it has to cater for the breakfast rush, the lunchtime fridge-raid, pre-dinner drinks, and when required, be totally up to scratch for entertaining friends and family.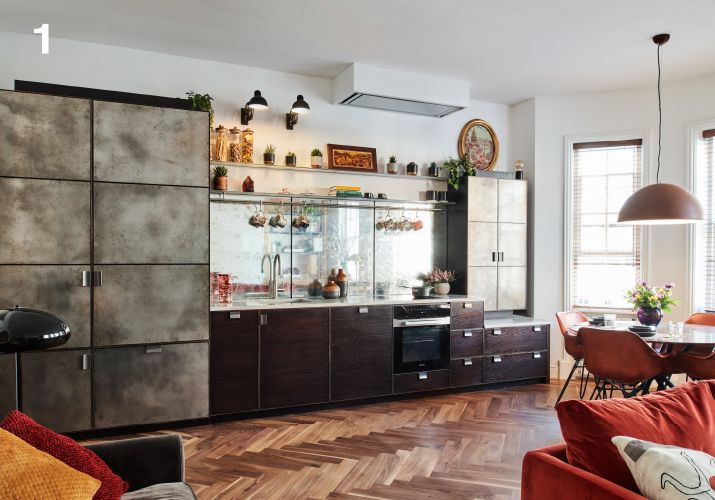 1 This kitchen, by Ledbury Studio, is in a compact pied a terre, with all the practical pieces hidden behind doors. The decorative glass wall panels are beautiful and enhance the space, and the look is of a collection of pieces of furniture, rather than a kitchen.

2 This elegant kitchen by Olive & Barr is perfectly multi-functional; a large-scale fridge-freezer keeps everything stocked up, and the island provides copious amounts of serving space.

3 Another Ledbury Studio creation, a designated drinks/glassware cabinet is a must for social occasions.

4 A beer/soft drinks fridge, a wine fridge and room temperature bottle cubby holes … this kitchen, by Olive & Barr, ticks all the entertaining boxes perfectly.

5 Keep it plain and simple with a dining table that can be paired with painted kitchen cabinetry. This is the Hay Two Colour Dining Table by Nest, available in other colours, including Shaker-style friendly shades of blue, grey and ochre.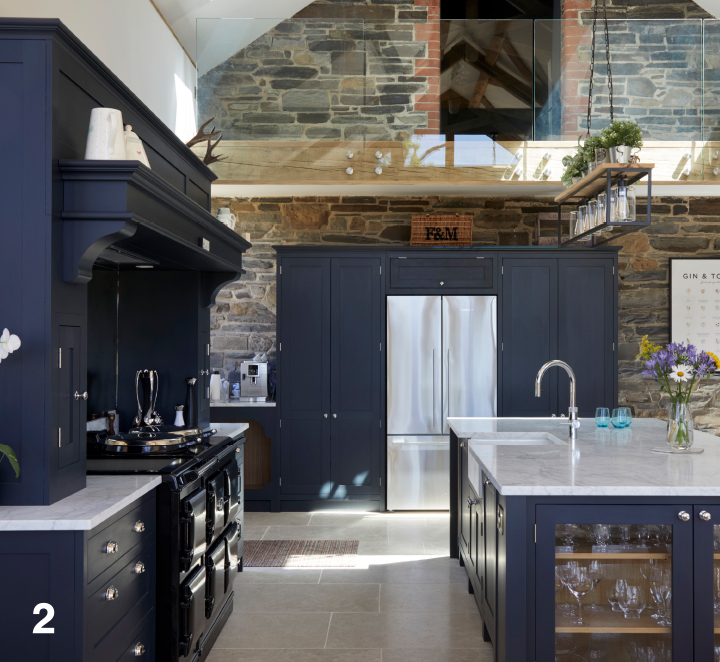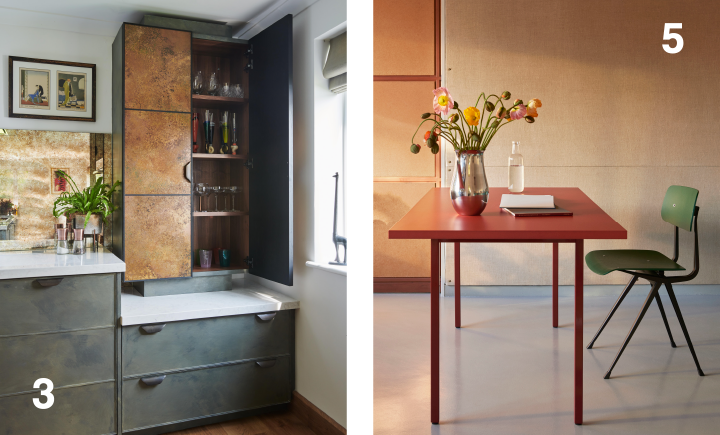 A HOST OF IDEAS continued
A HOST OF IDEAS continued
1 Add a drinks cabinet to kitchen area, perhaps to bridge the gap between kitchen and dining spaces. The Bontempi Madison Superior Cocktail Cabinet from Go Modern really will hold all the necessities for all celebrations and festivities!

2 Modular, minimalist furniture systems from Shelved can be configurated to order, to create storage and surfaces to suit specific requirements.

3 Make a real statement and bridge the divide between kitchen and living spaces with a dramatic focal-point piece, such as the Bernhardt Flora Sideboard from Sweetpea & Willow; it's metal, with a lacquered white interior.

4 Go for retro glamour for a black and white scheme with the Analia Sideboard from Sweetpea & Willow; the brass details would sit well with gold or burnished metallic details used elsewhere in a kitchen-dining scheme.

5 Expand the storage facilities with the Canaletto Display Cabinet from Ligne Roset, by Mauro Lipparini with ribbed glass doors and dimmable LED lights.

6 An eye-catching jug, whether it's for water, juice or Pimm's is a nice addition to the table … This is a new Murano Flecked Black Cherry design, soon to be available from Rebecca Udall, and for seasonal autumnal table dressing suggestions, read her journal here.

7 Colourful glassware can create autumnal vibes – and will look good on display all year round. Try the Palma Yellow Wine Glasses from Oliver Bonas, along with matching cocktail shaker and other colourways.

8 More colourful options, this time beautiful blue Cobalt Mix Wine Glasses from Nisi Living, sold as a set of six.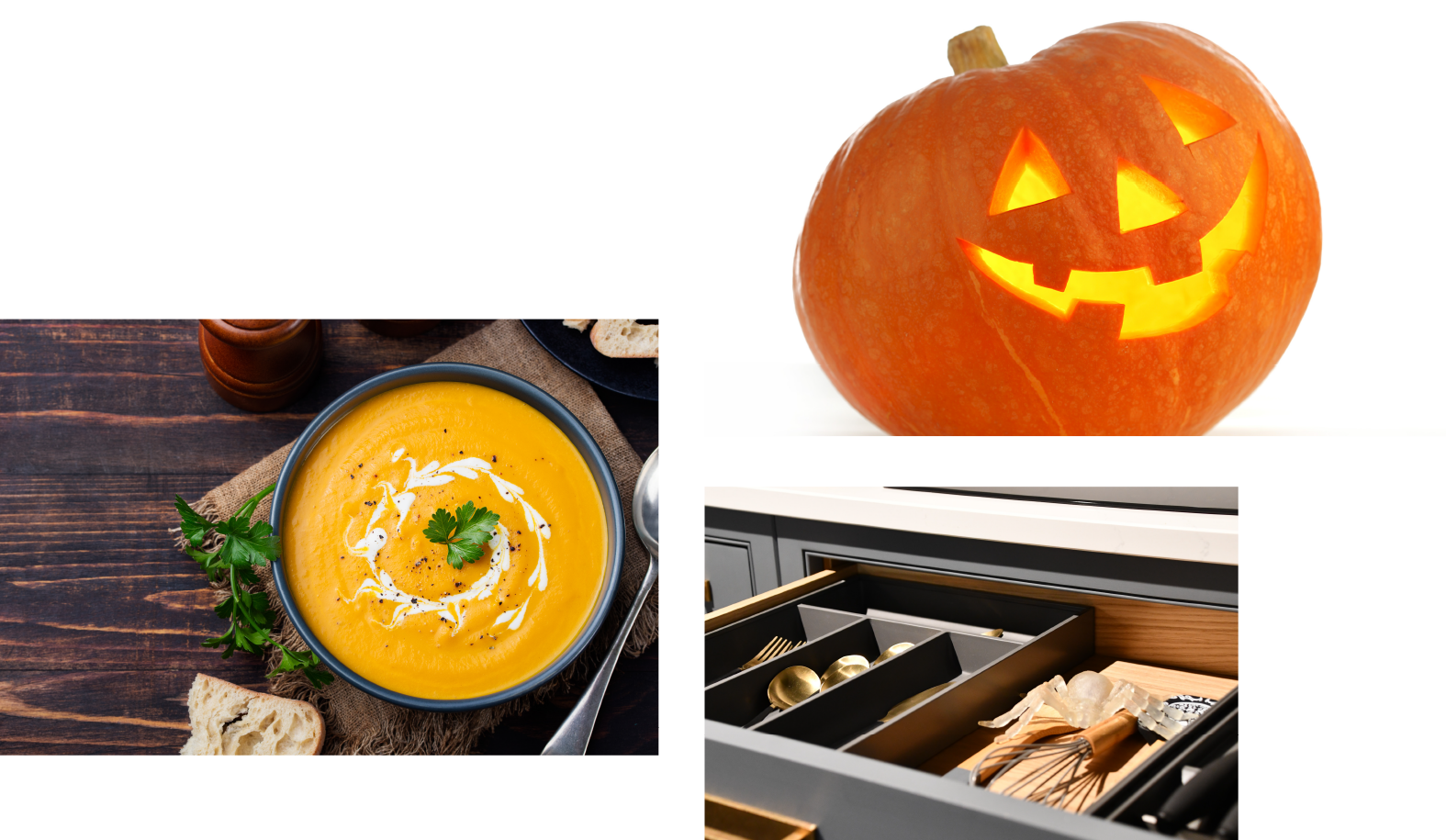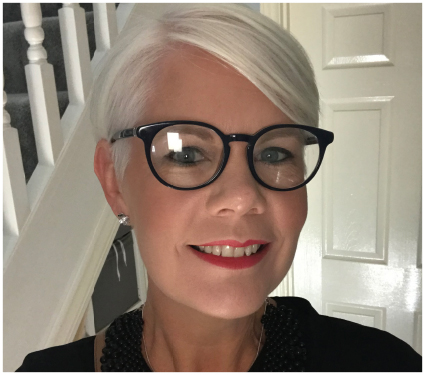 Bewitching hour at Blum UK

Visual merchandising plays a key role in any display, a veritable feast for the eyes and an opportunity to inspire and tell a story, to create emotion in the viewer.

Here at Blum UK there is no better time to get creative and embrace the display season than Autumn and Halloween. The rich tapestry of colours lend themselves to our iconic brand colour of Orange and we love to enhance our displays at every opportunity to keep them fresh and updated.

I would challenge any end consumer to be inspired by an empty drawer or cupboard. Here at Blum UK we use visual merchandising to enhance and inspire our audience to imagine a lifestyle and to picture an organised, functional, accessible and visible space in which they feel calm and relaxed. Igniting a completely different emotional connection than the spaces they currently occupy.


No one wants to go to a show home and look at empty rooms, & everyone wants to go into a shop with an inviting window.

I urge you all to get creative and embrace
the season.

This Moroccan Pumpkin soup recipe also
hits the spot, a feast for the eyes and the stomach! Click here for the recipe

Explore the View archive library
Blum UK, Mandeville Drive,
Kingston, Milton Keynes, MK10 0AW
Tel +44 1908 285700
www.blum.com