Keeping

innovation at the heart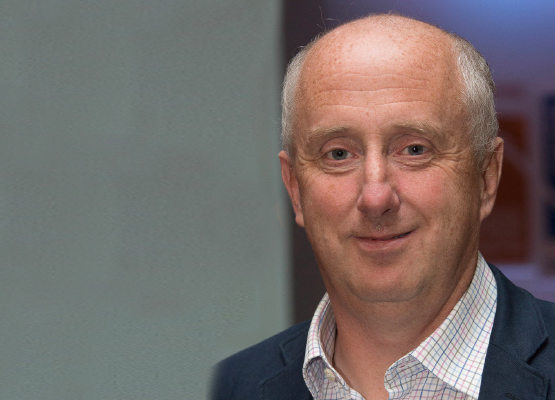 Welcome to this edition of the View and I hope this finds you in good health and spirits as we enter the final stretch of 2021.

In this edition we confirm our continued support of the KBB Innovation Awards hosted at KBB 2022. Innovation is at the heart of our business and without it we would not be who we are today.

I am continually reminded of the relentless need for all businesses within our sector to push the boundaries in terms of products and service, so that our customers are able to make sure, that when they offer their designs to clients, they can rest assured that what they are offering is at the forefront of innovation within our industry.

The investment required to have an innovation culture within your business can not be underestimated and I am continually inspired by businesses that are prepared to take the risk required to find the funds needed to support this culture. Even in times like these
we must find the resources to consider the future and to not only think about today but also tomorrow. I think the recent COP 26
conference held in Glasgow is a stark reminder that losing sight of the future can be a dangerous thing.

I hope you enjoy reading this edition and as always all the best for the coming weeks.



Cover image courtesy of James Cornwell Interiors see their feature on page 6
Written by Peter Sharratt
The value in your toolbox

Have you ever asked yourself, what tool you value most? What is your most valuable tool? What tool do you use the most? Which tool saves you the most time? Or which one your life would not be complete without? Are you a tool collector?


I must admit I am a bit of a nerd when it comes to tools and I suppose being a carpenter gives me the perfect excuse to buy all manner of tools. Some for odd specific tasks and some I may have bought for one special job but never used again.

Blum has some specific jigs and templates, and all have a purpose when it comes to installation. Whilst these can make your life so much better, I would like to take a step back into the planning stage of and explore what tools we have there and which tools we need to purchase.

Who amongst us has bought hardware because we could not remember if we still have any of that item, only to discover, oh there is a whole box in the back of the van?
Wouldn't it be better at the planning stage to get exactly what you need and have a clear idea of what is to be expected, even to the point of knowing what tools you need?
Let me introduce you to a couple of Blum planning tools: Product Configurator and Cabinet Configurator.
You may be familiar with some of the older carcass planning tools such as DYNAPLAN and this was a great tool, but in these ever-changing times we need a more flexible planning system.
So, what is Product configurator? This is a program within the Blum E-SERVICES suite that allows you to plan a single item like a drawer and it will break it down into a list of all the hardware items needed. You can do this multiple times over and compile a full list. Then if you have an account with a Blum distributor you could forward this onto them and they will prepare the order, and you can relax safe in the knowledge nothing has been forgotten.
And Cabinet Configurator? Well, I suppose this is the next step from Product Configurator for full cabinet design. Stepping away from the 2D of the past, into the world of CAD, 3D planning and exploding cabinets. It's simply a far better way to design and visualise your cabinet requirements, plus you can put your hardware into the cabinet as well. As complicated as it may sound, it really is quite easy to drag and drop exactly what hardware you need into the cabinet you designed. It will produce working diagrams with drilling positions, produce a parts and cuttings list, as well as give you CAD files.
So, whilst we could discuss at length what the most important tool in your toolbox is, I would opine that the planning stage is more important. Whether you can class them as tools is subjective, but the best part of this tool is it has no cost, and in today's world that is a win in anyone's book, or you could look at it as money saved for other important tools.
Check it out on www.blum.com, and if you have any questions feel free to get in touch with the technical team here at Blum UK.


Now the clocks have changed, and the days are getting shorter, the temptation to stay indoors and hibernate is greater than ever.

It's important for both our physical and mental health to get out, to enjoy these Autumn days to their fullest – here are a few ideas to consider:

• How about going to a local forest or woodland, maybe a park where fresh air and wildlife are to be found in abundance.

• Explore what Autumn Adventures the National Trust has to offer – even if you're not a member yet there are so many locations and something for all ages. Click here for more information
• Venture further afield to a market or fairground. If you're near the capital the Winter Wonderland in London could be a great option, so here's what's on and how to find it
• Why not take a proper break away from it all for a few days (before the festive pressures of Christmas kick in). Autumn escapes around the UK offer so much on your doorstep, so check out this review of some options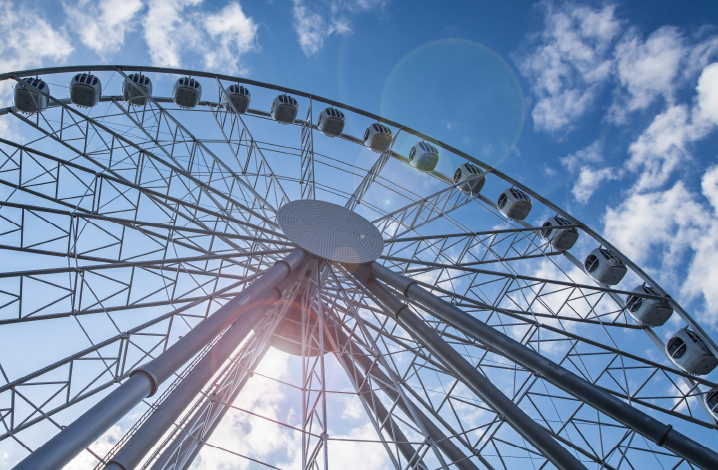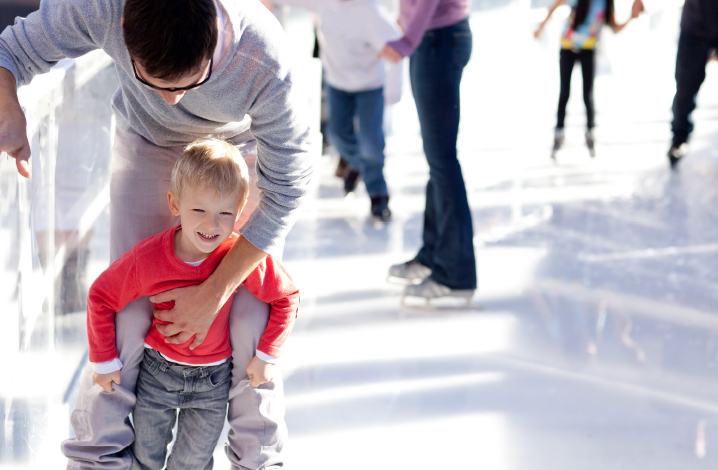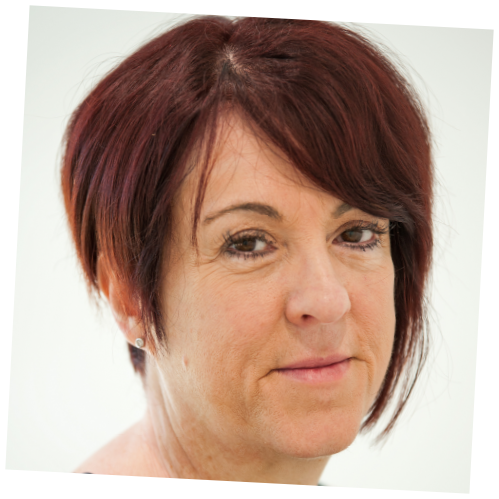 Fun Facts…
Carol is Territory Manager Retail for the South East.

She loves cooking, socialising with friends and family, and walking her dogs.
Contact Info: Marketing.UK@blum.com
01908 285700
Watch the video of Carol Harris, at home in the South East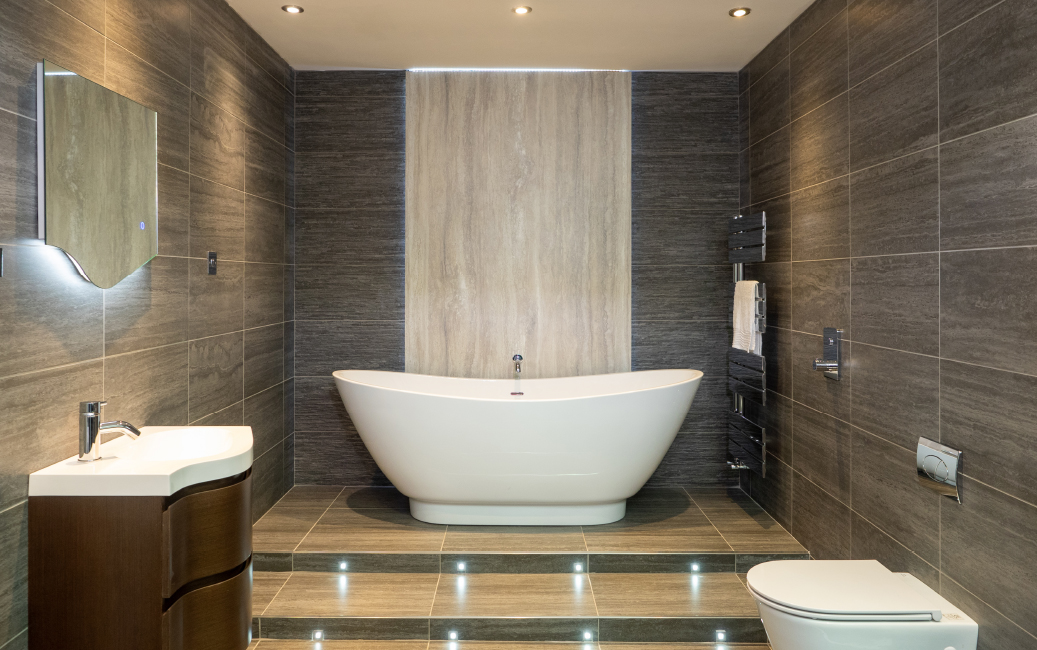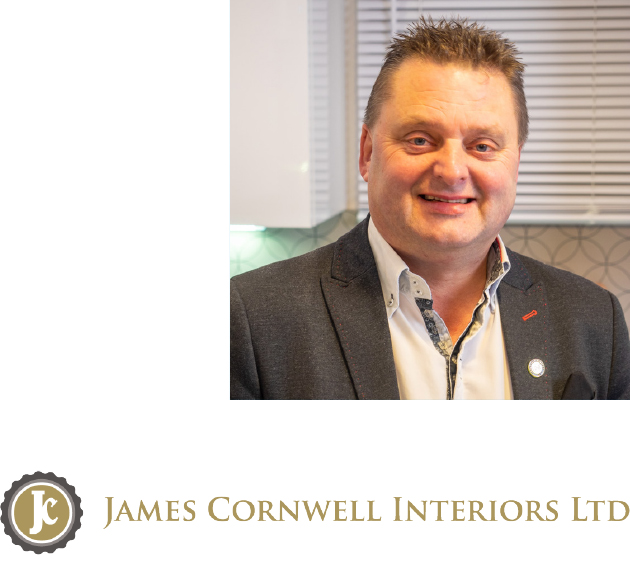 This issue View caught up with the founder of a twenty-year old kitchen company in County Durham. James Cornwell Interiors was set up in 2001 by Steve Scott and his former business partner (using both of their middle names). Spanning almost four decades, the journey has meant negotiating many twists, turns and obstacles.

Back in 1981 Steve was a labourer, making tea and sweeping floors. He soon progressed to the back of the machines. He probably shouldn't have been there but it was serendipitous as he was asked to join an apprenticeship as a result.

He worked his way through various posts, some wood machinist roles and on several occasions he found himself finishing at one place on a Friday then starting a completely new job on Monday morning! Perhaps most significant was the opportunity presented in his third company, where Steve became a cabinet maker. He gained valuable experience through all these different roles in the industry, even working in a window business. In addition, Steve studied for electrical qualifications at college.
When James Cornwell was first established it had a wealth of knowledge vested in Steve and the advantage of a former church building for storage.
They now own that building and operate it as the manufacturing workshop too. The Church Hall close by has become a really cost-effective showroom. It has been extended to contain their twenty displays and occupies a footprint of around 200 square metres. This also houses the administrative functions. One would probably describe Craghead Methodist Church as the ideal location – not by divine inspiration but because it's pretty much in the middle of everywhere.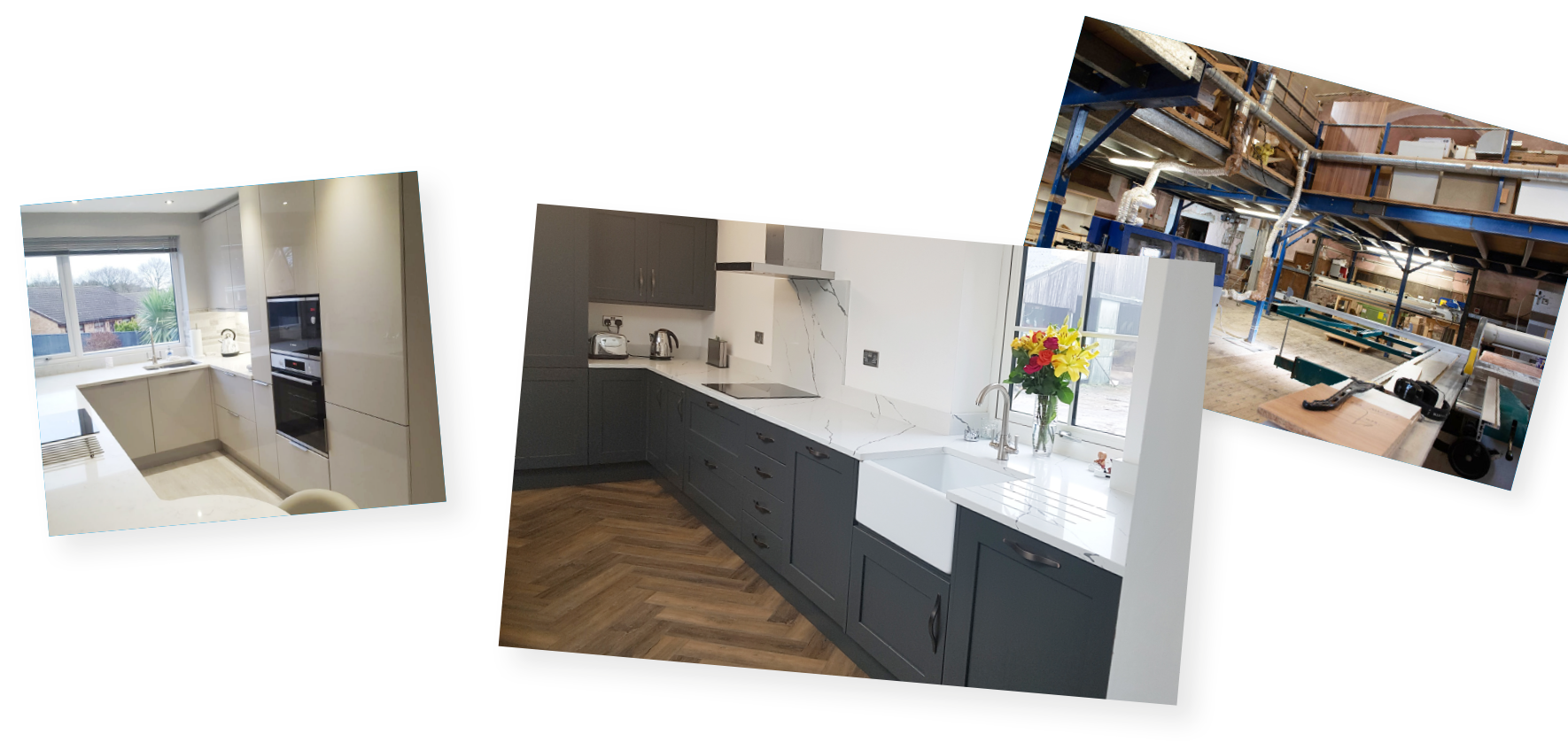 At first Steve was doing the fitting himself but the model has since changed and they adopt an approach that's very similar to lots of businesses of their size; they sub-contract to a loyal and trusted group of fitters. It's been essentially the same team working with Steve for many years now. James Cornwell can block book their time and the close relationship they enjoy ensures that great working practices are maintained. In addition, there's a core team consisting of four full-time members, one designer/sales specialist and one right-hand woman.

In talking through material and supply issues there's a characteristically unflappable attitude here. In general Steve doesn't appear to be too concerned by the current climate and feels fortunate that they have "lots of understanding people" among their customer base – they tend to be the ones who are in business themselves, he suggests, so they're realistic in the face of such challenges. James Cornwell is not immune to the massive price increases – in some cases advance quoted prices meant the company has had to honour them, and absorb the uplift.

When it comes to winning new business this is clearly a place where word of mouth and referral is so important – for instance they've sold three kitchens consecutively to the same family. Steve explains that they aim to do two jobs per week, and at that frequency they have a full order book until the end of 2021. Up to three projects should be a manageable target and is therefore his objective further down the line. However, like so many companies of their type, James Cornwell find that footfall through the showroom is very good so the challenge is always converting these prospects.

Customer care is the cornerstone of everything for Steve. He talks passionately about looking after customers "in the very best way". The JC business has a process that pours lots of love and attention into every project, and this includes his office manager Charmaine calling the customer each day of an installation to check how everything is going for them personally. On the subject of high level customer service, Steve says: "Every client benefits from it – even if it costs me to get things right!". Steve believes that he has probably taken responsibility for over 1000 kitchens in the course of his career "…and I can count on one hand the bad ones" he confidently asserts.

In terms of the future, Steve has no desire to retire yet and wants to stay in control for as long as possible. He thinks the next leg of the journey is about 'Being on the ball' and probably just doing what they already do, even better!

For more about James Cornwell see their website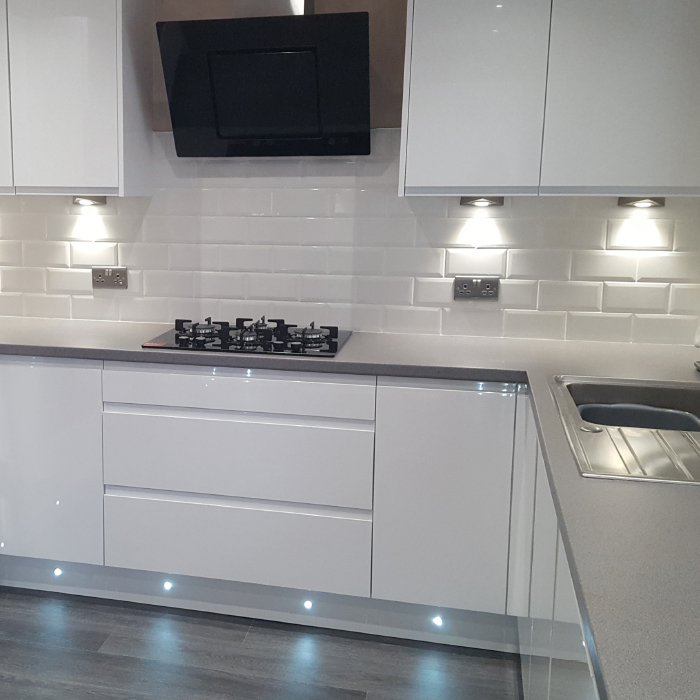 "Our kitchens are already blessed before they go out"

STEVE SCOTT
Carol Harris of Blum shares her killer tips for maximising the effectiveness of your retail space…

• First impressions count – provide a welcoming atmosphere and knowledgeable staff.

• Lighting is very important – provide a mix of both natural and artificial light if possible. Also include a relaxing presentation area to make those important decisions.

• Include an excellent software package, and mood boards to inspire the customer with the latest trend's, colours and textures.

Displays
• If you have multiple displays in your showroom pick one go to display that is inspiring and different, that your client will remember.

• Merchandising is key to inspire your customer, drawers full of brochures and sawdust are a definite no! Well dressed displays including the drawers and storage options, show lifestyle goals. Having fully stocked accessories on display will give the opportunity to offer the customer a truly bespoke option for all their storage needs.

• Ensure your display tells stories and helps you add value to the sale , important messages such as storage and drawers vs shelves. Functionality and ergonomics. You want it to demonstrate quality and innovation.

• A well thought out display that invokes emotion, creating more interest and added sales.

• Create your own brand and keep moving forwards and changing. An excellent website is needed as it is the first window they visit before seeing you in person, so make it stand out.

• Lastly, the latest staff training from manufacturers is so important to keep them on top of their game – knowledge is power!

Customer Service is key to who we are as a business, which is part of the reason we sponsored an award in this sector at the upcoming BKU awards.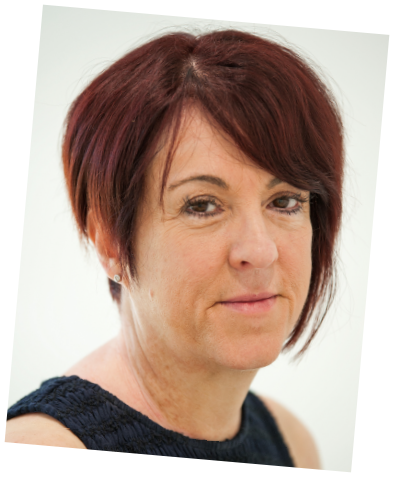 kbb Innovation Awards 2022

So, with kbb 2022 just around the corner. We at Blum are proud to say the kbb innovation awards are back and are of course partnered by Blum.
"Innovation is part of our heritage at Blum. In the past we worked in partnership with KBB to bring about the innovation awards. To this day we see innovation displayed daily by our partners within the industry. We continue to support these awards because the innovations are out there, and they need a platform where they can be celebrated."
Matthew Glanfield, Technical Manager

"Innovation is a phrase we hear often in our industry, the practical implementation of ideas that result in the introduction of new goods or services, but what makes a truly innovative solution, how can we inspire our teams to be innovation experts regardless of the roles they play within our organizations.
"Innovation for me doesn't need to be new, it's little and ongoing, we don't have to reinvent the wheel, we just have to continually improve it. Reinventing what we do and improving our products and services, our processes and our added value on an ongoing basis means we can always be ahead of the curve, be resilient to external forces and foster an explorative culture.

"The big ideas are amazing, but the little ones can be just as powerful when added together over time, KBB is the perfect breeding ground for inquisitive minds and innovators."

Amanda Hughes, Customer Experience & Innovation Awards Judge

So here is why we support the awards and here is how you can enter your innovation into the awards. We know how innovative our industry is, show the industry what you are made of.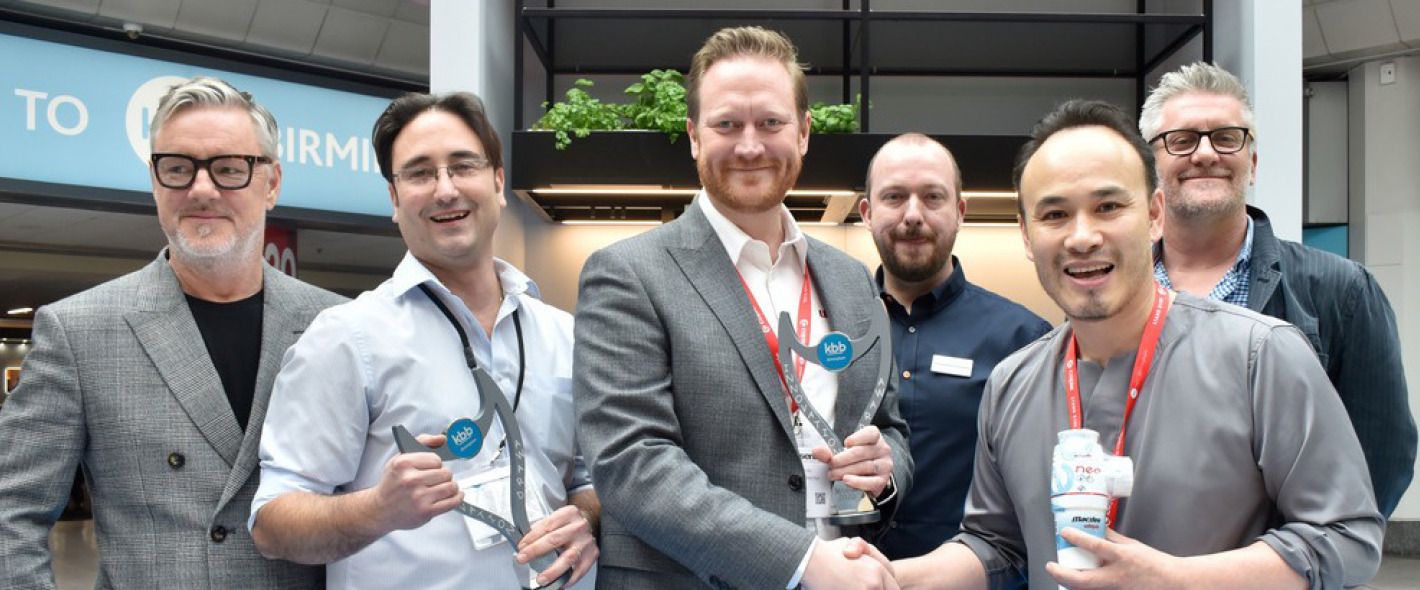 Clever kitchens by Linda Parker

Some new ideas for new kitchens – there's so much out there it's easy to get overwhelmed. It's full-on just guiding and helping clients through the cabinetry and work surfaces choices, and then it's getting down to the nitty gritty with all the appliances and tech that is needed with a new project. Here are some clever ideas for those new kitchens as we hurtle towards 2022…

1&2 PWS have just introduced Outline, a new integrated handle collection to meet the consumer requirements for more personalised and tailored kitchen designs. The new collection combines existing door options with integrated handle options to offer over 2,500 design possibilities. Laura Vaillant, Product Designer, PWS explains 'By building on our existing door families, rather than developing a new door range, it ensures our customer base will feel confident and at ease when designing with Outline, as they have a product they know and love as a starting point'. There are four different handles, Portal, Edge, Channel and Extended Channel. Shown here; (1) Hunton doors with Edge handles, (2) Porter doors with Portal round handles.

3 Eggersmann kitchens are full to overflowing with extremely clever ideas for storage, so interiors can be stuffed with functional choices that can leave items on display or hide them away. This is an example of the MOTION collection; Island in Smoked Larch Veneer book-matched finish; Work surface in Macaubas Giotto Honed quartzite with MOTION system; Wall units are WORKS Interlink Bronze Glass with WORKS 360-degree rotating system; Tall units in Macau Xtreme Matt Laminate in Pearly White.

4 More news from Schmidt. The new eco-friendly Origin collection is made using 100% recycled wood carcasses and front panels and 100% recycled melamine high density particle board which also includes woven, wood and metallic effects. The open-end Grillage panel has open shelving and hanging hooks, the woven-effect cabinets are Twist, and the laminate work surface is Tavern. Levi vinyl and Fabric metal chairs are also part of the Schmidt offering.

5 A new collection from Silestone® is always welcome, and the latest collection, Ethereal, comprises four colours; Ethereal Haze, Ethereal Noctis, Ethereal Dusk and as shown here, Ethereal Glow.
Ethereal Glow has golden and grey veining, and is a developmental progression from Silestone's popular Eternal Calacatta Gold. Ethereal features HybriQ+Technology which uses 99% reused water from the production process, 100% renewable electric energy and a minimum of 20% recycled raw materials in it's composition. Oh, and there's a video featuring Cindy Crawford too.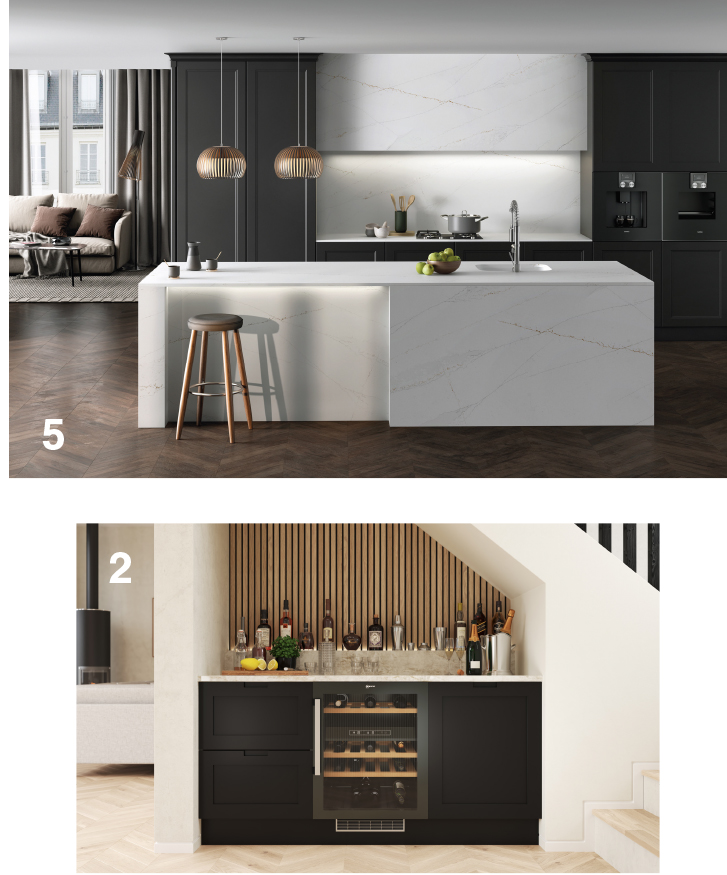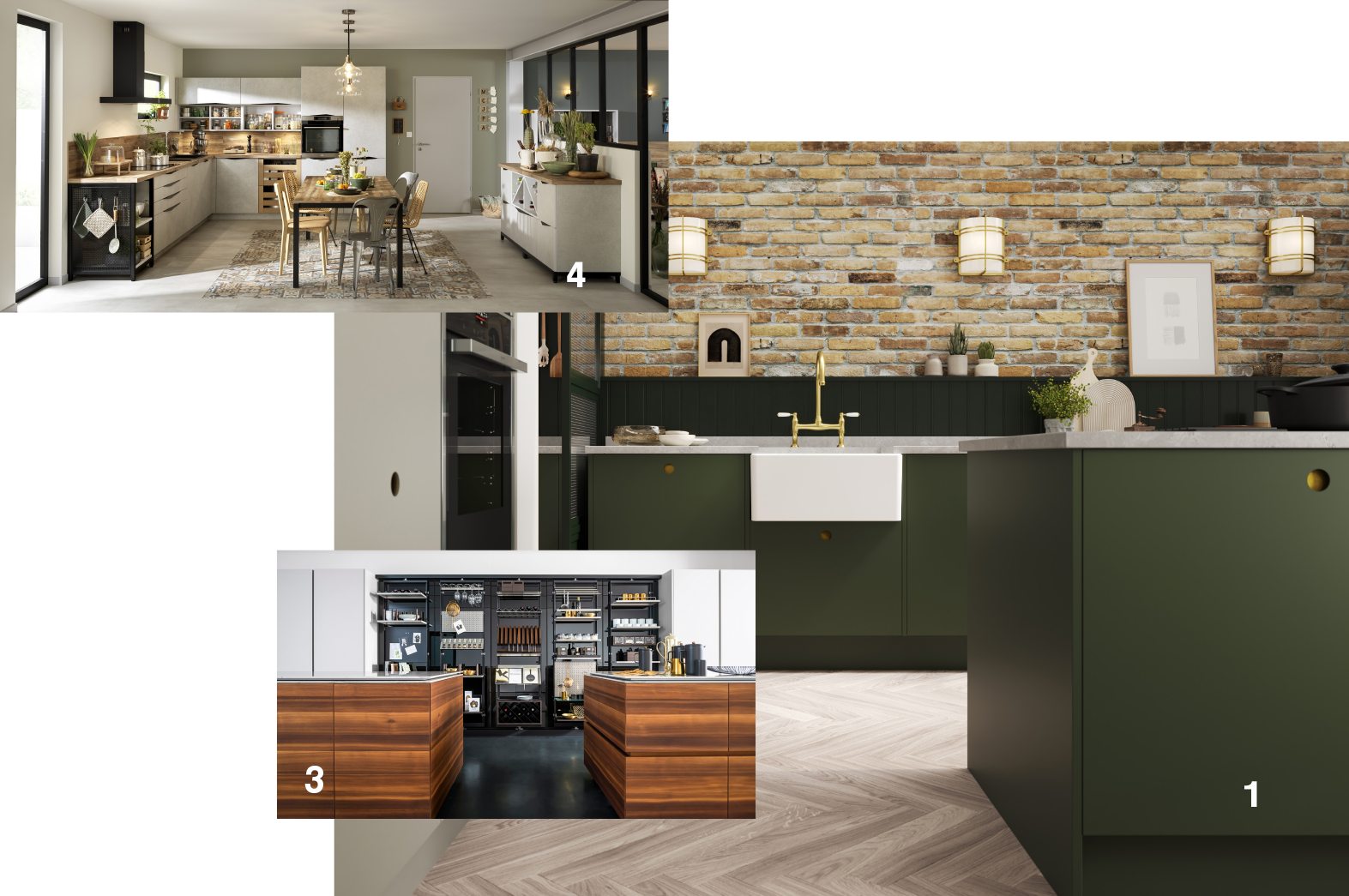 CLEVER APPLIANCES
News of eco-friendly taps and appliances with clever features as well as good looks…
1
The
Caple CAFF 42
fridge-freezer has the energy saving possibility of switching off a section of refrigerator if it's not in use, there's also economy mode/holiday function and a screen saver function that switches off the Smart LED touch control display panel lights. A good choice for clients who regularly spend time away from home.
2&3
The latest version of the Family Hub fridge-freezer from Samsung can provide automated meal planning, AI cameras within the refrigerator and a more streamlined and personal user experience than previous models. For more details and inspiration, find out more
here
.
4
For kitchen clients who are prioritizing sustainable and healthy living consider the
GROHE Blue Home
filter tap collection, enabling the avoidance of single-use plastic bottles and the resulting reduction in plastic waste. There's an option for a
Magnesium + Zinc
filter with health benefits, too.
5
Miele
recently expanded their product range of heat pump tumble dryers, with improved energy efficiency, reduction of plastic, and a greater use of recycled materials, providing a sustainable choice. Heat pump tumble dryers are considered to be more energy efficient and easier to install – under-stairs cupboards or cloakroom positions are possible, and the SilenceDrum feature reduces noise level by around 4dB – an important consideration if the dryer is positioned in an open plan space. There's a PowerFresh steam function to freshen items that may not require a full wash, and the HygeineDry setting removes 99.99% of all bacteria. This is the TEL785 WP 9kg EcoSpeed + Steam model. More details on the heat pump range
here
.
6
New I-Pro Series 5 tumble dryers from
Haier
are available in White and Graphite, and can be connected via the hOn App. There's a Hygienic function, large capacity of up to 9kg and an A++ energy rating, using up to 50% less energy than a vented dryer. Using the Artificial Intelligence Cycle with the hOn App (more details on the Haier home page
here
) enables the machine to recognize the load, fabric and set the cycle automatically. The Drying Lens app feature scans the garment labels to search for the suitable drying programme. Is there an app function to nudge a member of the household to take everything out of the dryer and hang it up when it's finished, we wonder?


CLEVER IDEAS beyond the kitchen
1 The Transparent Light Sound speaker from Swedish sustainable audio brand Transparent Sound has just been launched. This portable speaker and light combined is set to be a must-have for Christmas vibes and outside entertaining next year – it has an IPX2 weather rating.

2 A quick spot of extra heat in the home office or perhaps a spare bedroom can be quickly sorted out with the smart Duux Threesixty ceramic electric heater. There's a video here; it's a simple plug-in design, which can be controlled by the app. At last, a portable electric heater that doesn't look like something from the 1970s …

3 The new D-Neo Series from Duravit has been designed by Bertrand Lejoly, answering Duravit's ambitious brief to product a varied, timeless collection that is also smart and thoughtfully designed.

4 Indoor air quality can be a concern for many, especially in the cold weather when windows are kept closed, log burners are lit, and more time is spent indoors. Blueair air purifiers can help; the Blueair Healthprotect 7470i ™ can be Wi-Fi linked to the Blueair app, providing control and monitoring of indoor air from a phone. The purifier has been tested to remove the airborne SARS-CoV-2 virus in independent third-party tests under laboratory conditions.

5 Austrian design company TEAM 7 has collaborated with Keuco to produce the bathroom furniture range Edition Lignature. The wood furniture is in light oak, Venetian oak or walnut, and the light mirror can be infinitely adjusted via a touch-sensitive key panel from warm white to daylight level illumination.

6 Bathroom hygiene is naturally a priority and the latest touch-free tech from TOTO includes the Washlet with auto-flush and auto-opening seat, an auto-tap, auto-soap dispense and auto-hand dryer.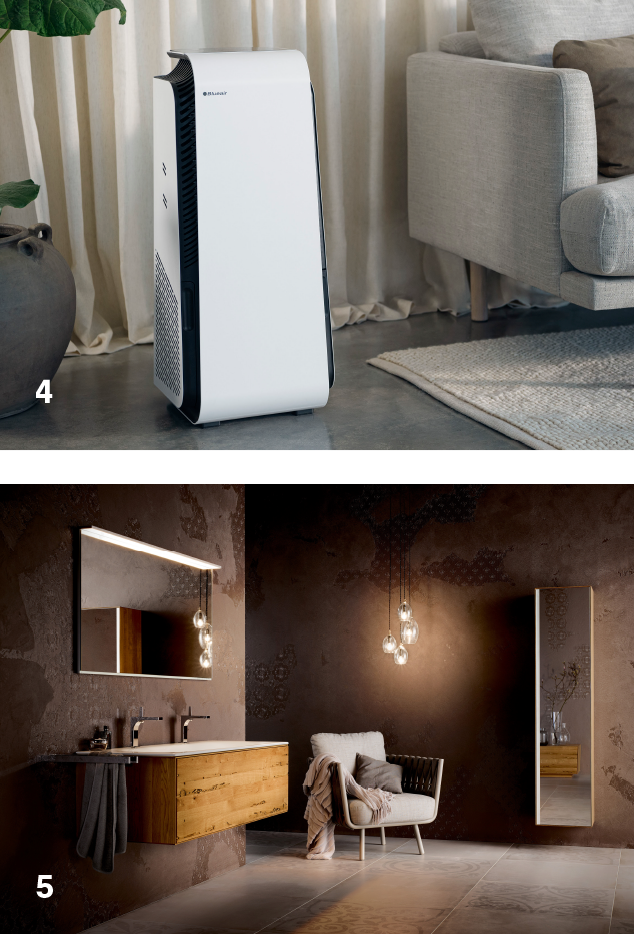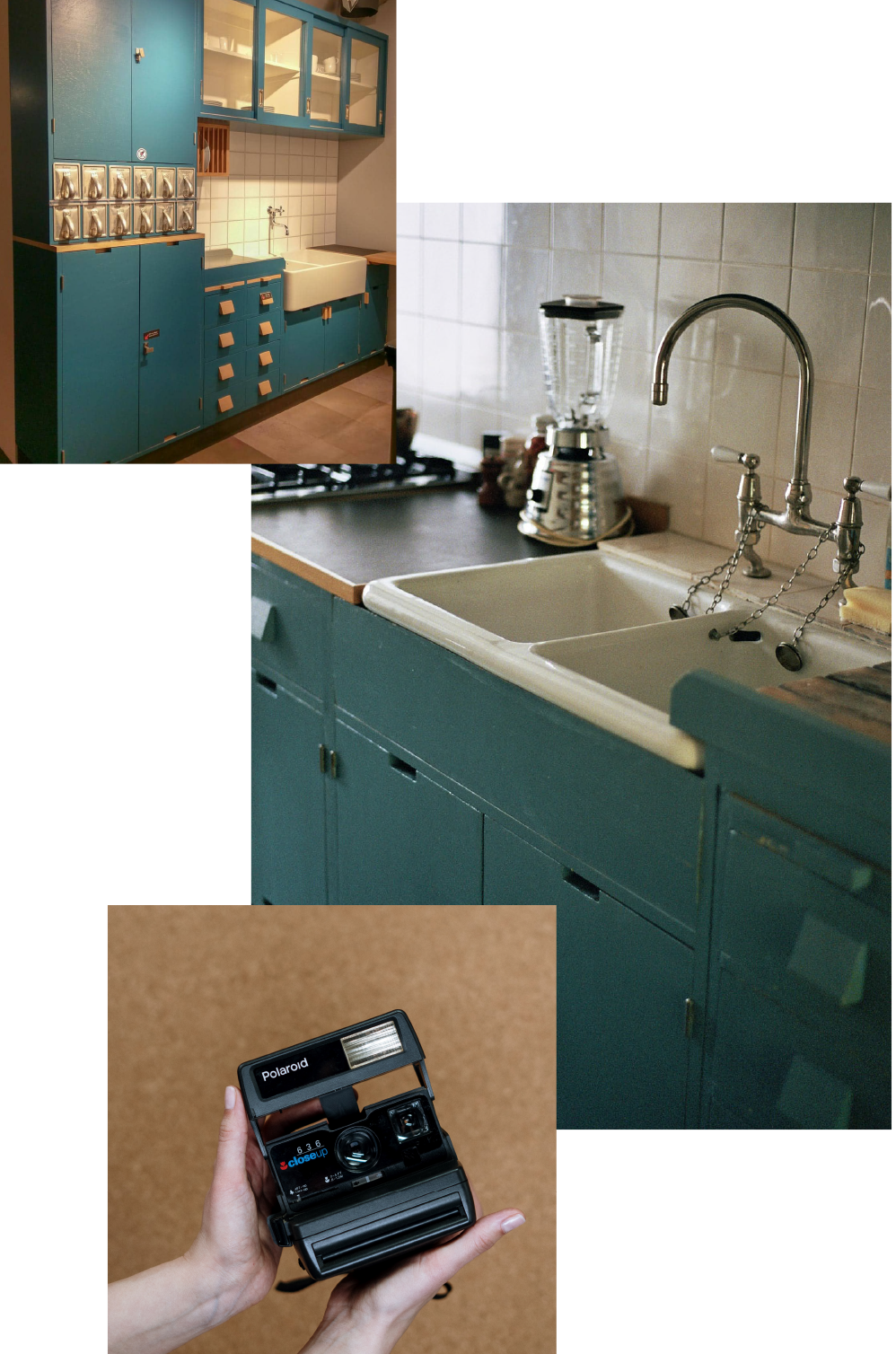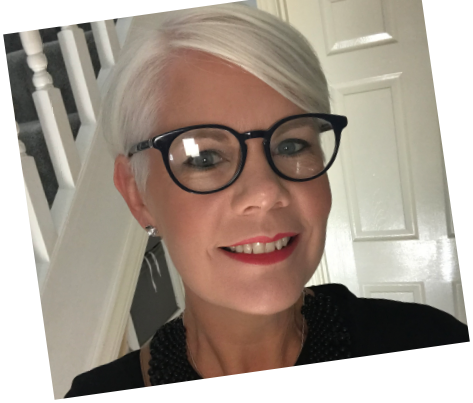 Celebrating iconic design

Lurking in the basement of KBB is our very own example of iconic design. Sitting comfortably alongside the other more famous examples such as Anglepoise Lamps, Ball point pens and the Polaroid Camera is The Frankfurt Kitchen.

An exemplar of Influential product design and one I believe we can still learn from and admire today. According to Wikipedia "a milestone in domestic architecture".

It was designed in 1926 by a fellow Austrian, Margarete Shutte-Lihotzky for a growing housing shortage in Germany following the First World War. She was influenced by Taylorism and another domestic champion of the time Christine Frederick.

No detail was left unturned, ergonomic design, efficient use of space and the workflow of the user were all considered, even stipulating that the colour blue should be used for the cabinet frontals as this was shown to ward off flies.

A fascinating story for any budding designer or existing one. I would love to bring it to life at The Blum Experience Centre, take you back in time to 1926 and fill in the rich history of the kitchen.


Explore the View archive library
Blum UK, Mandeville Drive,
Kingston, Milton Keynes, MK10 0AW
Tel +44 1908 285700
www.blum.com