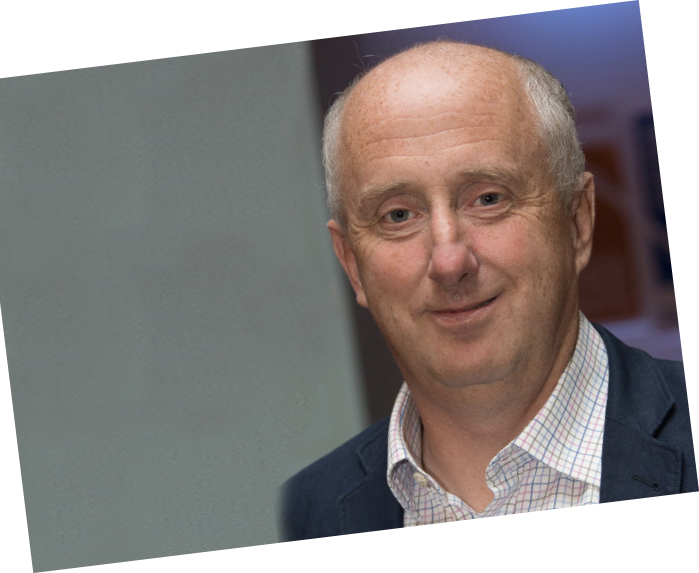 At last Spring is close, and hopefully we are leaving the dark and cold nights of winter behind us for the time being.

In this edition we are giving our readers a fantastic opportunity to win a full year's membership of the KBSA. The KBSA is a great organisation and offers many advantages to independent showrooms on a daily basis. I have met Uwe and Richard on many occasions and their passion for their membership is infectious and unparalleled.

As I am writing this piece, I am on my way to the airport to take my first flight for 2022. It is with mixed emotions that I am travelling again. It was a huge part of my working life pre-pandemic, and as I look forward in 2022 I can see that my diary is starting to fill up with travel plans again. I assume that this is an indication that some kind of normality is returning to our lives, which can only be a good thing.
I would like to briefly discuss the ongoing situation in the Ukraine. Pre-pandemic I was fortunate to work in Lviv for Blum and I met some incredibly proud people who everyday worked hard to provide a life to their families and their communities. To see and hear what is happening to them at the moment is beyond sad. All of us at Blum UK would send our heartfelt wishes to all our friends in Ukraine.
#nowarplease
Stay safe
David

Cover image courtesy of Stoneywell Kitchens see their feature on page 6
Written by Jodie Mack
A visit by Debonair Joinery
As a new member of the Blum Technical Team I recently had a great training experience with Paul Loboda who came to attend the Blum experience centre for a full training day after a recommendation from one of Blum's Distribution partners, Isaac Lord.

The afternoon saw Paul's journey move towards the technical team. Pete Sharratt took the lead on the training, and guided Paul product by product on a detailed technical tour of the functions of our products and all the technical aspects.

It was great to see Paul's enthusiasm for our Cabinet configurator, specifically the detail of the planning drawings produced by the system. Paul plans to use this system to help improve the accuracy of his planning as well as making use of the parts list produced, which can be seamlessly transferred to a distributor to be priced up and picked for any of his jobs.
Part of the technical training allowed Paul to walk through our experience centre where he was given the opportunity to see, touch and experience all of products. The walk around was an eye opener for Paul as we showed him functional design, what can be done with various budgets and space, as well as what can be achieved by pushing Blum products to their limits. There is no doubt that Paul finished the walk around with solutions and inspiration for new designs for his future jobs.
The afternoon finished off with Blum's famous jigs. Using the planning drawings from cabinet configurator Paul showed a huge amount of interest in the jigs, specifically the ECO DRILL, Universal template, and marking templates, which can be easily used with the planning information. Paul soon learnt that there is a jig for everything and if he could, he would purchase them all.
I really enjoyed seeing the value this kind of session can give a customer when they come to visit us.
Look to book your own Blum technical training day!
We have put together a range of training sessions, from an overview of our products through to in-depth installation solutions. If our schedule or subject matter doesn't work for you, we also offer bespoke training sessions. Our goal is to help you save time installing Blum products and get the most out of their features, the products were designed with this in mind and so is our training.
For more information on Blum's training modules, and how to book please visit
Or plan a visit to our immersive Blum experience centre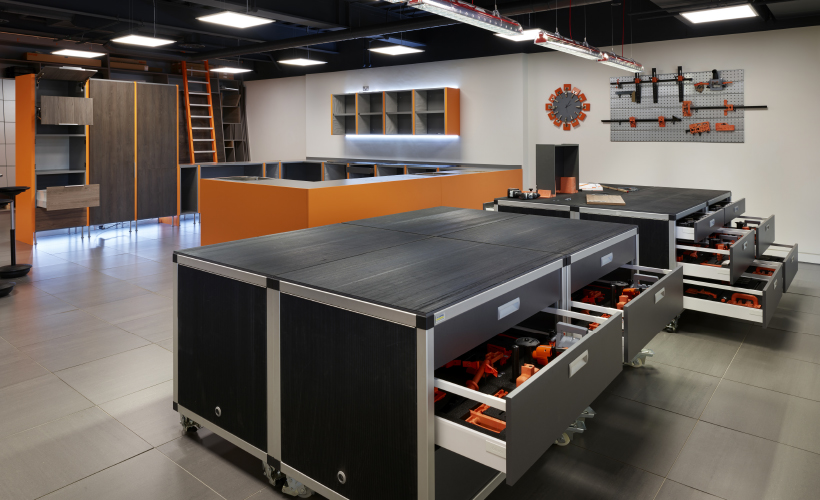 Picking up the

waste
…Picking up the

pace
As part of the big return to work there are two key initiatives underway here at Blum UK.

Firstly, a very active idea instigated by our Health and Happiness connects group called 'Chase the Year 1952'. From 1st March to 12th April Blum is challenging everyone in the business to get moving. Our goal is to achieve a total of 1952km of physical activity. 1952 was the founding year of Blum so the perfect target to choose in laying down the gauntlet. Being such an energetic staff group we should be able to accumulate that over the 7 week challenge! but do give us all the encouragement you can.

For the next 6 months we're also planning to take part in 'Keep Britain Tidy'. We'll be getting involved, literally hands on, by picking up litter in our local areas. This will be rolled out across the country with Blum's external sales team. We are currently in the process of ordering the necessary kit and setting a start date – we'll bring you further updates as the clean-up gathers pace.

You can read about the campaign generally here


Why not share your stories with us – View would love to know what you have planned for 2022 exercise and in terms of any local community projects.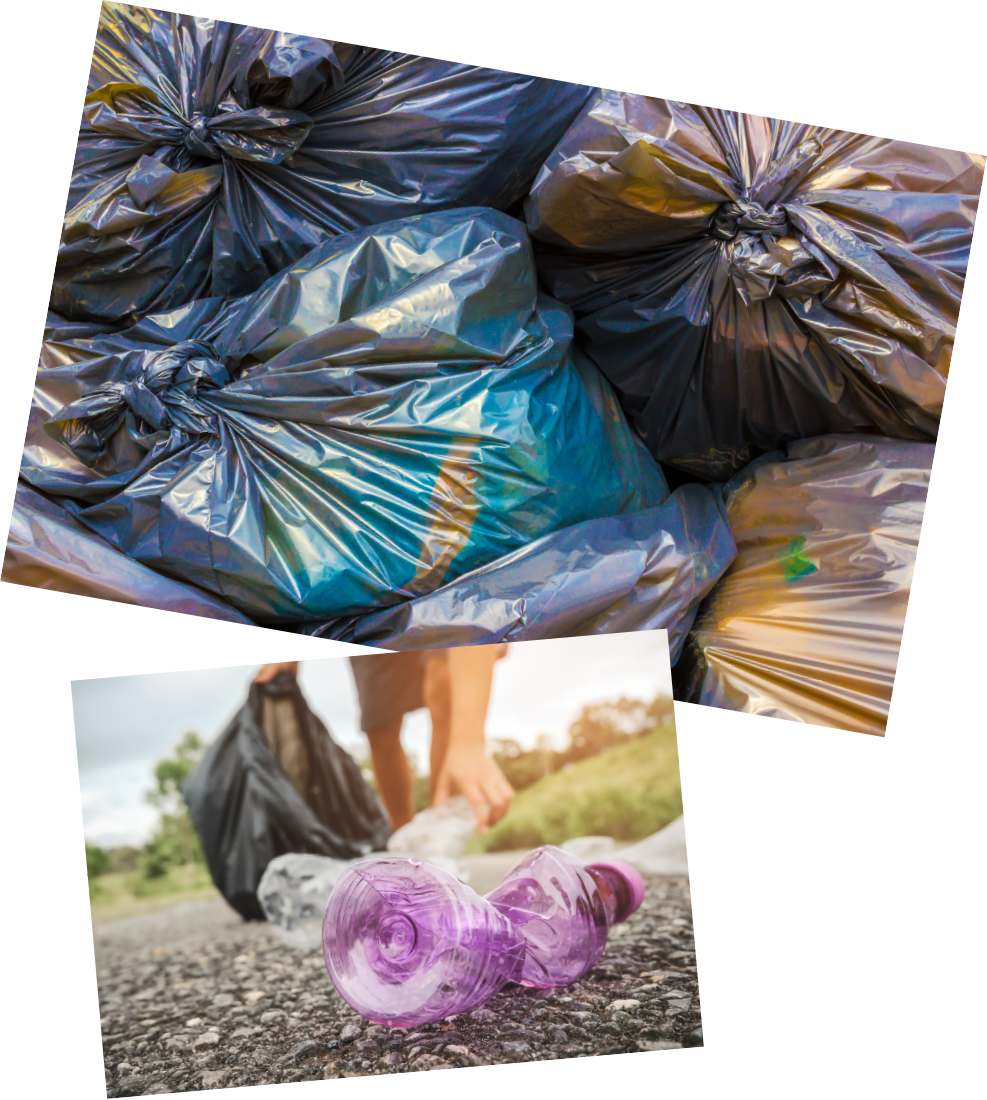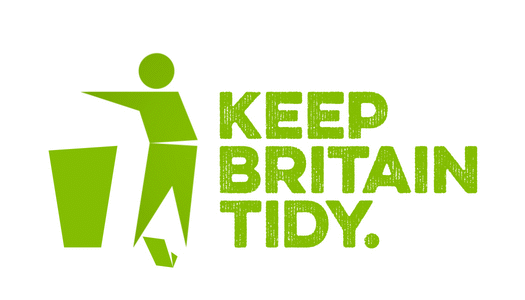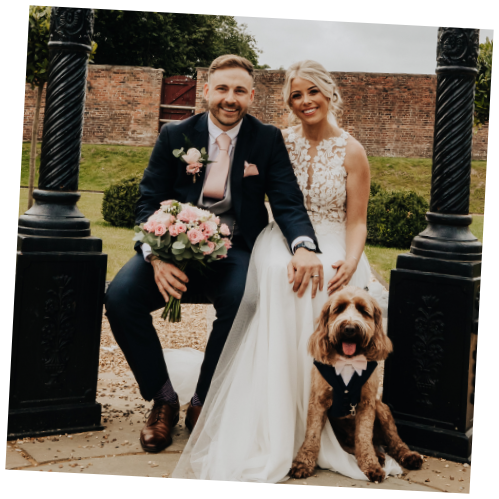 Fun Facts…
In August last year Leigh got married to his wife Chloe and their cockapoo Dougie was the ring bearer! He enjoys playing and watching sport, mainly golf. Leigh was the youngest person to play for Warwickshire at the age of 12 (with a handicap of 7).

Contact: leigh.pritchard@blum.com
01908 285700
Video introduction to Leigh Pritchard, Territory Manager in the Midlands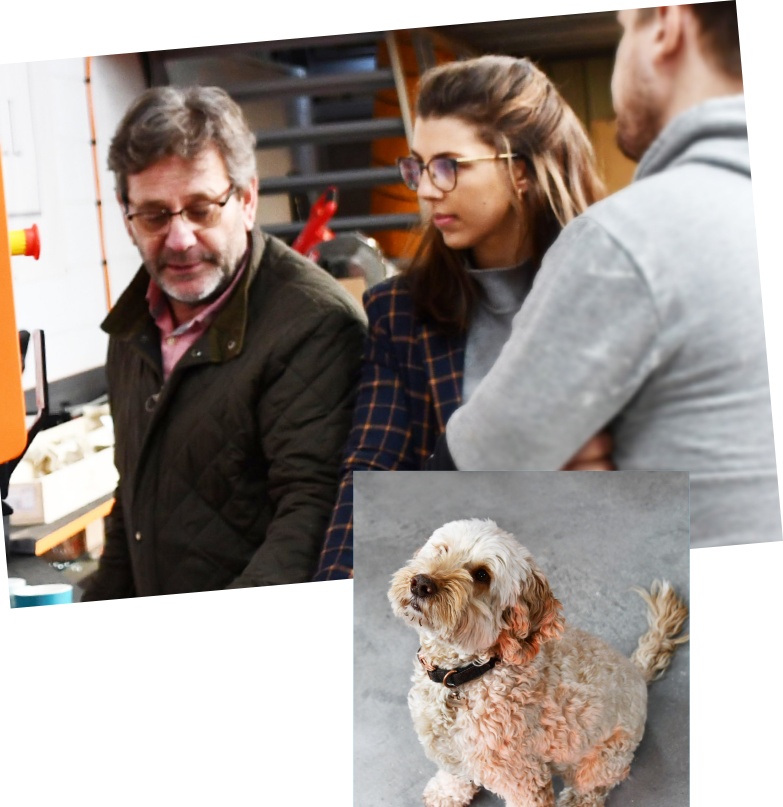 Stoneywell Kitchens are a kitchen retailer primarily based in Staffordshire and they were the first in the UK to make the investment in Blum's MINIPRESS top machine. With over 20 years trading history, Paul Durrant runs Stoneywell kitchens. He has a wealth of KBB experience personally, and he also benefits from the help of his daughter Hollie and family dog Benson. View caught up with them and the arrival of their new technical addition.

Formally focusing on their retail showroom, Stoneywell recently decided to commit to manufacturing their own furniture after renting a new unit in Cauldwell Derbyshire. With the acquisition of an edge bander and a vertical power saw, Paul was far closer to his goal of relying on himself for the manufacturing of cabinets instead of using another supplier.
However, there was still one element lacking in order to have the level of control he really wanted for Stoneywell Kitchens – the horizontal and vertical drilling points for fittings.
This is where the MINIPRESS top came in and perfectly completed the trio of machines that Stoneywell needed for their next step of business development. As the third generation of the MINIPRESS series of machines, MINIPRESS top provides its user with a solution for drilling and insertion requirements. Coupled with EASYSTICK, the machine will dramatically increase the rate at which the board for a cabinet can be prepared or have Blum components installed. For Stoneywell the fact that it's all contained in one machine is a huge bonus – making efficient use of their limited space.
Buying a MINIPRESS top isn't as simple as a UNIVERSAL drilling template or an ECODRILL. Paul's journey started with a complimentary tour around the Blum Experience Centre. As a massive fan of the Blum culture, Paul felt it was an ideal fit with ethos he wanted for Stoneywell. The tour culminated with a demonstration of a MINIPRESS top so they could see it in action and Paul was convinced straight away. From here it was down to the Blum Technical Team to guide Stoneywell Kitchen through all the specifications on the machine so they would have the right accessories, including the extended five-meter ruler and range of drilling heads. No detail was overlooked in the preparation of its installation.

Once everything was ready and the machine delivered, the last piece of the puzzle was for the Blum Technical Team to complete the machine commissioning service. This tailored service ensures equipment is precisely set-up and that new owners have all the training they need to confidently use their kit from the very first day. Blum machine specialists, Andy and Nathan visited Stoneywell to take care of this. No two commissioning's are the same and the Blum experts were able to identify where Stoneywell specifically needed help – they completed the installation, made necessary adjustments and lastly ensured all the software was up-to-date. After a few test runs with members of the team, Blum's experts were able to ensure the MINIPRESS top was ready to go for them, right down to knowing the boss depth of 13mm was set and that the horizontal drilling height was in the middle at 8mm.

Hollie has worked with Blum's Cabinet Configurator in the past, so the Stoneywell team can build up their range of templates on Blum's supporting software to help simplify their manufacturing capabilities further down the line. This ease of transferring designs from Cabinet Configurator to creating them with the machine was one of the many attractive benefits for Paul. "I think it's great and exciting. It will make our lives a lot easier" added Hollie.
After running through any questions Paul and the team had about the machine (how to best incorporate Cabinet Configurator transfer patterns into the machine and the flexibility of the top for things like dowel guides) they were ready to begin the real learning with hands-on experience. Like all Blum customers, Stoneywell have the reassurance of knowing that Andy and Nathan are only a phone call away and there's the follow up service in one year to see how Paul and the machine are getting on. View was delighted to see Stoneywell Kitchens fully equipped and ready to take control of their manufacturing!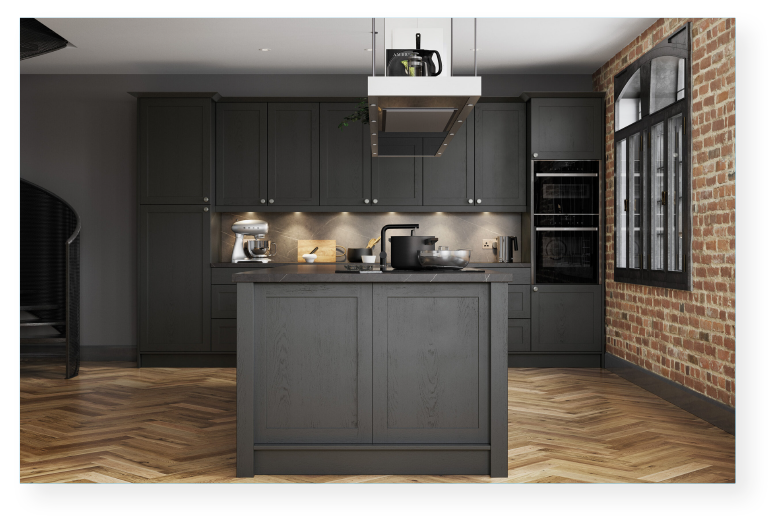 "I just want to give clients a really good product in every respect. From the edge banding to the fittings"
PAUL DURRANT
Making
a splash

Bringing moving ideas to life for all our customers, Billie Watts gives us her view on our latest brand campaign.

Echoing the arrival of spring's lighter days and the further easing of restrictions, Blum's new marketing campaign is all about looking forward.
Bringing to life some key principles of moving ideas, the campaign will allow us to demonstrate how Blum remain committed to delivering quality of service, product innovation and long and short-term sustainability solutions.
Using analogies from the natural world, 'moving ideas is in our nature' communicates our drive to succeed, our commitment to collaboration and how our efforts and ambitions can bring about a brighter future for all.
Through the campaign, we want make it clear that for us, 'moving ideas' is much more than words. It's the actions, deeds, ideas and passion that we and our customers put into supporting the aspirations and needs of their consumers, which in turn help them to realise their own.
With press advertising in key trade titles, social and digital activations plus plans to extend the campaign to include employee initiatives, look out for more moving ideas inspired activity coming soon.
All the best, Billie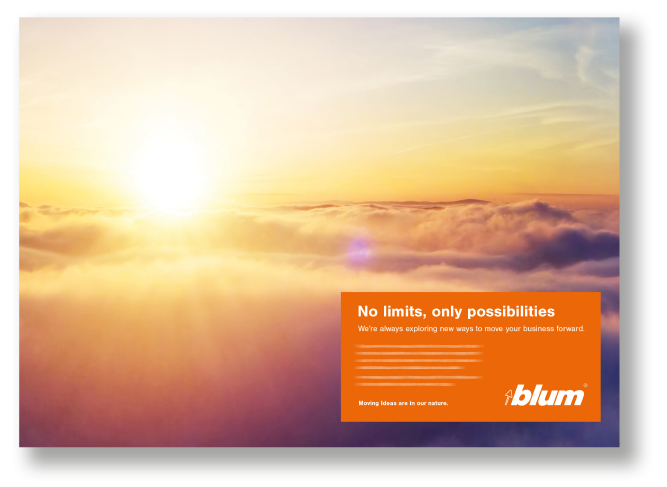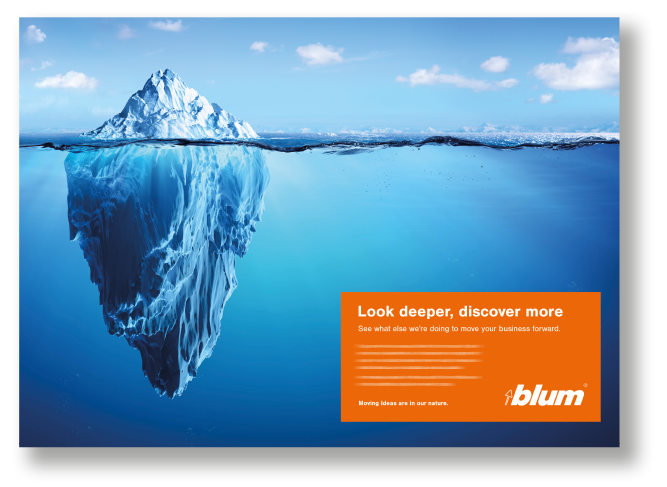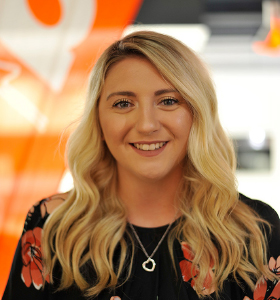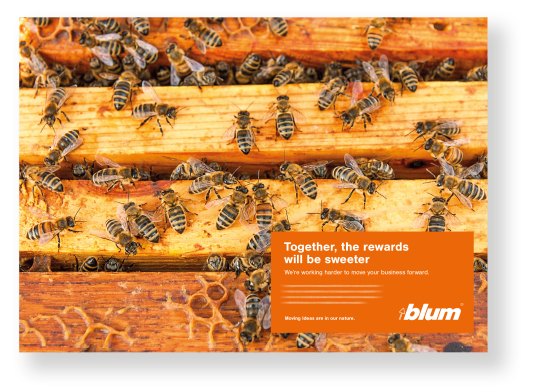 The Kbsa will offer one lucky retailer a free membership for a year at KBB 2022. The competition, available to those that sign up at the show, is one of a range of promotions for retailers that visit the stand.
In addition to the free membership draw, retailers that have previously signed up to the Sign Up! Campaign and present a copy of the email, (either digital or physically), can win a case of champagne.
Kbsa chair Richard Hibbert says, "These are enticing offers for retailers that are interested in Kbsa membership. Kbsa membership offers unrivalled benefits for retailers, and we look forward to sharing this message. The Kbsa team will also be on hand to demonstrate the many benefits and will also have advance details of a brand new legal and HR service. This enhanced package provides telephone support plus a library of over 700 written documents, and a tax investigation service, all free of charge to members, which could save members thousands of pounds in fees."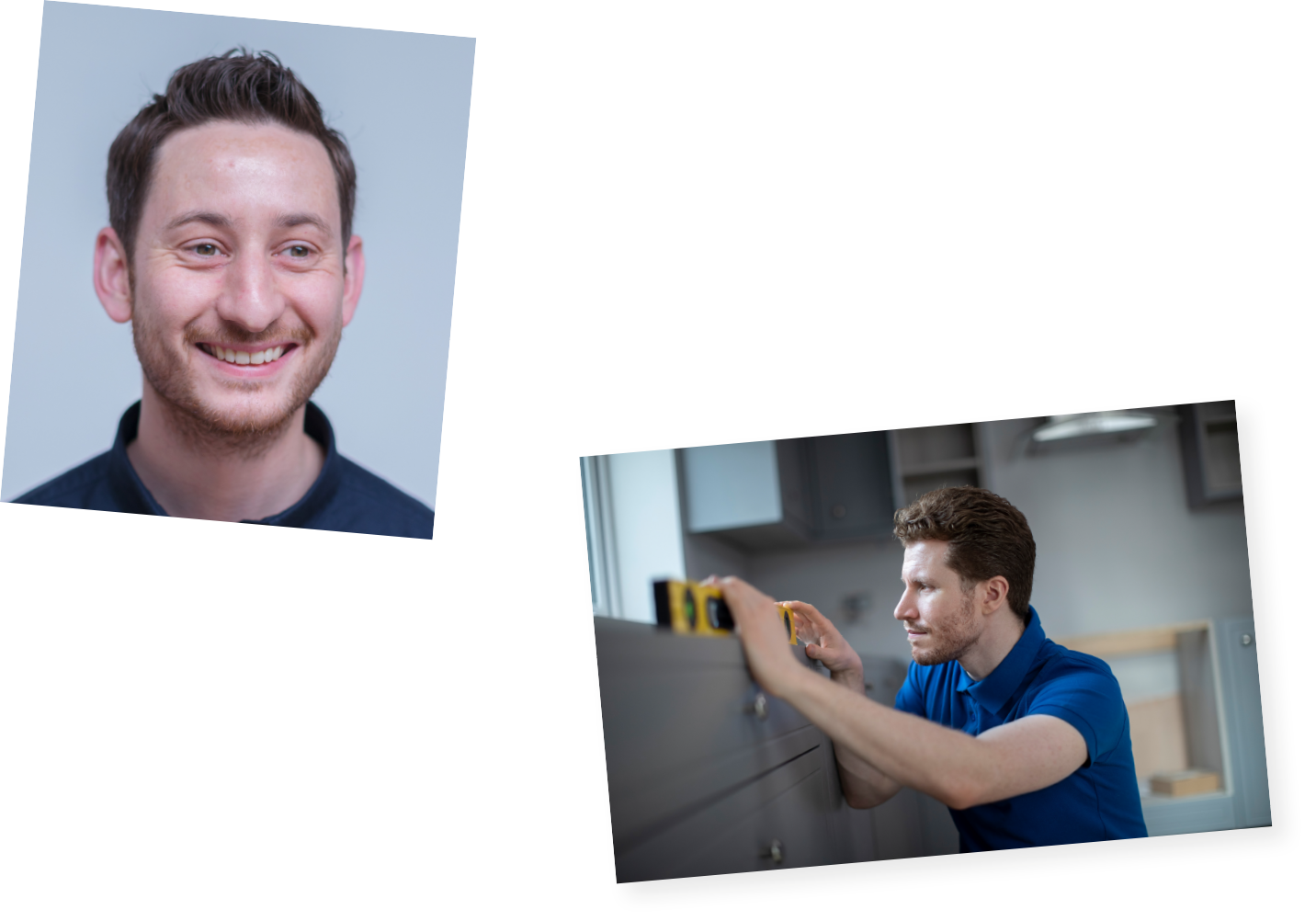 "The Kbsa is dedicated to supporting and promoting the independent retailer and as a Trustmark scheme operator, is the only association that can provide retailers with a free of charge option to apply for Trustmark status." Richard Hibbert

Islands & other storage stories

by Linda Parker


Storage capacity is crucial in any kitchen, and styles and solutions are ever-changing. We do all seem to be happy with the giant island and larder cupboard combination at the present time though. It's an obvious combination that works well, and does it's job of providing moving-around space in a busy kitchen as well as easy-to-assess storage capacity. Islands tend to be used for pan drawers, appliances and bins/recycling pull-outs. Larder-style cupboards are all about the interior fittings – such as SpaceTower or individual shelves.

1 Statement island from Roundhouse; this is the Urbo design with brass and bronze details and matt lacquer finishes. There's also a blackened steel table to the left for plentiful surface space as well as open storage.


2 Unique larder/breakfast cupboard storage from Drew Forsyth with bifold doors enhancing the 'useability' of this layout.

3 Traditional Classic kitchen with curved-end island creating the perfect divide between kitchen and dining room, from John Lewis of Hungerford.

4 Table islands are a way of providing a huge amount of surface space without foregoing storage space – the proportions of these drawers are suited to almost anything… Nickleby kitchen by Humphrey Munson.

5 Beautifully symmetrical kitchen with large-scale island that includes a prep sink as well as plentiful storage. From the New Classic collection by Martin Moore.

6 Ivory-painted Shaker kitchen, with dramatic distressed timber bench-island with end cupboard storage and matching wall cabinets, Olive & Barr.

7 Striking Shaker island with overhang to accommodate seating and a flush-fitting Bora X Pure Induction hob for a streamlined surface. Inset Handle Painted Shaker kitchen by Higham Furniture.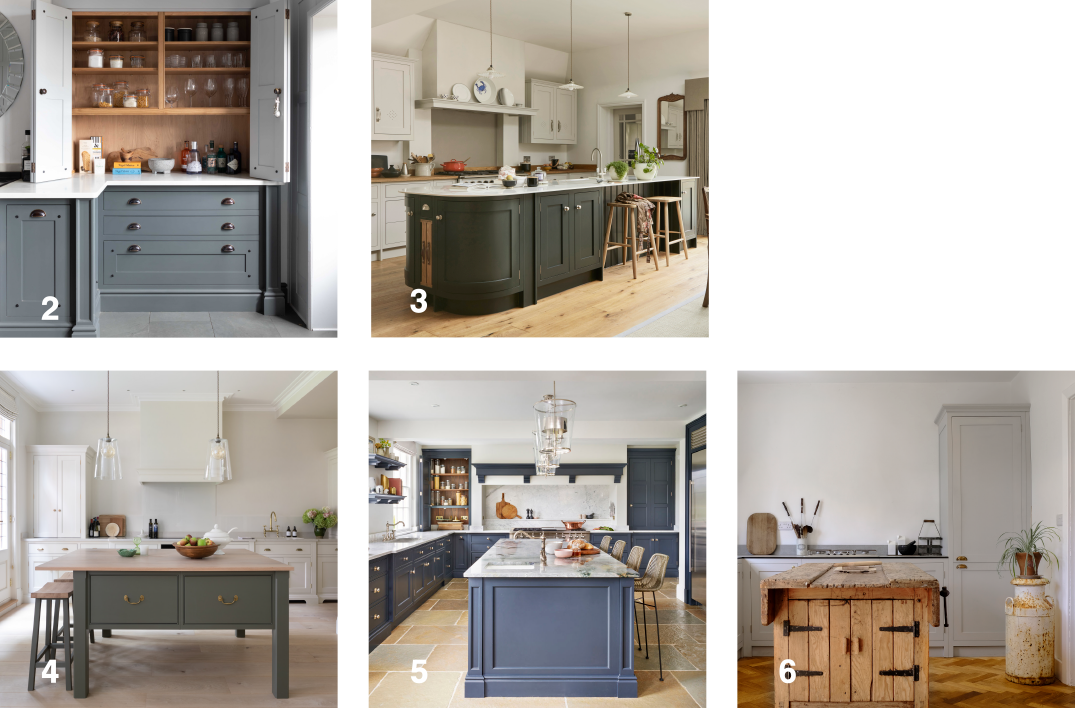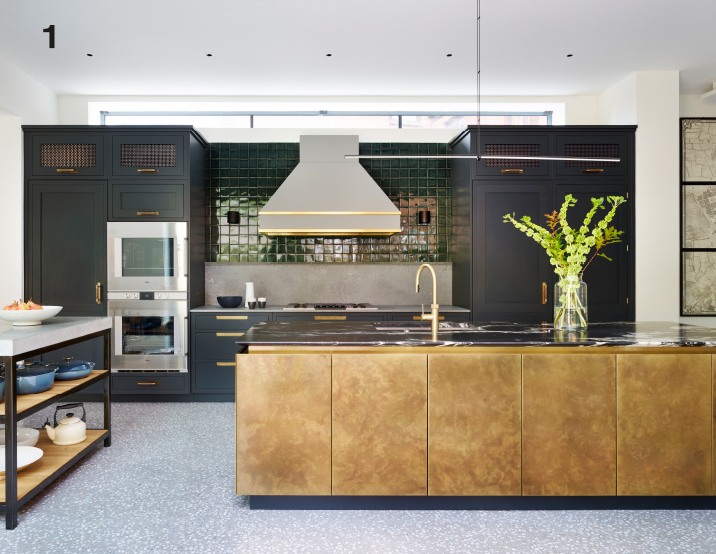 ISLANDS & STORAGE continued
1 The Canal House in Amsterdam by architects i29 has a spectacular dining table/island configuration, where one flows into the other.
2 This island adds another dimension to the wall cabinetry in oak veneers and ivory finishes – it's a strong style statement in Arabescato marble, which is also used for the splashback. This is the Sterndale project by Blakes London.
3 Ultra-contemporary oak finish island with honed Carrara marble surface and end panels, plus large-scale strong, deep drawers either side. The island surface houses a cooktop with gas wok burner, bbq grill and dual zone Teppan Yaki cooking surface. From DesignSpaceLondon.
4 This L-Shaped island from Eggersmann has a UNIQUE Silver Touch 5mm hot rolled steel work surface – designed to look like concrete – and plentiful cabinetry in Chablis Vintage Oak. The tall cabinets at the far end are E.30 in Tokyo Real Dark Concrete.
5 Island with vertical and horizontal design lines, from the Tio Messing collection by Rational in black walnut with chamfered strip handles and endless options for interior configurations.

TOP TIPS
• Ask clients if there are special storage requirements, maybe small (or not so small) electricals such as a pressure cooker, slow cooker, bread maker etc which will need a designated storage space – and a nearby power socket for ease of use.
• Pan drawers and crockery drawers need to be able to bear considerable loads – and ideally can be placed near to the dishwasher for logical unloading straight to their storage spot.
SPACE TOWER
pullouts can have a capacity of up to 70kg for a single drawer.
• The food waste bin/compost bin should be positioned close to the prep sink and/or chopping area.
• The island, especially if it's a 'sociable' island is a good position for a wine or drinks fridge. Also consider a recessed ice trough or a bottle chiller, such as the
Kaelo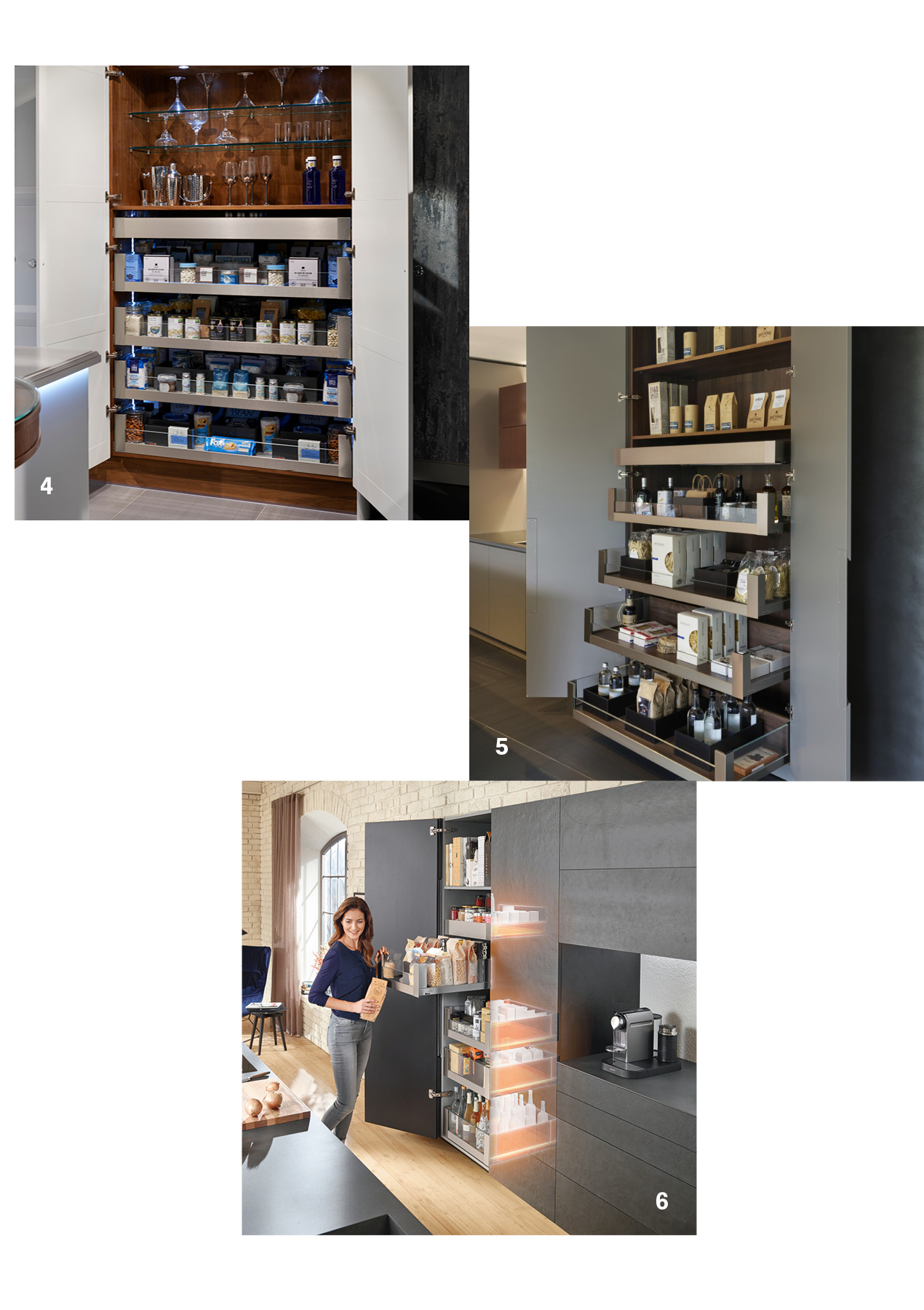 ISLANDS & STORAGE continued
Other practical and desirable storage solutions include walk-in pantries, now often a feature of large-scale projects, and double-door full-height store cupboards – described as larder cupboards or pantries. Some may have fixed shelves and door racks for small items; others are absolutely the perfect choice for SPACE TOWER options…

1 A very handsome separate pantry, by Humphrey Munson. Access is via a half-glazed door in the main kitchen. Simple shelves and integrated lighting create a classic look with modern touches.

2 & 3 This is from the Arbor Collection by Harvey Jones; the tall grey cupboard contains a multitude of shelves, and the island contains four deep drawers and a pull-out.

4 1200mm wide SPACE TOWER pull-out creating an appealing combination of drawers and shelves, which can be for used for displaying glassware, for example, as well as more everyday storage requirements. These drawers are LEGRABOX in Stainless Steel & Clear Glass.

5 Extra-wide pull-outs can often benefit from additional dividers within each drawer, adding to the organizational element of separating products, but also keeping taller items securely upright. AMBIA-LINE frames come in various finishes, including Terra black matt, Orion grey, Tennessee walnut and Bardolino oak.

6 The advantages of SPACE TOWER are myriad, click here for an overview. Access to fully-extendible drawers from front and both sides, no need to incorporate 'empty space' to allow removal of contents, and half-height fronts also increase ease of use.

---
---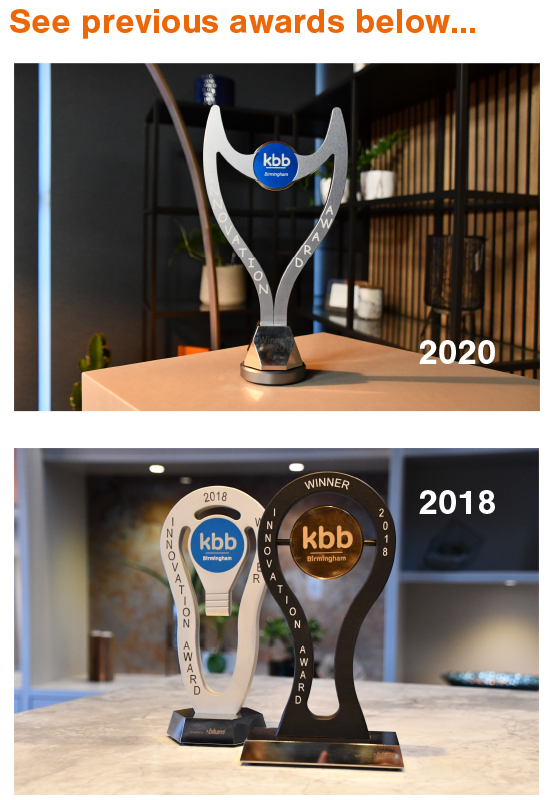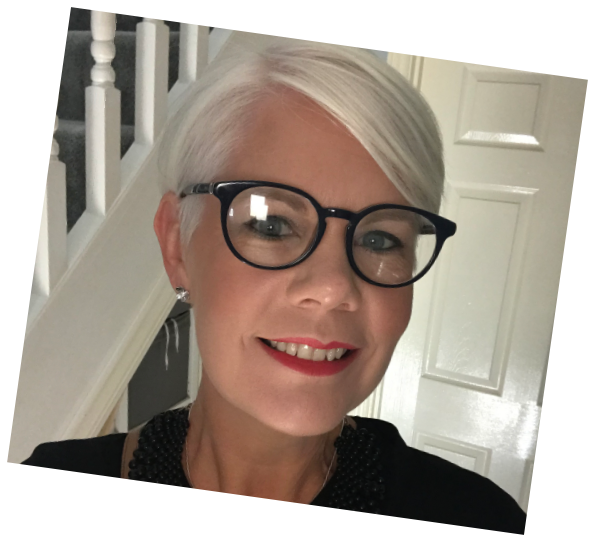 The meaning of innovation

What is it exactly? How do we define it? and what does it really mean? as it turns out it's a lot of different things to a lot of different people. According to a leading expert on disruptive innovation, Clayton Christensen it is "A change in the process by which organization transforms Labour, capital, materials or information into products and services of greater value."

The simple answer could be just doing things differently, looking beyond the present and into the future, innovating a new method, product, or even a new way of thinking.

However, we view innovation as an essential part of everyday life, and we are all touched by its impact. At Blum, it's a part of the culture, constantly moving our ideas forward and daring to try new things, we may not get it right all the time, but that's what makes innovation so exciting. As a passionate supporter of the KBB innovation award, we want to recognise and celebrate this pioneering spirit and disruptive thinking.
As a judge, I look for the unique, the inspired, the boundary-pushing. I'm always inspired to work in an industry that never stands still and continues to improve the quality of living spaces and the built environment. Our very own apprentices are themselves asked to innovate a new award design, created using new and innovative production techniques alongside the competition, and these are given to the finalist. Their creativity knows no bounds.

I cannot wait to see who the finalist is this year and which of our apprentices has created the final award.

Look back on the highlights from the 2020 KBB Innovation Awards

Explore the View archive library
Blum UK, Mandeville Drive,
Kingston, Milton Keynes, MK10 0AW
Tel +44 1908 285700
www.blum.com