Gearing up for

exciting plans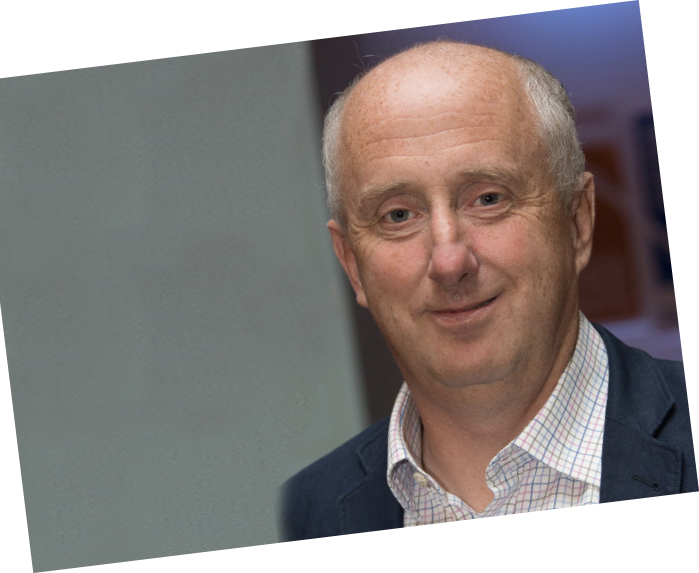 Welcome to our latest edition of the View, in this edition we continue to try and bring you a perspective of how we at Blum see the outside world and its effect on our thinking and strategy.

2022 is flying by and we are less than a month away from the Summer Equinox signalling that we are halfway through the year. Up to now 2022 has followed a similar pattern to that of 2021 in terms of price and supply challenges and the continuing problem of recruitment.
Recruitment seems to be a challenge all over the KBB industry at the moment, and I see many posts on social media advertising various different roles. We at Blum are no different to the rest of the industry, so coming up with new and innovative ways to recruit is a constant challenge for our business.
We have lots of new and exciting plans still to announce and deliver in 2022, but we must make sure that we have the resources and people to deliver these plans to you, our partner. It is our pledge not to promise something that we are not a 100% sure we can deliver, so if this means we have to delay launching a new product or service, then we will, until we are confident that we can deliver a high level brand experience.
I hope that you have started to dust down the BBQ's and given the garden furniture its annual clean in readiness for the upcoming holiday weekend. Let's just hope that for once the weather helps us out, so that we get the opportunity to really celebrate the Queen's jubilee.
All the best and as always stay safe
David

Cover image courtesy of KitchensbyCRW see their feature on page 6
Written by Russell Green
Drilling template for BLUMOTION/TIP-ON
Another great tool I want to talk about is the TIP-ON template 65.5010. It is perfectly designed to be used with TIP-ON for doors or BLUMOTION whilst helping as an aid for drilling accuracy, saving you time and money by not wasting material.
The template can be used on doors with the 956 version of TIP-ON and drilled into the carcass or surface mounted in an inline mounting plate.
The short version, 956.1004, will require a 50mm hole drilled into the carcass, whereas the long version will require a 76mm hole. The template can also be used as a guide to keep your drill in the correct position, helping to make the task much easier and your hole perfectly straight.
These items can be found in the Blum Catalogue 2020 / 2021 on page 187 and purchased on www.blumkit.co.uk. You can also find a video on our website showing how to use the template.
To use the template with either the standard version or the long version of the TIP-ON draw a line where you are going to drill then place the template on the carcase edge line up the "V". Fasten your depth stop on to the drill bit for your required depth and then you are ready to fit TIP-ON to the carcass.
If you would like to install TIP-ON for a smaller door under 1300mm tall, the 956.1004 is what you need. With a drill depth is 50mm, a 10mm drill bit and your choice of unsprung hinges you are ready to go.
However, if your door is over 1300mm you have two solutions available depending on if you would like a magnet (956A1004) or a bumper (956A1006). Both variations of TIP-ON need a drilling depth of 76mm and a 10mm drill bit. The key difference to remember is that the magnet variation needs unsprung hinges whereas the bumper needs sprung hinges.
You can find details on all three options in the Blum Catalogue on page 186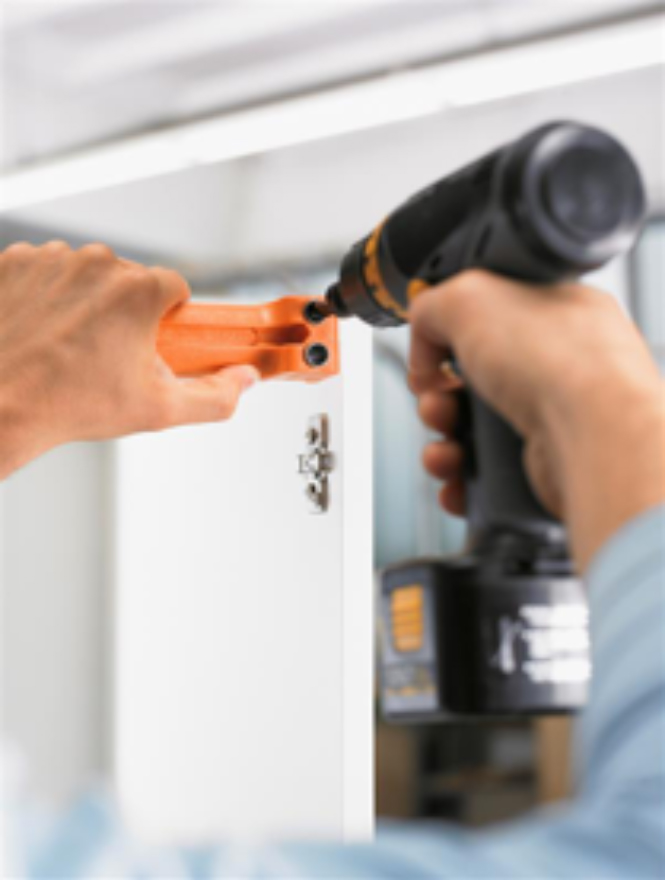 Banking on a better break
It really has been the season for Bank Holidaying – after a late Easter closely followed by May Day and now Spring Bank Holiday is almost upon us. This year the beginning of June comes with an added bonus; a double-dose of days off! So in preparation to hang out the bunting and raise a toast to our long-serving Queen Elizabeth II, View has discovered a few helpful sources on the best ways to properly switch off.

Make relaxing more rewarding

The Stylist magazine have great words of wisdom to share from their nominated therapist. Cariss writes about restorative solutions and methods for resetting during an extra-long weekend. She covers issues such as the avoidance of cramming too much in and explores the fact that it's healthy for mental wellbeing to treat ourselves.

Book yourself happy

Which? offers us some incredibly simple, yet effective advice on how to achieve more bang for our bucks when it comes to arranging time away from work. They prove that with a little extra creative thinking and crafty planning we can manage the work diary to squeeze more days into our holidays.

Hot tips for hitting the road

If there's one aspect of any holiday period guaranteed to get our blood boiling and stress levels soaring, it's the UK's congested road network. Should we be thinking of joining a motorway to travel to a Platinum Jubilee celebration, or just want to be streets ahead for that local street party, LV Insurance have various pointers that promise less hassle and much less road rage.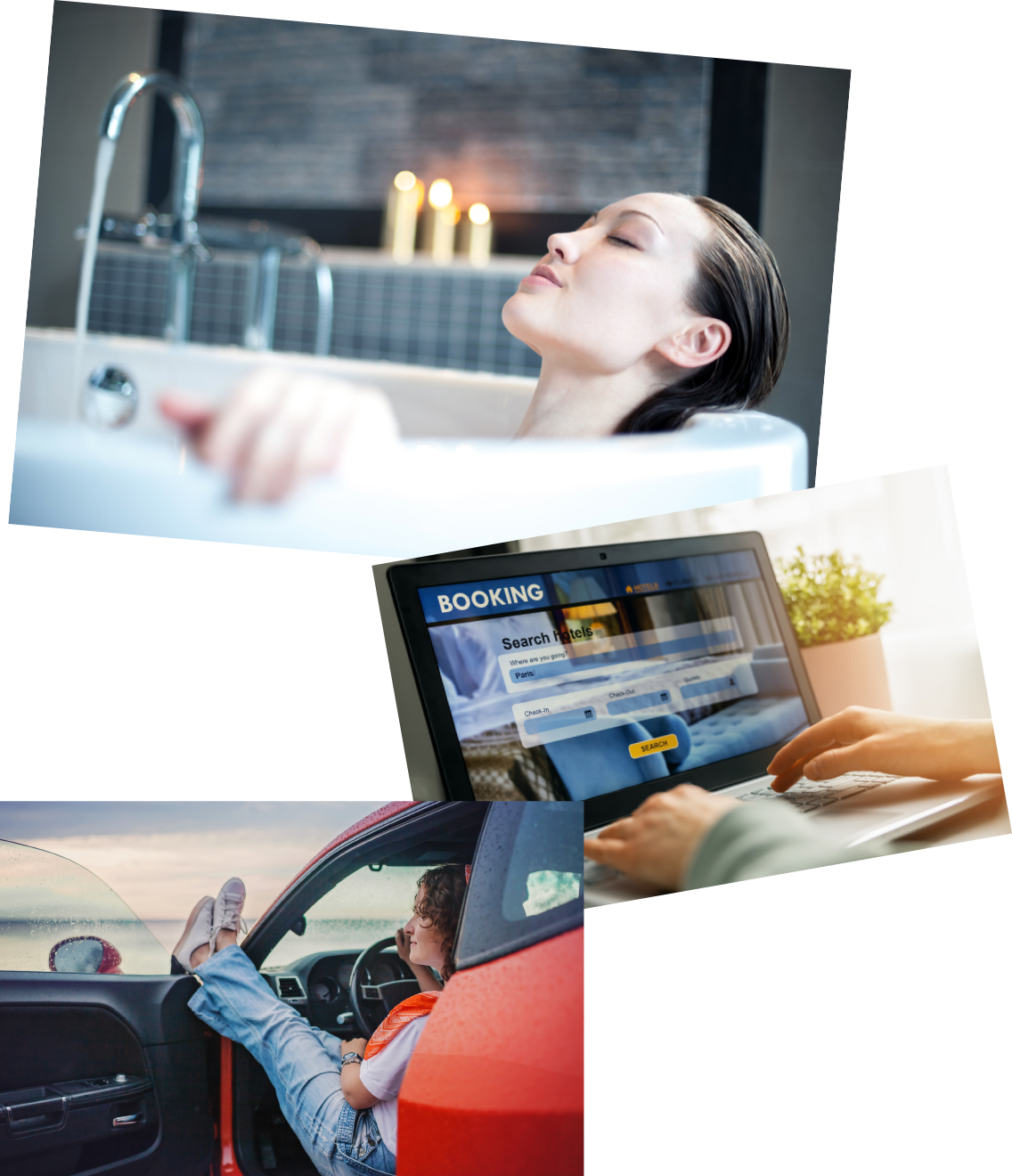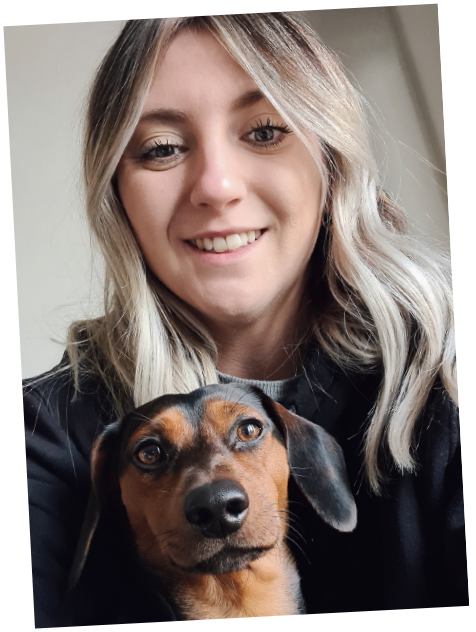 Billie is a Marketing Associate at Blum UK and has been working for Blum for a total of over 4 and a half years. She loves the challenges and creativity her role provides - no two days are ever the same.
Billie loves travelling, music festivals, and long walks with her dog Otto.
Her fun fact is that she has snorkeled with whale sharks off the coast of Cancun, Mexico.
Video introduction to Billie Watts – Marketing Associate at Blum UK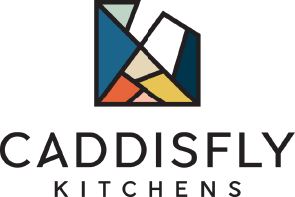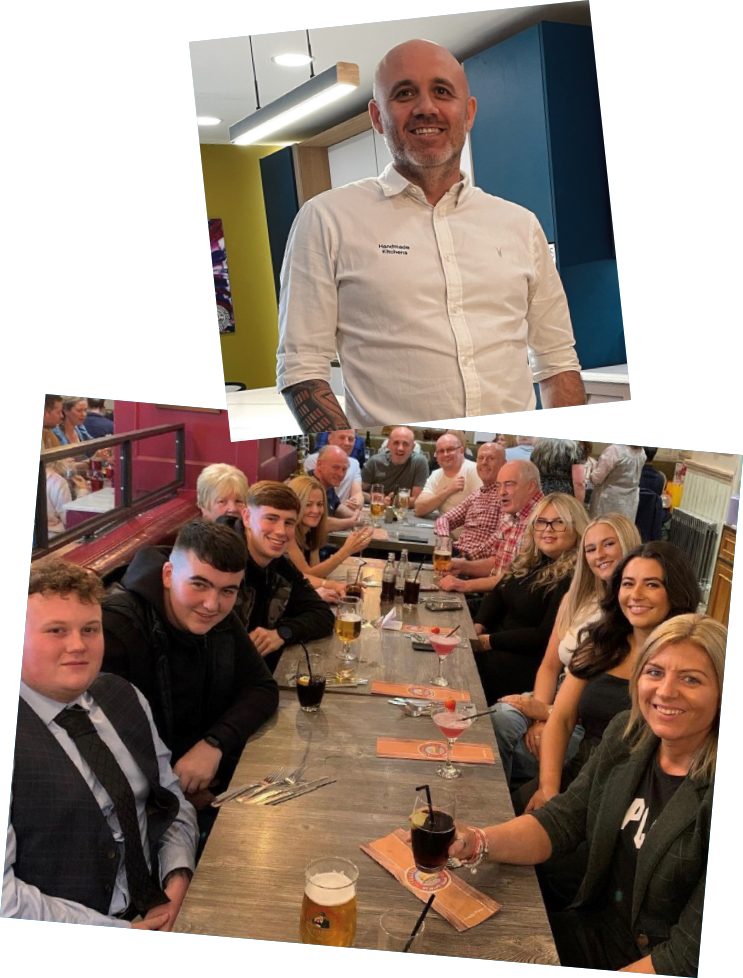 Delivering the goods, enjoying the process

View has been exploring life North of the border for this issue's feature – chatting with Scottish founder and director of KitchensbyCRW Campbell Whyte. We talked to him about his refreshing style of leadership and approach to staff engagement, as well as spending time with their Business Development Manager Carol Clark. We discovered a business that's clearly going places and one driven by a man at the helm who wants everyone involved to share in that success.

The CRW story starts in 2018 when Campbell made the brave move away from a typical retail and installation model. Since a young age, working with his Dad, he'd followed this path and had expanded to around 35 members of staff in his previous business. After approximately twelve years Campbell was looking to change direction and found himself drawn to manufacturing. In this context, he felt there was a need to offer something unique, that no one else in Scotland was providing.

In a nutshell today he has a family-run (Campbell's Mum, Nephew and Niece have active roles in the processing and accounts department), premium kitchen manufacturing company based in Renfrewshire, Scotland. They create bespoke and totally customisable kitchens and deliver them throughout the UK, from Brighton to Aberdeen. KitchensbyCRW offer handmade cabinets made from Egger board supplying rigid kitchen cabinets. Each kitchen manufactured is made-to-order, with every unit made to the customer's exact requirements. The company does appear to operate from the fundamental premise that their products are so varied because their customers are!
The business has a kind of split personality and two brands actually run in tandem; each dealing with slightly different clientele. KitchensbyCRW offer a wholly supply only solution to trade customers, builders and joiners. There is a website portal with a smart system that allows clients to generate their own quotes and translate those into the final order. Sales activity now has coverage of around thirty independent retailers in Scotland. Secondly there is the standalone brand Caddisfly which is caters to high-end architects and specifiers with a much more design studio vibe – it also has its own dedicated showroom.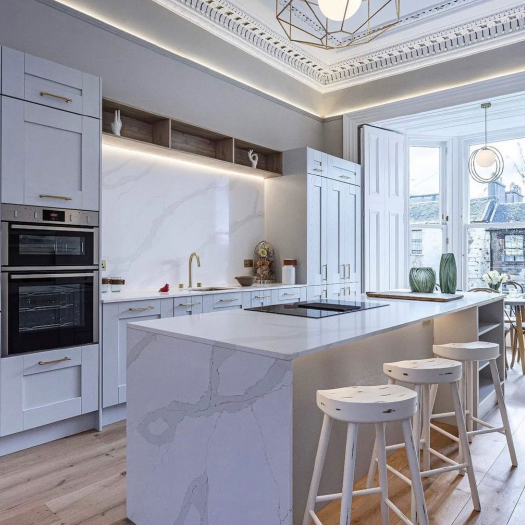 For colleague Carol, having come from outside the industry, working at CRW has been "an education" and among the many ideas she's picked up over the past three years, is the knowledge that they can "basically make anything". In terms of Carol's area of responsibility, business development, CRW have experienced a really busy period post-pandemic but even during Covid the workshop was making units for care homes – so it's been a very buoyant time. Carol has seen the shipping containers used to hold finished stock on their site increase from two to eight during the last year.

Carol explained to us that Campbell is passionate about his work and his staff. She shared the fact that he genuinely wants people to be happy and really hopes this means they stay for life. "We all believe in where we're going" Carol enthusiastically expressed, when describing the culture at CRW. One tangible example of how people matter comes in the form of Campbell's decision to put the entire team on a 4-day week this year. As he commented "It's MY business so I can do anything I want". This doesn't result in poor productivity, far from it. There are targets to be met on quantity of cabinets each day but this happens in parallel with the philosophy to 'have fun and enjoy it'. The team now stands at 12 people including a General Manager, Design Manager and Interior Designer.

In five years Campbell is aiming for 300% growth because there's lots more capacity available and he has the option of running production across both day and night shifts in the future – the extent of their £500k machinery makes the process incredibly precise and they are able to boast an impressive turnaround of two to three weeks. There is just no stopping his ambition for staff development and scaling up operations, Campbell is looking into creating more space for CRW's own "paint to order" line. These plans will see more investment in a new spray paint machine and specialist staff to create door finishes in ANY colour.

It's not purely about volume though, because CRW's vision is intrinsically wrapped around a core of quality execution and service. We learned that the people who fit its machinery regularly choose KitchensbyCRW themselves and for family members – "…they know the back door of the business" as Campbell puts it, so this is an endorsement that carries real weight.
For more about the businesses see the KitchensbyCRW website
"I used to chase money – now it's all about loving life and making the best cabinets."
CAMPBELL WHYTE
Fresh new ideas for spring & summer

by Linda Parker


Nicer weather always brings an appreciation of spring and summer colours, a certain lightness of spirit and a willingness to embrace new ideas. So, for the 25th issue of View, we have some new ideas for kitchens, from cabinetry to tiles and decor, some outdoor living inspiration, some bathroom ideas and a recap of our visit to the launch of the new Marlow design by Benchmarx.

1 Aura Kitchens are keeping it simple with a straightforward collection of three basic styles … Shaker Handleless and Slab. Shown here is Edgerton, in Dust Grey, with a smooth matte painted finish. There's also a Handleless version of the Shaker style, and a very appealing Dust Pink colourway.

2 Deck Chair Porcelain Royal Blue tiles from Ca'Pietra bring a fresh, timeless look to a kitchen design – well worth considering if you're looking for a statement tile to add colour to a classic kitchen. Also available in other shades, including Sage Green, Rose, Rainbow and Rhubarb and Custard. Yum!

3 Shenaya, new from Crown Imperial is a modern interpretation of Shaker style, with the rather glamorous addition of metallic trim, plus a choice of 22 shades, which include Rose, Lavender, Sky, Mint, Ocean and Sun. And for designers who require a unique colourway, it can be supplied in a primed finish, awaiting a bespoke paint colour.

4 If you're approaching the end of a project, or maybe want to spruce up the showroom, take a look at the stunning Turner Counter Stools from Gabriella James. Made to order in solid ash, with a selection of high-quality designer fabric covers; these are in Manaos Perroquet by Christian Lacroix.

5 The new version of Onda by Rational is a contemporary classic with dramatic curves – now available in a new colour, Terra Brown, with a soft lacquer finish. The work surface is granite, in satin finish Tropical Storm. See the interior options here.
6 Interior wood veneer panelling is a popular choice for kitchens and open-plan spaces; use it to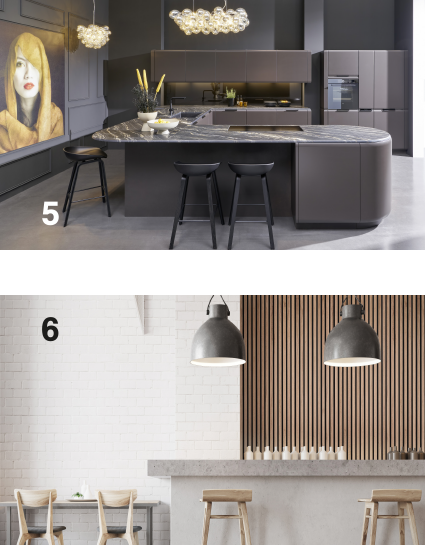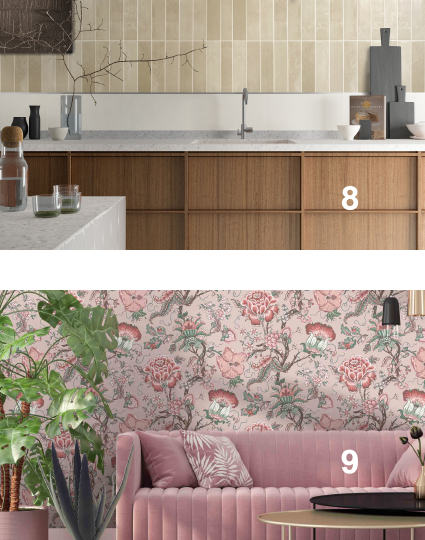 visually link separate task areas together. And naturally, it works equally well in kitchen studios and showrooms too, as an on-trend addition. This is Acupanel Contemporary Walnut Acoustic panelling, from The Wood Veneer Hub.
7 This mix of colour is impressive, reversing the usual order of kitchen design which is for pale shades around the perimeter and a dark colour for the island. This definitely works, and it's a Shaker Kitchen by Olive & Barr in Hicks Blue and Pall Mall, both shades by Little Greene
8 A couple of new tile launches from Tile Mountain are Luken Beige wall tiles, pre-scored and designed to look like eight smaller tiles, and can be used vertically or horizontally.
9 It's all too easy to focus on the kitchen areas with great intensity but if the project is open plan, we're offering some summery inspo for the other end of the room. This is Arcadia Blush wallpaper from Woodchip & Magnolia. Perfect for a statement wall, with added plants, naturally
New Ideas – Embracing Outdoors
Our outdoor spaces are becoming as considered and stylish as our indoor spaces. I can barely remember seeing a new kitchen without the addition of an outdoor entertaining area. Typical, just as you think it's all finished and the kitchen team has gone, it's time to brace yourself for the garden team… Here's some good ideas to get the planning started.
1 Cooking for big parties outdoors is much more fun that juggling all those pans indoors … consider the Norfolk Grills Absolute Outdoor 600 Kitchen Set from Naken. Including the BBQ Grill section, sink/tap, wine fridge and plentiful storage, this will definitely upgrade the outdoor dining experience.
2 Crazy colours and patterns are perfectly acceptable for outdoor entertaining, the more the merrier! These are hand painted white glass plates by Le Botteghe d'Arte shown here in terracotta and green, from Charlton Island.
3 Outdoor lighting sets the ambiance and defines the sense of a planned outdoor room. Candles and lanterns add a pretty touch, of course, but for eating and entertaining purposes, a pendant is a good idea. This is the Outdoor Pendant from Sparkle Lighting, waterproof, battery operated with a timer.
4 Outdoor kitchens are definitely desirable at the moment, and where there's a kitchen, there should be a bar too. So, enjoy al-fresco cocktails via the Palm Outdoor Garden Bar & Stool Set from Danetti. This is just a detail of the end section, click here to see the table, the stools, the cupboard …
5 The concept of outdoor furniture that doesn't look like outdoor furniture is beautifully illustrated with the Quay Ceramic Dining Table and Outdoor Dining Chairs from KING Living. The table top is UV stable, heat resistant and has the look of natural stone.
6 When outdoor chairs look as good as indoor chairs… This is the Lapel Carver Chair from Ligne Roset. Constructed from aluminium and woven synthetic resin it has weatherproof seat pads. A future design classic, with a standard dining chair and armchair also available.
7 This kitchen was planned with the outside space in mind … fabulous sliding doors and opulent surrounding greenery. Kitchen by The Myers Touch in collaboration with AR Design Studio.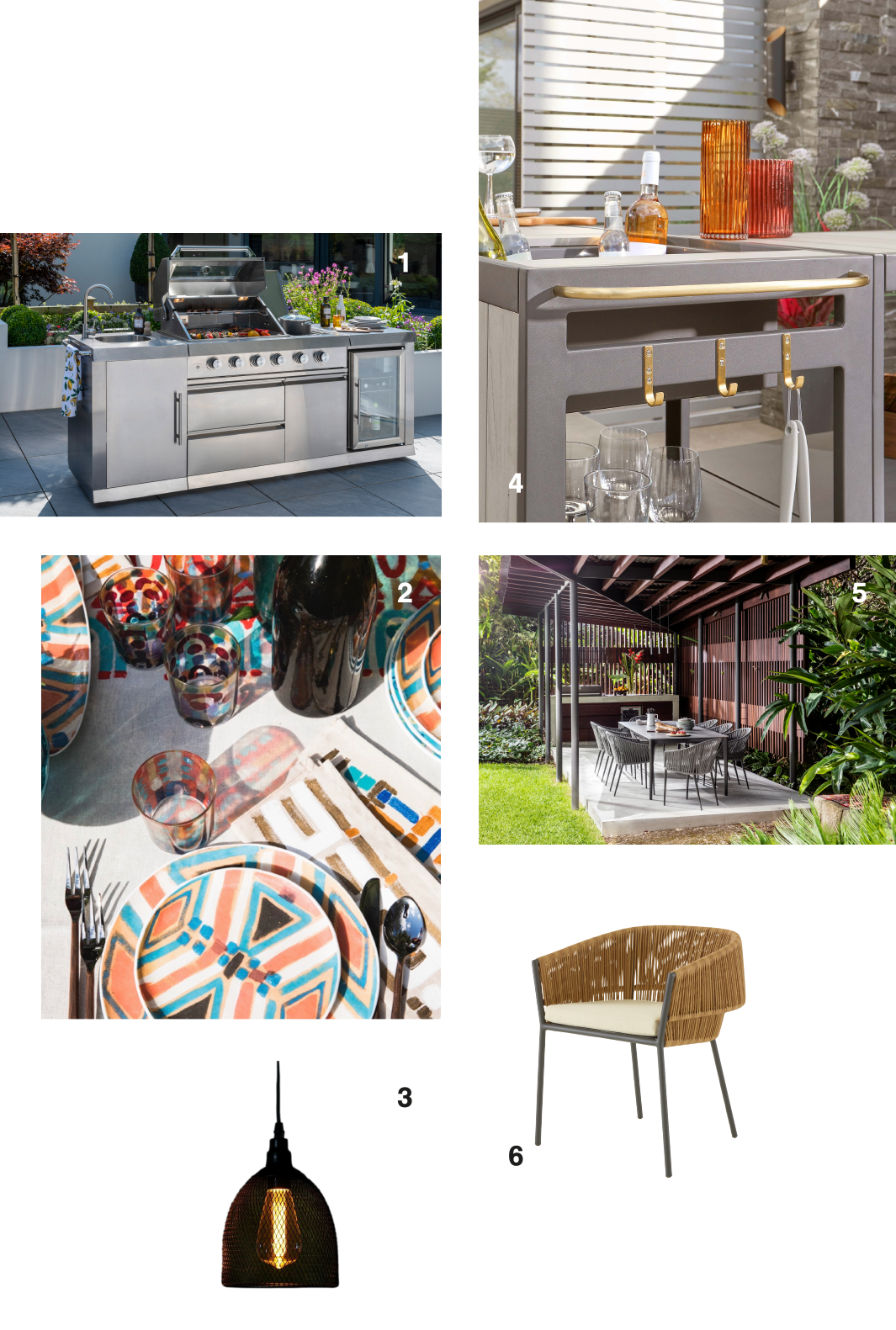 New Ideas – Bathrooms
Get inspired with these top-notch bathrooms and cloakroom concepts. A small bathroom or cloakroom can be a great opportunity for a splash of colour via wallpaper, tiles and basins. Modular cabinetry is a brilliant choice for supplying stylish and practical storage opportunities in both large and small spaces.
1 The Mini Madeline basin from The London Basin Company comes in mini (shown here) and a larger, standard size. See the other glorious patterns and designs here.
2 Alice Meadow Wallpaper from Olenka Design opens up endless possibilities for additional colour scheme changes. Although these shades of green against the pink floral design looks pretty perfect.
3 Layering neutral shades and textures in a sunny space is a calm, contemplative option. This is the 7040 design from the Pelipal collections at InHouse Room Design
4 Conquer small spaces and awkward corners with modular items from the new Voyage collection from VitrA, including white and natural oak finishes and Origin basin mixer in matt black.
5 The latest furniture designs from Utopia include the dramatic Azure Blue door finish, paired here with a Carrara Marble 12mm compact laminate work surface.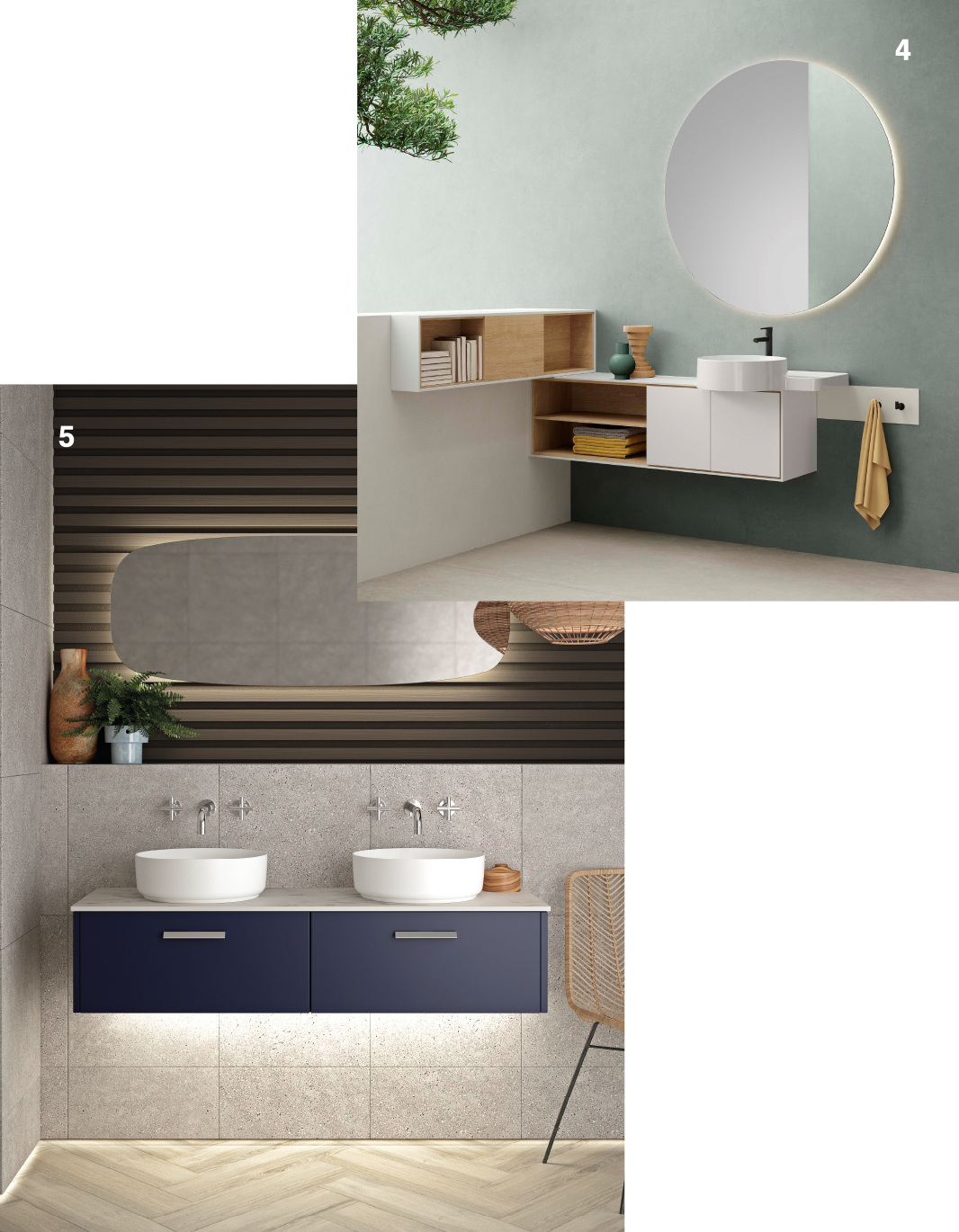 Bathroom Beauties…

New Ideas – Benchmarx
We were lucky enough to be VIP guests at the Benchmarx Kitchens & Joinery in-house event to launch a new kitchen design, Marlow, plus range extensions to Soho and Cambridge. The Inspire event is for all Benchmarx staff, and designed as an introduction to new ranges, a chance to see new design ideas and layout concepts, and an opportunity to meet and network with partner suppliers, such as Abode, Neff and Blum.
1 Marlow in Navy is shown in the True Handleless version, combining a bank of built-in ovens, an island with hob and downdraft extractor, and on the left, a WFH spot. Marlow has a five-piece narrow hardwood frame, and includes full-height larder doors, allowing floor-to-ceiling storage to maximise storage opportunities.
2 This is Cambridge in the new colour, Driftwood Blue. Doors have a PVC-pressed MDF frame for a hard-wearing and easy to maintain finish. The super matt finish has a 'soft-touch' feel with fingerprint resistance technology. Ruth Lavender comments 'Colourful cabinets are rising in popularity and this cool blue hue has been developed to evoke feelings of calm and comfort'.
3 A detailed look at Cambridge in Driftwood Blue, showcasing open shelving and integrated lighting.
4 Marlow in Porcelain White can be utilised as a dresser, including integral interior lighting for a classic look that links dining and kitchen spaces. Shown here with handles, from the extensive Benchmarx range. Ruth Lavender, Design Expert, Benchmarx, comments 'Porcelain White has versatility and is a great opportunity for two-tone designs when it's paired with Navy or Stone Grey'.
5 Marlow in Stone Grey, again the True Handleless version, looking very contemporary in a stylish modern setting. The pre-cut base and wall units accommodate finger rails, and provide a solution to meet the growing demand for a sleek and uncluttered look.
6 One of the best-selling designs by Benchmarx, Soho, now has two new colour options, Midnight Blue as shown here, and Forest Green. Soho cabinets, with J-pull handles, are suited to modern and classic kitchens, providing an overall sleek and elegant look.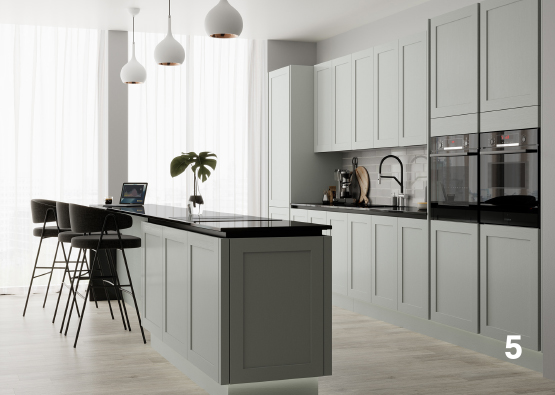 New from Benchmarx…
Right Royal Celebrations…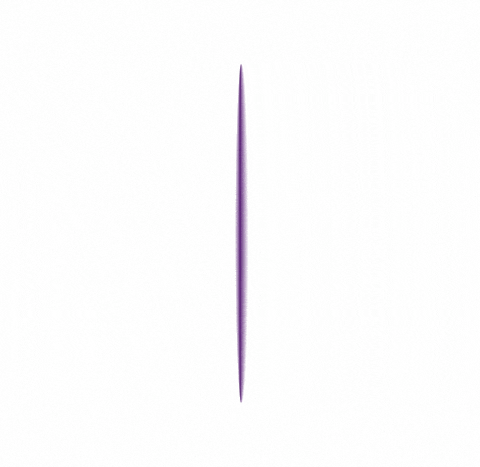 View asked Viewpoint featured businesses if they had anything special planned to celebrate the Platinum Jubilee of Her Majesty The Queen. Here's what some of them told us…

HPP are planning a mock street party for their team on 1 June. They will be encouraging all staff to get involved with a non-uniform day (red, white & blue encouraged!) There will be food, drink and some traditional games such the classic coconut shy with prizes to be won throughout the day.

Moores are actually celebrating their 75th anniversary this year along with the Queen's 70th anniversary on the throne. To mark this, they are offering members of their Moores Club up to 70% off a brand new kitchen. Moores Club is our customer & supplier partnership programme whereby employees of businesses they work with can claim an exclusive discount off a brand new kitchen. They are also opening this offer up to the local community for a limited time.

Several organisations reported how busy they find themsleves and for some companies it seems to be a case of working even harder in an attempt to make up for the extra days off (and a very short 3-day week in production). Parties might be the last thing on their minds. One kitchen retail respondent even told us that they are in the middle of a showroom move, so will spend the Jubilee weekend among a massive pile of boxes!

Here at Blum this year we also celebrated our 70th Birthday on 1 March 2022. In 1952 Julius Blum founded our company and his first product was a horseshoe stud, to prevent horses from slipping. From this humble horseshoe stud we have grown to become one of the world's leading manufacturers of furniture fittings.

It starts with empathy…


by Amanda Hughes
Ask anyone in the KBB industry about Blum and they have a great understanding of what we make… "Fab Furniture fittings"

What is not so well known is our work in the Quality of Living arena. We understand people, human centric design and how the human body interacts with the spaces around it.

Years of research and data gathering, of watching and monitoring how people move and the stresses and strains on the body, allow us to make critical design decisions.

We partner with experts in the field of Ergonomics - both physical and cognitive. As a solutions provider to the built environment, let us take you and your design teams into the minds and bodies of those you are designing for, and give you some real time insight to enhance your client experience.
Working on a project in the over 55 development sector? If you would like to sign up for a team workshop on this topic please contact: amanda.hughes@blum.com

Blum Requirement Research is used to recognise what kitchen users need. We have been investigating the needs of kitchen users around the world for years. The insights we gain help us develop new product ideas that are tailored to the requirements of everyday kitchen use.
More information about our research can be found on our website
One example of our research is the AGE EXPLORER® which is a suit that is used to simulate physical limitations. Wearers actually experience what it's like to cook with physical limitations and what special needs they will have in old age.
See more information on the AGE EXPLORER® suit here
Pictured above is our very own Neil Schofield in the AGE EXPLORER® suit

Explore the View archive library
Blum UK, Mandeville Drive,
Kingston, Milton Keynes, MK10 0AW
Tel +44 1908 285700
www.blum.com